Three months after his swearing in as Israel's prime minister, Benjamin Netanyahu's invitation from President Joe Biden may finally be on its way.
"Relatively soon, U.S. Ambassador to Israel Tom Nides told Israel's Army Radio Tuesday morning, a day after the Israeli Prime Minister put the judicial overhaul plan roiling his nation on hold. Though a White House spokesperson said the invite  is not imminent, Nides said he assumes the heads of state will meet "after Passover." 
But before that face-to-face meeting at the White House, Netanyahu is expected to make a virtual appearance at the State Department's "Summit for Democracy," which kicked off on Tuesday.
American officials had not been keen to have him at the summit while hundreds of thousands of his own people protested the judicial plan in the streets, accusing his coalition government of subverting democracy. 
And withholding an invitation to D.C., which is typically extended to the leader of a new Israeli government, was widely understood as the White House's way of telling  Netanyahu he had gone too far with the judicial overhaul plan. If passed by the Knesset, it would give the right wing government more control over the selection of Supreme Court judges, and limit the court's powers to check lawmakers.
The plan, announced in January, a week after Netanyahu formed a new government, triggered a political and economic crisis that intensified markedly in recent days.
Israeli Prime Minister Benjamin Netanyahu and senior cabinet ministers at the Knesset on Dec. 29, 2022. Photo by Amir Levy/Getty Images
On Monday, nationwide strikes paralyzed Israel, and followed the largest protests to date against the government. They had been triggered by Netanyahu's firing of his defense minister  — for opposing the plan. Netanyahu responded to the uproar by suspending any Knesset action on the judicial plan for the month-long Passover recess. It was necessary, he said, to avoid "civil war" and to create space for negotiations and compromise with the opposition.
"Compromise is precisely what we have been calling for, and we continue to strongly urge Israeli leaders to find a compromise as soon as possible," White House Press Secretary Karine Jean-Pierre said after Netanyahu but the breaks on the plan. 
While it wasn't the U.S. pressure that led Netanyahu to change course, the Biden administration did not stand on the sidelines as Israel's domestic crisis began to spiral. On the contrary, U.S. officials kept in constant contact with their Israeli allies, pressuring them mostly privately, but occasionally publicly, to back away from a plan that, it made clear, would make it harder for Israel to continue to bill itself as the Mideast's only democracy, and would damage relations with its most powerful ally. 
The Forward spoke with a dozen leaders of mainstream Jewish groups and experts on the U.S.-Israel relationship, some of whom requested anonymity to speak more freely about their private conversations with administration officials. On the whole, they praised the Biden administration for dealing firmly with Israel, and averting further chaos, without raising doubts about the U.S. commitment to the security of the Jewish state. 
"It was tough love, but friendly and manageable," said one leader who was in regular contact with the administration. 
Messages — private and public
Last week, as the Knesset advanced parts of the judicial plan, Biden implored Netanyahu in a phone call to slow down. He told the prime minister that "changes should be pursued with the broadest possible base of popular support."
John Kirby, the National Security Council spokesman, told reporters in a virtual briefing on Monday that administration officials have "maintained contacts with Israeli authorities" throughout the crisis. He said the White House has been "very clear, privately of course, with Israeli leaders, as well as publicly" about its concerns. They came "from a place of friendship and in deep respect for the democratic institutions that both our countries share," he added. 
Halie Soifer, head of the Jewish Democratic Council of America, who recently spoke at a protest against the Netanyahu government in Washington, D.C., said Biden approached the crisis as an ally, building on his more than five decades of support for Israel — and struck the proper balance between private and public communications. 
"He has clearly sent messages of concern to the Israeli government about the judicial overhaul proposal, but has reserved the strongest messages for behind closed doors," she said. "And that is a sign of his commitment to this relationship." 
While Biden has staunchly backed Israel as vice president and a senator — including as chair of the Senate Foreign Relations Committee — he and Netanyahu, also known as "Bibi," have often found themselves at odds over Mideast policies.
Still, Biden has tried hard not to make those differences personal, and has often taken an affectionate tone with Netanyahu. In the early 2000s, Biden signed a photograph with Netanyahu that read,"Bibi, I don't agree with a damn thing you had to say, but I love you." 
"We are lucky to have Biden in the White House at this very delicate moment of crisis," said Abraham Foxman, the former longtime head of the Anti-Defamation League.
Foxman, a harsh critic of the judicial overhaul, warned last December that the right wingers' zeal within the Israeli government could complicate its relations with the U.S. and hamper support for Israel among American Jews. He said Netanyahu is "no fool" and heard Biden's message that he had gone a step too far by pushing the judicial overhaul.
"A compromise may not be what I and others like, but it's certainly going to be much better than what's out there now," Foxman said. 
William Daroff, chief executive of the Conference of Presidents of Major American Jewish Organizations, said both Biden and his team and Netanyahu and his aides were mindful of the contentious relationship between the two nations during the Obama administration. They were careful "not to go down that road" and stayed in close contact to assure there were no miscommunications.  
Other American Jewish groups may have served the cause of compromise by keeping quiet.
The American Israel Public Affairs Committee, which has in the past galvanized American Jews in support of Israel, remained largely silent as protests grew larger and more raucous in Tel Aviv and Jerusalem. Then in the past few weeks, the protests, though much smaller, spread to the U.S. And many Jewish leaders, secular and religious, had lobbied Netanyahu to back down from the judicial reform plan.
AIPAC didn't add its signature to a joint statement by the American Jewish Committee, the Conference of Presidents, Jewish Federations of North America and the Anti-Defamation League on Monday that praised Netanyahu's willingness to at least delay the judicial plan. AIPAC instead referred to the larger context of the U.S.-Israel relationship. 
"As Israel and the U.S. confront an increasingly aggressive Iran, it is more important than ever for these two allies to work together closely on a coordinated strategy," AIPAC spokesperson Marshall Wittman told the Forward. 
And a little to the left . . . 
More liberal and progressive American Jewish groups also expressed satisfaction with the U.S. response to the upheaval in Israel. 
Rabbi Rick Jacobs, president of the Union for Reform Judaism (URJ), the largest movement of American Jews, said he was "impressed" by Biden's handling of the crisis. The president was "appropriately engaged" yet "put his foot down" when he needed to, Jacobs said.
Israel Policy Forum, a non-partisan group founded in 1993 to advocate for a two-state solution to the Israeli-Palestinian conflict, has in recent weeks encouraged administration officials "to do all that they can" to preserve that possibility, said its chair, Susie Gelman. Those who support both an Israeli and Palestinian state fear the right wing government, unchecked, would scuttle all hopes for two states.
Gelman said she hopes that Biden will keep up the pressure for compromise on the judicial plan. "I would like to assume that there are discussions and conversations that are going on behind the scenes that we don't know about," she said.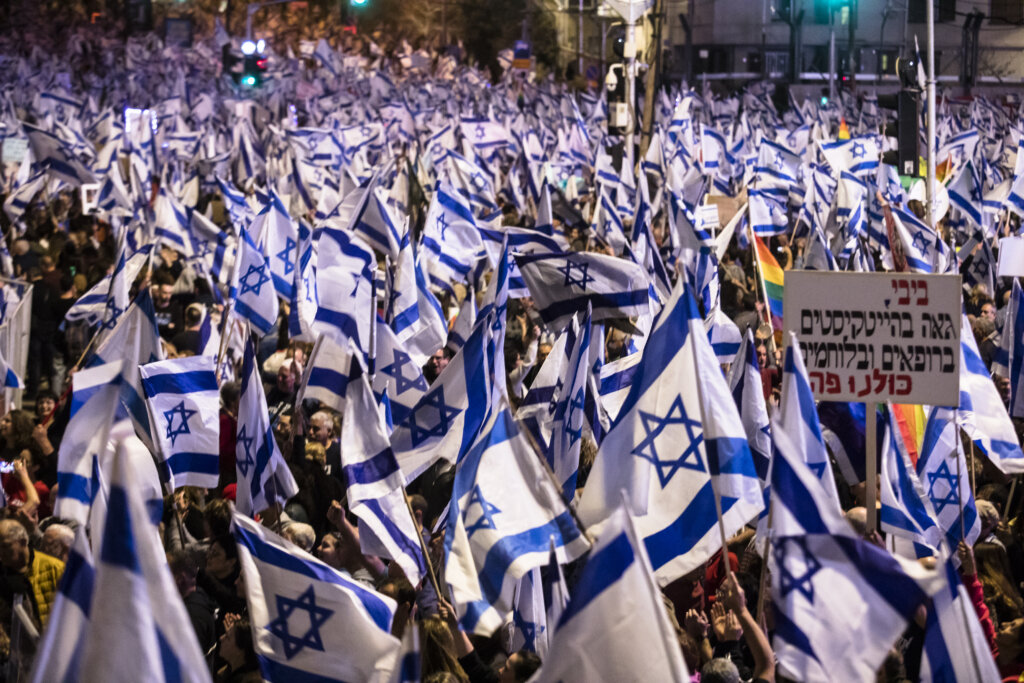 Tens of thousands of Israelis attend a massive protest against the government's judicial overhaul plan on March 11, 2023 in Tel Aviv, Israel. Photo by Amir Levy/Getty Images
Jeremy Ben-Ami, president of the liberal pro-Israel group J Street, said the most important thing Biden can do at this moment is to say that the U.S. "stands with Israelis protesting to protect their democracy" and to "make clear that the U.S.-Israel relationship would not be the same if Israel slides to autocracy."
The group, Ben-Ami continued, doesn't want Biden to welcome Netanyahu to the White House "until his attempted judicial overhaul and other major attacks on Israel's democracy are ended or resolved via consensus." 
Orthodox groups have not taken a position on the substance of judicial reform. But Nathan Diament, ​executive director of the Orthodox Union Advocacy Center, said the president and his team "handled the roller coaster ride pretty responsibly." He said the OU's leadership has also added its voice call to those urging compromise.
Capitol communications
American lawmakers — most of them Democrats — and many who have visited Israel in recent weeks, had made their displeasure with the judicial overhaul known.
Rep. Jerry Nadler of New York, the dean of the informal Jewish Caucus, warned last month that the U.S.-Israel alliance "will be endangered" if the legislation passed. In a statement sent to the organizers of  protest outside the Israeli Consulate in Manhattan on Monday, Nadler said the demonstrations "have shown the world that the Israeli people will not remain silent" as the government pursued legislation that will cast aside democratic principles. He called Netanyahu's move a "welcome development."
AIPAC's message to the Hill continues to be that the U.S. should support full funding of assistance to Israel, and that "any conditioning of that aid undermines our interests and Israel's security," Wittman said. Some progressive Democratic House members have in the past balked at what they deem unconditional aid to Israel. But their concerns have focused on Israel's treatment of Palestinians, not its attempts to alter its democratic institutions
The Democratic Majority for Israel also sent a memo to members of Congress on the judicial overhaul. OU's Diament said that in his conversations with Israeli leaders he cautioned them that the divisions in Israel "has put pressure on some of Israel's most important allies, particularly among Democrats in Congress who are in the front line of supporting Israel and defending Israel against her enemies." 
Republicans mostly preferred to avoid the issue.
Senate Minority Leader Mitch McConnell said it isn't America's business to comment on Israeli internal matters. Sen. Rick Scott from Florida, and chair of the National Republican Senatorial Committee (NRSC), said American leaders "have to work with the elected leaders of Israel" and wished "everybody in Israel the best of luck." Sen. Mitt Romney, a Republican from Utah, on Monday released a statement with Sen. Chris Murphy, a Democrat from Connecticut, that praised Netanyahu's decision to suspend the judicial plan's progress through the Knesset. 
Matt Brooks, executive director of the Republican Jewish Coalition, said his group hasn't taken a public position on the judicial overhaul in the same way it didn't chime in on Israel's disengagement from Gaza in 2005. 
"U.S. organizations and political leaders should refrain from getting engaged because it's an Israeli domestic issue," Brooks said. "Just in the same way that Israel shouldn't weigh in on the U.S. Supreme Court nominations or process, it is the same for us." 
JDCA's Soifer blasted the RJC for its hands off approach. She accused the group of not caring about the future of Israel's democracy "just as it was clear in our past three elections that they have not prioritized democracy here at home given their support of election deniers, including Donald Trump."
The post 'Tough love': American Jewish leaders praise Biden's handling of crisis in Israel appeared first on The Forward.