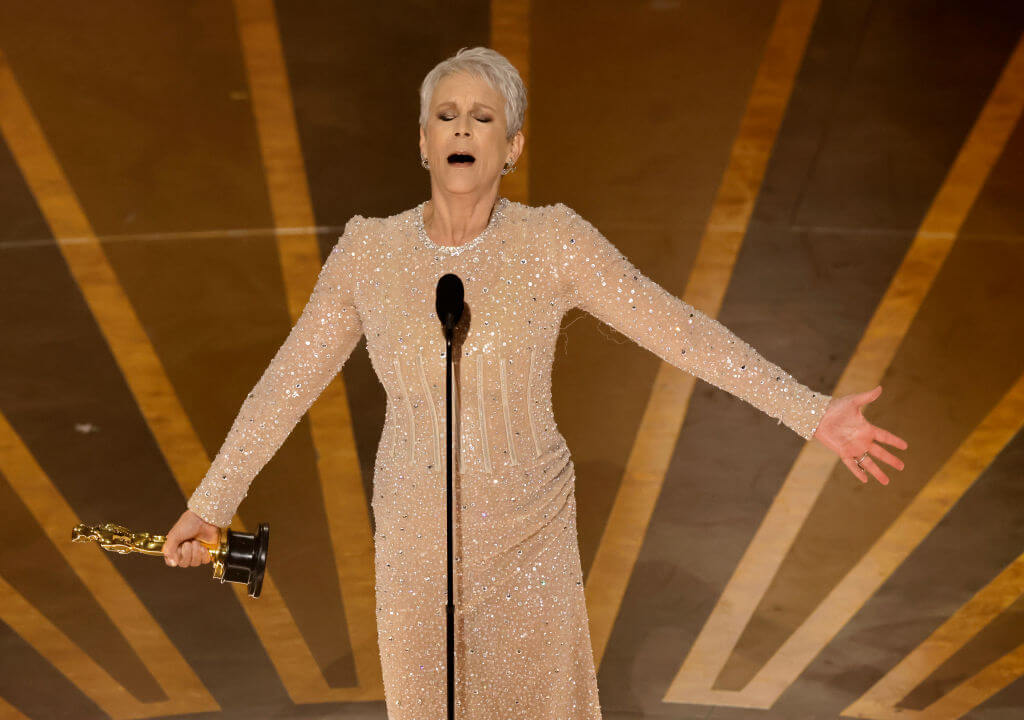 Host Jimmy Kimmel began the 95th Oscars evening with some light ribbing of Steven Spielberg and Seth Rogen ("the Joe and Hunter Biden of Hollywood") and a suggestion that Judd Hirsch might be Tom Cruise in a Mission: Impossible mask. But it was not to be a big night for  The Fabelmans. Spielberg's semi-biopic was shut out, with Everything, Everywhere All at Once winning… well, basically everything, further securing its title as the most-awarded film of all time. Hope you shepped some naches from that movie's central everything bagel metaphor. 
PJ Grisar reports the other Jewish highlights:
Jamie Lee Curtis won her first Oscar for her turn as IRS auditor Deirdre Beaubeirdre in Everything, Everywhere. Off the set, Curtis, is restoring her grandparents' home synagogue in Mateszalka, Hungary. She paid homage to her parents and credited her husband, collaborators, team and fans for the supporting actress win: "I am hundreds of people," Curtis said. "We just won an Oscar."
Daniel Roher won best documentary for his film Navalny, about Russian opposition leader Alexei Navalny, who is now in solitary confinement. "When I think of my work and how my Jewishness motivates me," Roher said in a 2019 interview, the aspect of my Judaism I really identify with are the social justice values of contemporary, progressive Judaism, like tikkun olam."
In an ad for the Academy Museum, a curator said "we bring important film histories to light, from the Jewish immigrants who founded the Hollywood studios to the early innovators of African American cinema." It was a nod to the new exhibit devoted specifically to the film industry's Jewish pioneers that was added after Sharon Rosen Leib, whose great-grandfather was one of them, wrote an article in the Forward highlighting the museum's original oversight of Jews' significant contribution.
Sarah Polley, who documented the discovery of her Jewish heritage in a  2012 film — won for Women Talking,  about a female rebellion in a cult-like community. "The last line of our film is delivered by a young woman to a new baby, and she says 'Your story will be different from ours,'" Polley said. "It's a promise, a commitment and an anchor." And the story she wished to tell her own three children.
Jewish presenter Elizabeth Banks had the most notable gag of the evening, entering pursued by a (cocaine) bear.
Other winners included Daniel Dreifuss, a producer for All Quiet on the Western Front, whose family history inspired his push to adapt the classic World War I novel, and Mark Weingarten, sound engineer for Top Gun: Maverick.
On a personal note, my college acquaintance, Mitski, did not win original song for her contribution to Everything, Everywhere, All At Once. However, Brendan Fraser and Ke Huy Quan were finally recognized by the Academy. Those actors were co-stars in the caveman comedy Encino Man, a film I watched the last third of with Mitski one night in 2011. (We were bored and it was on TV.)
Did you know the songwriter Diane Warren is a 14-time Academy Award nominee? Singer Sofia Carson reminded everyone in the middle of the evening's first performance for best original song. Warren, who is Jewish, joined in the performance of "Applause," her composition from the feminist documentary Tell It Like A Woman. She has never won an Oscar, and unfortunately for her, the streak continued Sunday night as the viral sensation "Naatu Naatu," from the Indian film RRR, took the prize. (As a consolation, Warren received an honorary Oscar at the Governor's Awards preceding the telecast.)
One of the most heartwarming moments of the evening was the best supporting actor win for Ke Huy Quan for "Everything Everywhere All At Once." Quan, a former child actor, had abandoned his onscreen career for decades before his big comeback role last year. In his emotional acceptance speech, Quan gave a special shout-out to "my 'Goonies' brother for life," Jeff Cohen — a Jewish former child star turned entertainment lawyer. Cohen and Quan appeared in "The Goonies" together in 1985, and when Quan landed his big "Everything Everywhere" role, Cohen negotiated the terms of his deal.
JTA contributed to this story.
The post The most notable Jewish winners and moments from the 2023 Oscars appeared first on The Forward.