CHICAGO (JTA) — All writers strive for a good story. How far they will go to find it depends on their ambition, their wherewithal and their sanity.
Isaac Babel, a Russian-Jewish writer who came from a relatively stable, privileged background in Odessa in the late 1800s, would go to war among Cossacks who murdered Jews, make friends with Soviet agents and then cuckold one of them. The reason why Babel constantly put himself in harm's way may have been simple, according to another writer.
"I think he wanted something to write about," said Rajiv Joseph, whose play at Steppenwolf Theater in Chicago, "Describe the Night," centers on Babel. "He was a young man who had wanted to be a writer but had nothing to write about."
"Describe the Night" blends three stories from different eras that engage with questions of who controls the truth. The first portrays Babel, the Soviet secret police head Nikolai Yezhov and Yezhov's wife, Yevgenia, with whom Babel begins an affair. The second follows a young Soviet agent rising through the ranks just before the Berlin Wall falls, and the third dives into a conspiracy behind a 2010 plane crash near Smolensk, Russia. 
Babel himself may not rise to the ranks of Tolstoy or Dostoevsky in terms of immediate name recognition in the United States, but the journalist, author and playwright is remembered as one of Russia's preeminent 20th-century writers. His modernist and bloody tales in "Red Cavalry," a collection of short stories inspired by his time on the frontlines of the Polish-Soviet War of 1919, vaulted him to the status of a Russian Hemingway. The pithy American war correspondent once expressed his admiration, perhaps even jealousy, of Babel's writing, saying "Babel's style is even more concise than mine."
Like Hemingway, Babel went to war in search of a good story. Combat itself was not the only threat to him: as a Jew, he bore witness to the Cossack cavalry's antisemitic atrocities. Babel tamped down his Jewish identity while covering the war, though he would feel a sense of isolation in both societies or as his grandson would later describe him "a Jew among the Cossacks, and a Cossack among the Jews." In his own diary, Babel wrote "Talking to the Jews, I feel kin to them, they think I'm Russian and my soul is laid bare." 
Joseph, who is not Jewish and authored the Pulitzer-nominated play "Bengal Tiger at the Baghdad Zoo," had read "Red Cavalry" years ago but was inspired to write "Describe the Night" after discovering the poetic journal Babel had kept during the war. The title of the play comes directly from the diary, which repeats the word several times in Babel's own prompts to describe things ranging from kitchens to marketplaces to women to horses. Sometimes Babel successfully answers his own prompts by forcing himself to write, and other times he doesn't, Joseph said.
Lead actor James Vincent Meredith is also not Jewish and admitted he had concerns about "the choice of casting a black man in the role of a Jewish man living in the world of Russia, the Ukraine and Paris." He partly found his way to the character by watching the 2015 documentary "Finding Babel," which follows Babel's grandson across Russia and Ukraine as he searches for his famous ancestor's remains.
"I can read Babel's work (I have), I can travel to Israel (I have, decades ago), I can take Hebrew as an elective in college (I did, not very well), I can read Chaim Potok (I have). But these are at their best, however well intentioned, tourist pursuits for one who is not Jewish," he said. "I will never come close to knowing the true soul of a Jewish person. Thankfully, Rajiv has created this character that by his design, anyone can inhabit."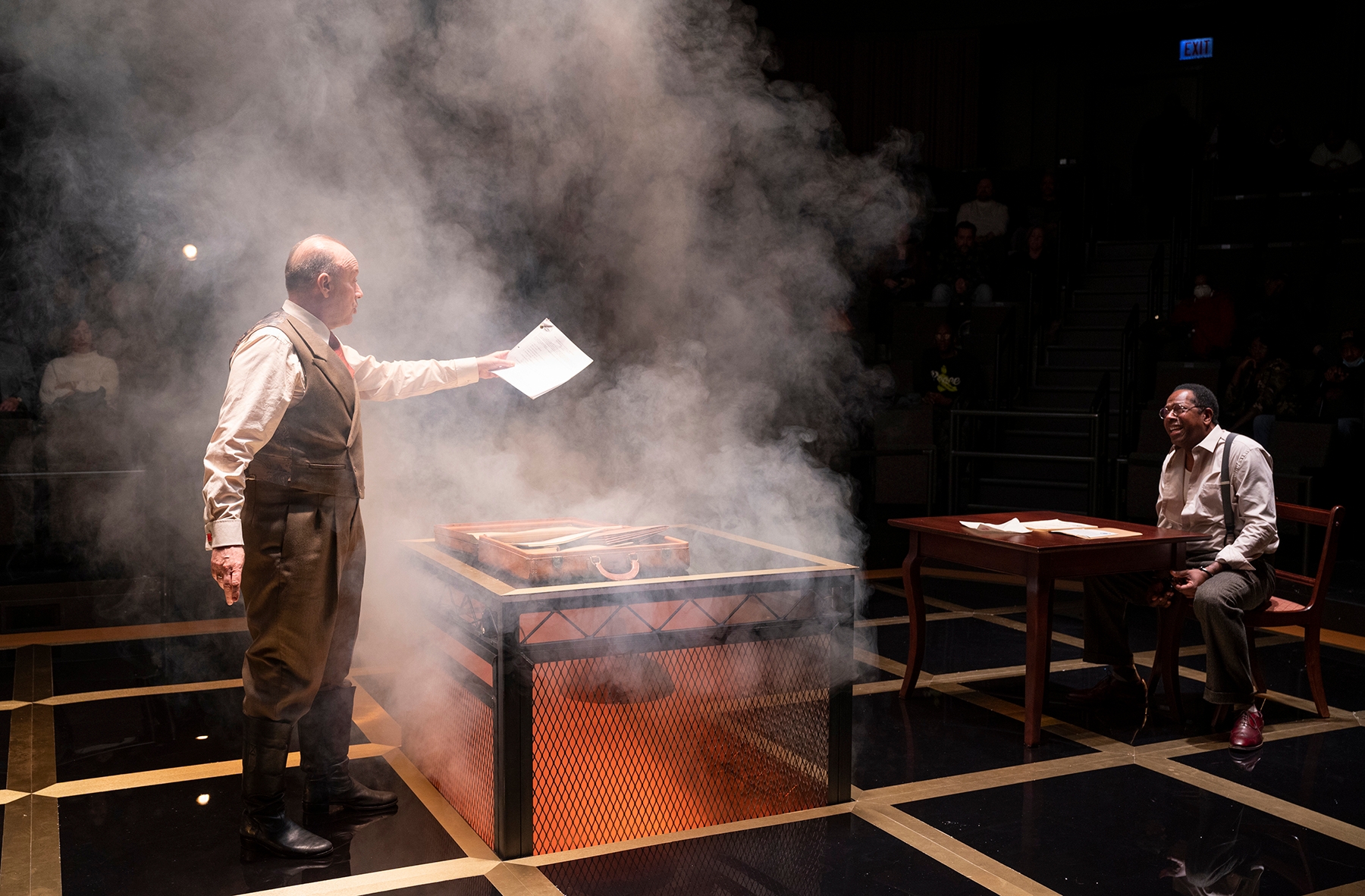 Yasen Peyankov and James Vincent Meredith in a scene from the play about Isaac Babel. (Michael Brosilow)
Image by
He added that the play isn't meant to be historically accurate. "The character of Isaac, as well as others in the play, is meant to be an entry point into a world where the scalpel crafting the 'truth' is rarely placed in the hands of those who are adversely affected by it. As a black male and father of a black male in the U.S., I'm certainly cognizant of that world."
Joseph feels that he and other artists share the instinct Babel had to leave his comfort zone. He wanted to be a writer, but growing up in suburban Cleveland gave him little inspiration. After college, he joined the Peace Corps and spent three years in West Africa.
"That was a real life-changing event for me that opened my world and opened my mind," Joseph said. "Not nearly as traumatic as traveling with the cavalry through Poland in 1920, but the same impulse to break out of your norms."
Yet Joseph believes Babel's desires went beyond pushing boundaries and into a deep, pathological need to associate with danger.
"The thing I find really interesting about Babel, both through his writing and through his personal life, is this inexorable draw towards danger and filth," Joseph said, adding that Babel would hang out in taverns with Soviet soldiers, members of the secret police and executioners like Yezhov. "He was already treading on such thin ice. So he had a recklessness, you could call it a death wish if you want."
Meredith was also stunned by the writer's intense flirtations with danger.
"Why get that close to the flame? That to me is one of the things that really appealed to me about this guy," Meredith said. "I tend to play it safe, as safe as an actor can play it, but I see this guy who had these kinds of desires, he had this quest to make this amazing art as far as his stories and I just I'm just so attracted to that."
Joseph said he saw some parallels between Babel's story and the exodus of some of his artistic peers in Russia, who have fled to Europe. In his time, Babel was seen as subversive by nature, existing as a Jewish man in early Soviet Russia. His relished writing about prostitutes and mobsters, transforming underworld characters into urban legends. His 1935 political play "Maria" was canceled during rehearsals and by 1939, Soviet police arrested him and confiscated his writing. Throughout the 1940s, his works disappeared from circulation. Though some believed Babel had spent time throughout that decade in a prison camp, the government had executed him in 1940.
"In the 1930s and '40s, I think if you are a Jewish creative writer, you're automatically subversive," Joseph said. He noted one pivotal scene where Nikolai Yezhov labels Babel as such because his writing portrays Russia as gloomy rather than inspiring.
"If you're telling the truth, you are subversive," Joseph added. "So I think that pretty much any creative writer worth his or her weight would be considered subversive at that moment."
"Describe the Night" runs until April 9 at the Steppenwolf Theater in Chicago.
This article originally appeared on JTA.org.
The post The legacy of Isaac Babel, Russia's Jewish Hemingway, is dissected in new Chicago play appeared first on The Forward.