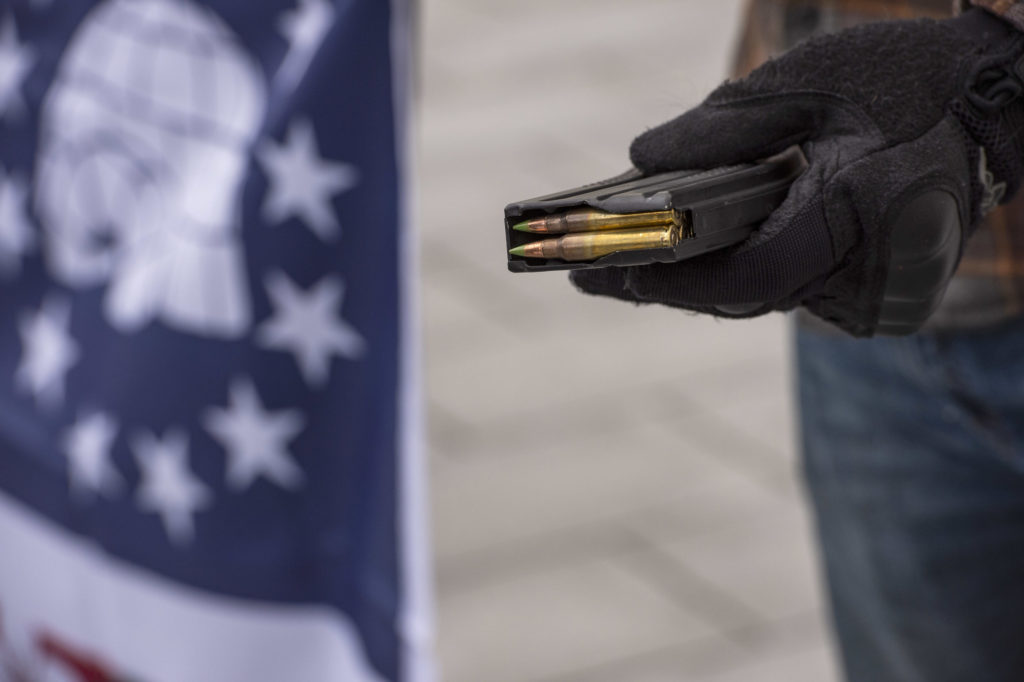 Editor's note: To hear a conversation with Mary McCord and Andrew Weissmann about paths to reform after the January 6th report, including addressing paramilitary groups, listen to the Just Security podcast here.
Two years ago, when rioters stormed the U.S. Capitol and ruptured our country's tradition of the peaceful transfer of power, images of the mob's extremism burst into national public consciousness. Americans watched insurrectionists bludgeoning law enforcement officers with Trump banners and Confederate flags, some wearing tokens of the QAnon conspiracy, anti-Semitism, and violent paramilitary groups.
At the time of the insurrection, the extent to which then-President Donald Trump was aware of and intended the events of January 6 was not yet clear to the public. The January 6th House Select Committee's final report has now exposed, in painstaking detail, a record of the efforts by the former president and his allies to illegally keep him in the White House, culminating in the attack on the Capitol. But the Select Committee's investigation has also revealed important truths about the ongoing threat posed by the far-right extremists who captured the nation's attention on that day. Its final report and underlying materials establish that the violence by extremist paramilitaries like the Oath Keepers and the Proud Boys cannot be disentangled from the anti-democratic subversion attempted by political leaders, in this case, Trump.
The former president's dog whistles to extremists had been evident throughout the campaign, including his direction to the Proud Boys to "stand back and stand by" during the presidential debate with then-candidate Joe Biden in September 2020. Trump gave these groups a pathway to legitimacy and power, while they gave him a final chance to overturn the seat of government with mob violence. This type of partnership is a hallmark of nascent authoritarian regimes.
The narrative laid out in the Select Committee's report illustrates how the twin threats of political violence and anti-democracy schemes were able to feed off each other in the lead-up to January 6 in a vicious cycle that still has not subsided. After the insurrection, paramilitary groups and other extremists adopted a decentralized strategy focused on local politics. Across the country, paramilitaries have shown up, armed and intimidating, at events supporting white supremacy, school board meetings debating COVID policies or more inclusive curricula, LGBTQ–friendly events, and demonstrations in opposition to the Supreme Court's overruling of Roe v. Wade. Extremists, including militia members, have run for local and state offices, signed up as poll workers and precinct chairs, orchestrated recall elections to replace moderate Republicans with election deniers and anti-government extremists, and ingratiated themselves with elected state and federal officials who seek short-term political gain over long-term preservation of democratic processes. By making strides to mainstream the political violence and illiberalism that they espouse, private paramilitaries have established themselves as a sinister force in American life that has endured long after Trump's term ended.
Extremists Welcomed With Open Arms
To anticipate and respond to this evolving threat, we would do well to learn all that we can from the Committee's final report. The Committee found that as paramilitary groups advanced into the political arena, egged on by the former president, they were often welcomed by pro-Trump operatives, Republican organizers, and others who said they were trying to "Stop the Steal." For example, as explained in Chapter 6, the Committee obtained texts between the anti-government Oath Keepers leader Stewart Rhodes and Robert Weaver, a failed Trump political appointee who co-led the Christian Nationalist "Jericho March," on Dec. 12, 2020, in Washington, D.C. These texts show how, in the weeks before January 6, Trump-aligned activists treated the Oath Keepers not as a pariah, but as a full-fledged coalition partner. That same chapter of the report also notes how Rhodes worked with a January 6 rally organizer, Marsha Lessard, to ship tactical equipment to D.C.
Meanwhile, the report explains how Proud Boys chairman Enrique Tarrio was also fashioning his neo-fascist gang into a public ally to Bianca Gracia, leader of Latinos for Trump, as well as longtime Trump ally Roger Stone. Oath Keepers lawyer Kellye SoRelle called Stone a "go-between" for paramilitary groups and Trump-affiliated activists, including Nick Fuentes, the avowed anti-Semitic racist who founded the America First Political Action Conference in 2020. Such links between the violent fringe and Trump-aligned political players were pervasive, and intersected with the former president's own schemes to overturn the election. Another revelation in the Committee's report described the November 2020 flight by Tarrio and his Proud Boys to Washington on a jet paid for by Overstock.com CEO and Trump ally Patrick Byrne, who later participated in an Oval Office meeting where Trump was urged to illegally seize voting machines.
The underlying transcripts from the Committee's investigation also provide a chilling perspective on how these private paramilitary organizations felt empowered by their proximity to centerstage. Former Oath Keeper Richard Dockery described the militia boasting in early January 2021 about "how they're going to be doing the security role for Roger Stone," one of the president's closest associates. Jeremy Bertino, a Proud Boys leader, told investigators that the president's "stand back, stand by" comment "tripled" the group's size. George Meza, another Proud Boy who testified that he provided security for prominent Trump supporters and "a few Congressmen," explained that he saw the Proud Boys as "introducing morality into the enforcement of public safety," adding that "one man's freedom fighter is another man's terrorist."
Make no mistake. Trump was an essential ingredient in this vigilante vision.
As former Oath Keeper spokesman Jason Van Tatenhove testified, Rhodes had long harbored a "fantasy notion" that a "great conservative leader would come in and want a paramilitary wing" to enforce law and order. Trump fueled this fantasy, and Select Committee evidence shows that Rhodes publicly and privately agitated for the president to invoke the Insurrection Act and summon the Oath Keepers to enforce it. (Never mind that the Insurrection Act does not authorize a president to manufacture an insurrection and then invoke the Act in order to call up private paramilitary organizations operating outside of governmental control.)
A Threat Bigger Than Donald Trump
Crucially, however, the Select Committee's investigation yielded evidence to show that these paramilitary organizations' objectives were about more than President Trump or January 6. Alleged government tyranny and racial conflict are long-term preoccupations for the conspiracy-minded militant far-right, and the chaos of 2020 allowed these unauthorized militias to carve out a place for themselves long before Trump summoned them to the Capitol. Kellye SoRelle considered the initial anti-COVID lockdowns to be a "coalescing moment" for militia members to commingle with far-right activists, while Rhodes himself testified that he had previously hoped that Trump would deputize the Oath Keepers to suppress Black Lives Matter rallies during the summer of 2020. Rank-and-file Oath Keepers, including Richard Dockery, Jeffrey Morelock, and Alondra Propes, also explained to the Committee that they felt threatened by Black Lives Matter protests and saw joining the Oath Keepers as a way to "do something to help instead of just sitting on the couch." North Carolina militia leader Michael Lee Wells testified that Three Percenter group chats included calls to start "taking out" civilians in Democratic areas, as the "only way to stop the rioting."
Because extremist paramilitary groups are motivated by a constellation of conspiracy theories and animosities that run deeper than the 2020 election or the January 6 attack, this long-simmering threat did not dissipate after insurrectionists were finally cleared from the Capitol. They have continued to inject disinformation and propaganda into online culture wars while embarking on their own political ambitions. As Tarrio told the Select Committee in his deposition, many Proud Boys consider themselves activists and think "the best way to make changes is by being the change." He even endorsed an "inside strategy," which would involve Proud Boys trying to "change what [they've] been preaching for so long from an elected position." This highly combustible militarization of policy debates, operationalized during the Stop the Steal campaign, continues to haunt our society, as paramilitary groups find new ideological enemies to target.
Of course, Trump remains an important factor in the domestic extremism crisis exposed by the Select Committee's investigation, as his bombastic public statements keep his supporters primed for another call to arms. His verbal assaults on the FBI after their summertime search of Mar-a-Lago were followed by an actual attack on an FBI office and a dramatic spike in online talk of mass violence. A former Twitter employee interviewed by the Select Committee likened this to the "call-and-response" pattern between the former president and his supporters that had occurred before January 6. And just a few months ago, Trump's refusal to condemn the brutal assault on Paul Pelosi – by a man steeped in the Big Lie about the 2020 election – was yet another reminder that the former president remains a lightning-rod for political violence.
The Committee's wide-ranging depositions of Proud Boys, Oath Keepers, and other paramilitary members provide an unprecedented inside look at the minefields still littering the path forward for our democracy. Militia leader Michael Lee Wells, who claimed to have left the Three Percenters after they advocated for violence against civilians, warned investigators that he found it "terrifying" that militias were looking to become more involved in elections, and said it would be a "nightmare scenario" if they decided to act against voting precincts where they believed there was voting fraud. George Meza, who characterized his fellow Proud Boys as a sort of morality police, called the people who stormed the Capitol "heroes," acknowledged that he would attend a future January 6-style event, and told investigators he would still support President Trump in 2024.
Going forward, we must work aggressively to counter the growing confidence of armed groups to menace democratic self-government and marginalized populations. This includes dispelling the mythology that private paramilitaries are constitutionally protected – a mythology not supported by history, the U.S. Constitution, or Supreme Court precedent. It includes informing federal, state, and local officials and the public more generally about laws in all 50 states prohibiting unauthorized paramilitary activity and using those laws through enforcement actions and litigation when necessary. And it includes assessing whether we have all the tools we need to address the threat. By releasing vast swaths of evidence, the Select Committee has given the public the chance to better understand extremist paramilitaries and the perils they continue to pose, with or without Trump in the Oval Office. It's our collective national obligation to carry on the Committee's work by identifying and neutralizing this threat before it can again shake the foundations of American democracy.
Photo credit: An armed member of the Boogaloo militia shows off ammunition to the media in front of the State Capital in Concord, New Hampshire on January 17, 2021 (Joseph Prezioso/AFP via Getty Images)
The post January 6th Report Exposes Ongoing, Converging Threat of Anti-Democracy Schemes and Paramilitary Violence appeared first on Just Security.