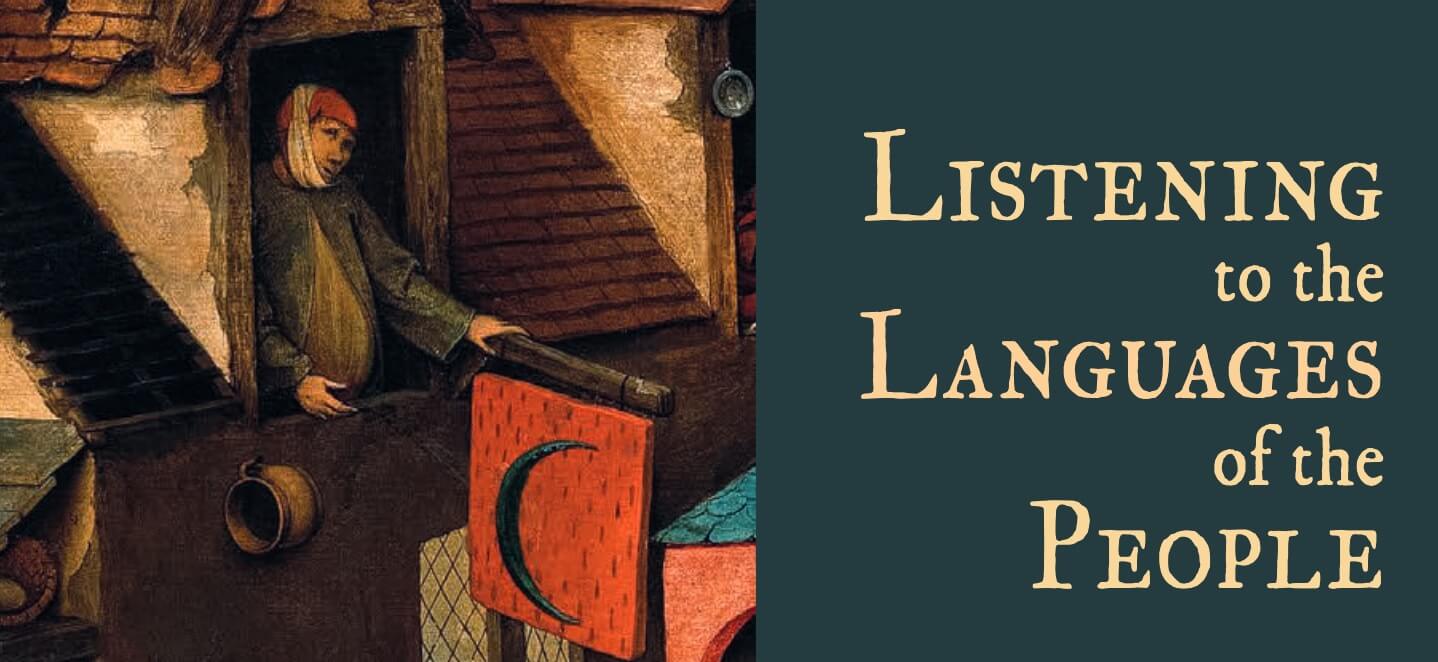 רומעניע איז ביז איצט געווען אױף די ראַנדן פֿון ייִדיש–פֿאָרשונג. אַ נײַ בוך פֿון נאַטאַלי זעמאָן דייװיס דערװײַזט אָבער, אַז אײנע פֿון די סאַמע ערשטע שטודיעס פֿון ייִדישע דיאַלעקטן איז אַרױס סוף 19טן יאָרנהודערט דװקא אין רומעניע.
איר בוך "צוהערנדיק זיך צו די שפּראַכן פֿונעם פֿאָלק׃ לאַזאַר סײניאַן װעגן רומעניש, ייִדיש און פֿראַנצייזיש" דערצײלט די דראַמאַטישע לעבן־געשיכטע פֿון אַ חשובֿן רומענישן פֿילאָלאָג פֿון ייִדישן אָפּשטאַם, װעלכער האָט געמאַכט אַ װיכטיקן בײַטראָג און דער ייִדישער לינגװיסטיק.
זעמאָן דייװיס איז װעלט–באַרימט צוליב אירע שטודיעס פֿון דער פֿראַנצייזישער קולטור פֿון דער פֿרי–מאָדערנער תּקופֿה. דער נאָמען פֿון לאַזאַר סײניאַן איז איר געװען גוט באַקאַנט צוליב זײַן גרונדיקער פֿאָרשונג פֿון דער שפּראַך פֿון פֿראַנסואַ ראַבלע, דעם גרױסן פֿראַנצייזישן שרײַבער פֿונעם 16טן יאָרהונדערט. אָבער עס איז געװען פֿאַר איר אַ חידוש, אַז סײניאַן האָט אױך געשריבן װעגן ייִדיש, און זי האָט גענומען אױספֿאָרשן זײַן ביאָגראַפֿיע. איר נײַ בוך איז אַ מוסטערװערק פֿון אַ פֿאָרשונג, װאָס ברענגט צונױף דאָס לעבן פֿון אַ יחיד מיט דער קולטורעלער און פּאָליטישער כּלל–געשיכטע פֿון זײַן תּקופֿה.
דער העלד פֿונעם בוך האָט געהאַט עטלעכע נעמען. ער איז געבױרן געװאָרן אין 1859 װי אליעזר בן משה שײן אין דער שטאָט פּלאָיעשט אין װאַלאַכיע, הײַנט אין רומעניע. ער האָט זיך געלערנט אין די בעסטע שולן, לכתּחילה אין רומעניע, דערנאָך אין פּאַריז, און האָט שפּעטער באַקומען אַ דאָקטאָראַט אין לינגװיסטיק פֿונעם אוניװערסיטעט פֿון לײַפּציק אין דײַטשלאַנד. שײן האָט געביטן זײַן נאָמען אױף שײניאַנו, װאָס האָט געקלונגען רומעניש, אָבער װי אַ ייִד האָט ער דעמאָלט ניט געהאַט קײן רעכט אױף רומענישער בירגערשאַפֿט. דערפֿאַר האָט ער אױך ניט געקענט באַקומען אַ פּראָפֿעסאָרישע שטעלע אין אַ רומענישן אוניװערסיטעט.
לאַנגע יאָרן האָבן שײניאַנו און זײַנע הױך–געשטעלטע רומענישע פֿרײַנד זיך באַמיט צו קריגן פֿאַר אים די בירגערשאַפֿט. עטלעכע מאָל האָט ער דערלאַנגט זײַן בקשה אין די סאַמע העכסטע מלוכישע אינסטאַנצן, אָבער אַלע מאָל האָט מען אים אָפּגעזאָגט. עס האָט אים אַפֿילו ניט געהאָלפֿן װען ער האָט זיך געשמדט און איז געװאָרן אױס ייִד לױטן רומענישן געזעץ. די הױפּט–קעגנער זײַנע זײַנען געװען די פֿאַרביסענע שׂונאי–ישׂראל דווקא צװישן רומענישע אַקאַדעמיקער און ליטעראַטן.
זײ האָבן געטענהט, אַז אַפֿילו דער קריסט שײניאַנו װעט קײן מאָל ניט װערן אַן עכטער רומענער און דערפֿאַר טאָר מען אים ניט פֿאַרטרױען אַ פּראָפֿעסאָרישע שטעלע אין רומענישער פֿילאָלאָגיע. סוף–כּל–סוף האָט שײניאַנו באַשלאָסן צו עמיגרירן קײן פֿראַנקרײַך װוּ ער האָט זיך קונ־שם געװען מיט זײַנע שטודיעס פֿון היסטאָרישע דיאַלעטקן אונטער זײַן פֿראַנצייזישן נאָמען לאַזאַר סײניאַן.
אליעזר שײנס מאַמע האָט גוט געקענט ייִדיש אָבער אין דער הײם האָט מען גערעדט רומעניש. ער האָט געהערט ייִדיש יונגערהײט אָבער זײַן אינטערעס צו ייִדישע דיאַלעקטן שטאַמט ניט פֿון קיין ליבע צו ייִדיש. ער האָט ניט געגלױבט, אַז ייִדיש האָט אַ צוקונפֿט. ער האָט געהאַלטן, אַז רומענישע ייִדן דאַרפֿן זיך אַסימילירן אין דער רומענישער קולטור. אָבער זײַנע לינגװיסטישע אינטערעסן האָבן אים גענייט צו שטודירן קעגנזײַטיקע באַציִונגען צװישן פֿאַרשײדענע שפּראַכן אין רומעניע, צװישן זײ ייִדיש.
אַזאַ מין פֿאָקוס אױף קעגנזײַטיקע שפּראַכלעכע השפּעות איז דעמאָלט געװאָרן פּאָפּולער צװישן די דײַטשישע און פֿראַנצױזישע לינגװיסטן, און שײניאַנו האָט בדעה געהאַט צו באַניצן די נײַע מעטאָדן צו פֿאָרשן שפּראַכן און דיאַלעקטן אין רומעניע. ער האָט געהאַט אַ ספּעציעלן אינטערעס צו כּלערלײ "פֿרעמדע" השפּעות אױף דער רומענישער שפּראַך און פֿאָלקלאָר: טערקישע, סלאַװישע, אונגאַרישע, ציגײַנערישע און ייִדישע. דװקא דאָס האָט אױפֿגעבראַכט די רומענישע נאַציאָנאַליסטן, װײַל זײ האָבן באַשטאַנען אױף דער "רײנקײט" פֿון דער רומענישער שפּראַך, װאָס האָט כּלומרשט געשטאַמט דירעקט פֿון לאַטײַן. שײניאַנוס מאָדערנע פֿאָרשונגען זײַנען פֿאַר זײ געװען אַ סימן, אַז אַ ייִד װעט קײן מאָל ניט משׂיג זײַן דעם "עכטן" מהות פֿונעם רומענישן פֿאָלק און זײַן קולטור.
שײניאַנו האָט זיך פֿאַראינטערעסירט אין ייִדיש בעת זײַנע שטודיעס פֿאַר אַ דאָקטאָראַט אין לײַפּציק אין די 1880ער יאָרן. אין דײַטשלאַנד האָט מען דעמאָלט נאָך באַטראַכט ייִדיש מיט ביטול װי אַ "דײַטשיש–ייִדישער זשאַרגאָן", װאָס איז ניט געװען קײן אמתדיקע שפּראַך. אָבער דער נײַער מעטאָד פֿון פֿאָרשן דיאַלעקטן האָט דערגעװעקט אַן אינטערעס צו ייִדיש װי אַ מין ייִדישער פֿאָלק–דיאַלעקט אין דער משפּחה פֿון דײַטשישע דיאַלעקטן. ספּעציעל אינטערעסאַנט פֿאַר שײניאַנו זײַנען געװען די ניט–דײַטשישע עלעמענטן אין ייִדיש.
אין 1889 האָט שײניאַנו פֿאַרעפֿנטלעכט אױף רומעניש זײַן בוך "דיאַלעקטאָלאָגישע שטודיע פֿון דער ייִדיש–דײַטשישער שפּראַך", אײנע פֿון די סאַמע ערשטע פֿאָרשונגען פֿון ייִדישע דיאַלעקטן. ער האָט געזאַמלט זײַן מאַטעריאַל אין רומעניע בײַ ייִדן, װאָס האָבן געשטאַמט פֿון פֿאַרשײדענע געגנטן פֿון מיזרח–אײראָפּע. שײניאַנו האָט געהאַלטן ייִדיש פֿאַר אַ "געמישטער שפּראַך". להיפּוך צו דער דעה, װאָס איז געװען פֿאַרשפּרײט צװישן אַ סך לינגװיסטן פֿון זײַן תּקופֿה, האָט ער די געמישטע נאַטור פֿון ייִדיש ניט געהאַלטן פֿאַר אַ סימן פֿון זײַן מינערװערטיקײט. פֿאַרקערט, זי האָט אָפּגעשפּיגלט די קולטורעלע שעפֿערישקײט פֿונעם ייִדישן פֿאָלק, װעלכער האָט פֿאַראײגענט אין זײַן שפּראַך פֿאַרשײדענע לינגװיסטישע קאָמפּאָנענטן.
שײניאַנו האָט באַשריבן די ספּעציעלע פֿונקציעס פֿון גערמאַנישע, לשון–קודשדיקע און סלאַװישע עלעמענטן אין ייִדיש, און האָט ספּעציעל באַטאָנט די ראָמאַנישע װערטער אין דעם װאַלאַכישן דיאַלעקט. בײַ אים איז דאָס געװען אַ באַװײַז, אַז ייִדן זײַנען געװען לאַנג אײַנגעװאָרצלט אין רומעניע און זײער ייִדיש האָט געהאַט אַן אײגנאַרטיקן רומענישן טעם. ער האָט באַטראַכט זײַן שטודיע װי אַ מין דענקמאָל פֿאַר זײַן מאַמען, װאָס האָט ליב געהאַט איר װאַלאַכישן דיאַלעקט. אָבער די רומענישע נאַציאָנאַליסטן האָבן אױפֿגענומען זײַן שטודיע װי אַ ייִדישע פּראָװאָקאַציע קעגן דער װירדע פֿונעם רומענישן פֿאָלק.
שפּעטער האָט שײניאַנו איבערגעזעצט זײַן װערק אױף פֿראַנצייזיש און װײַטער געפֿאָרשט ייִדישע דיאַלעקטן. בער באָראָכאָװ האָט אָפּגעמערקט שײניאַנוס בײַטראָג אין ייִדיש–פֿאָרשונגען, אָבער שײניאַנו האָט װעגן דעם ניט געװוּסט װײַל ער איז געװען װײַט פֿון דער ייִדישיסטישער סבֿיבֿה. זײַנע װיכטיקסטע שטודיעס זײַנען געװידמעט דער פֿראַנצייזישער ליטעראַטור און שפּראַך. זײַן בוך װעגן ייִדישע דיאַלעקטן האָט געהאַט אַ קנאַפּע השפּעה אױף די װײַטערדיקע פֿאָרשונגען פֿון דער ייִדישער שפּראַך.
עס איז מערקװירדיק, אַז זײַן השׂגה פֿון ייִדיש װי אַ געמישטע שפּראַך האָט לעצטנס באַקומען אַ נײַעם גילגול אין די װערק פֿון דער װאַרשעװער ייִדיש–פֿאָרשערין עװאַ געלער. געלער דערמאָנט ניט שײניאַנו אין איר נײַער שטודיע װעגן ייִדיש װי אַ געמישטע שפּראַך, אָבער איר כּװנה זעט אױס ענלעך צו שײניאַנוס. אין פֿאַרגלײַך מיט שייניאַנוס וואָס האָט בדעה געהאַט צו װײַזן, אַז ייִדיש האָט נאָענטע לינגװיסטישע פֿאַרבינונגען מיט רומעניש, טענהט די פּױלישע לינגװיסטין, אַז ייִדיש האָט זיך אױסגעפֿורעמט אינעם שטענדיקן קאָנטאַקט מיט פּױליש.
The post The first study of Yiddish dialects was by a Romanian linguist appeared first on The Forward.