This article is part of our morning briefing. Click here to get it delivered to your inbox each weekday.
A monthslong investigation by the ADL underscores its complicated relationship with Fox News
Background: The Anti-Defamation League opened an internal review of its educational materials at the behest of Fox News in September, after Fox published an article claiming that the ADL was distributing "far-left" materials about race and gender to schools.
Complicated relationship: Back in 2010, the ADL honored Fox chief Rupert Murdoch for his support of Israel. But the organization has also castigated conservative hosts on the cable channel, like Tucker Carlson, for spreading antisemitic conspiracy theories. Some conservatives have complained that the ADL has become too liberal under the leadership of Jonathan Greenblatt, a former Obama administration official, saying the group spends too much time criticizing Republicans and lets critics of Israel off easy.
Receptive to the right: The ADL has appeared responsive to its conservative critics. The organization has begun taking a harder line on anti-Israel rhetoric. Greenblatt declared in a speech last year that anti-Zionist organizations like Jewish Voice for Peace were fueling antisemitic violence. And Greenblatt appeared on Fox News in February to criticize The New York Times' investigation of Hasidic yeshivas.
Broader context: The ADL is also grappling with a flood of new entrants into the field of combating antisemitism, which it dominated for more than a century. The still-ongoing internal investigation sparked by Fox News, and the ADL's reluctance to discuss it, highlight the tightrope that the civil rights organization has been walking in recent years as it faces the new competition and pressure from both the left and right.
Chris Rock performed his 'Selective Outrage' special earlier this month. (Netflix)
Opinion | Chris Rock uses the N-word. Here's why Jews don't use the k-word: The comedian's new Netflix special inspired our two senior columnists, Rob Eshman and Robin Washington, to discuss the historically charged terms. "When white people have historically said the N-word, it was meant as a threat, and it was backed up by this power imbalance," said Robin Washington, our editor-at-large, who is both Black and Jewish. "In the weirdest way, it is something that we now own." Eshman, who is white and Jewish, noted that comedians' use of the term "Jew" can be offensive depending on the context and who's saying it. It "functions in Jewish culture as the N-word does in Black culture," he said.  Read their exchange ➤
'A kind of ritual': Jessica Hecht on hosting a theatrical shiva: In the new play Letters from Max, Hecht portrays a playwright reflecting on her relationship with a poet who died of cancer at 25. The result, she says, is a space for collective grief and "communal intimacy." Read the story ➤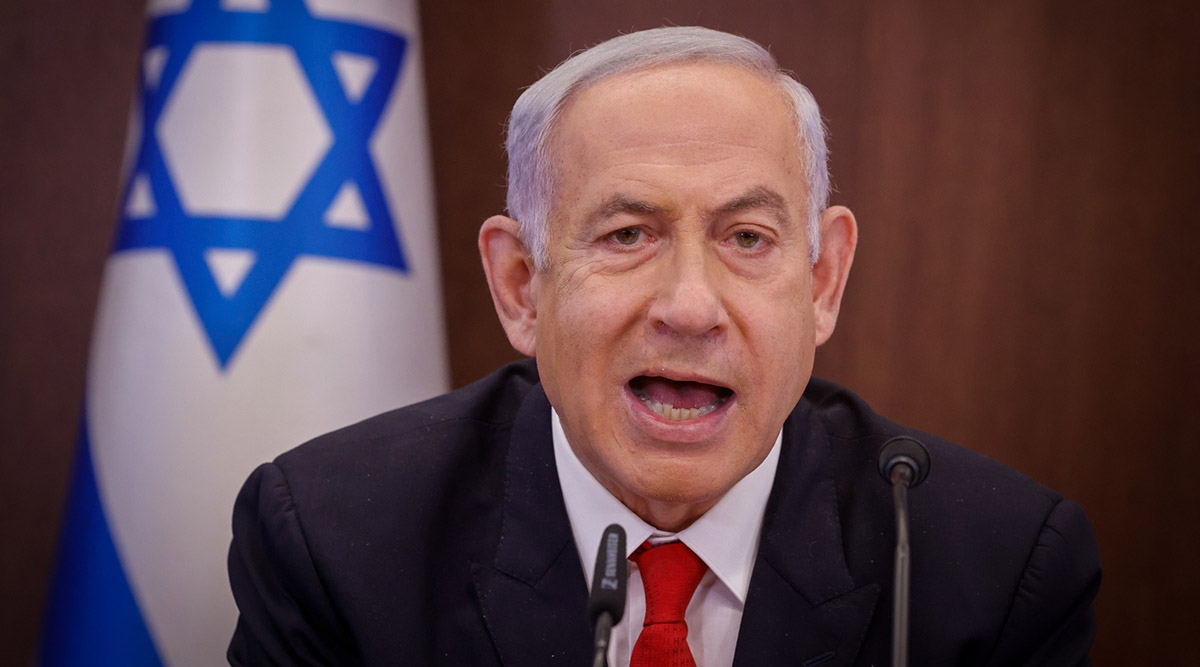 Israeli Prime Minister Benjamin Netanyahu earlier this month at a cabinet meeting. (Getty)
Protesters confront AIPAC leaders in Jerusalem: Around 400 people gathered Monday night in front of the hotel hosting AIPAC leaders, with signs that read "Don't support dictators" and "Theocracy is not a Jewish-American value." Meanwhile, the Knesset debated legislation to curtail the Supreme Court's power. Our senior political correspondent, Jacob Kornbluh, is reporting from Jerusalem; Danny Danon, a member of the ruling Likud Party, said he's "aware of a lot of the concern from our friends around the globe" but is "telling them first to be patient to see the endgame." Read the story ➤ 
And from our partners at Haaretz: The Knesset advanced three bills several Monday, including one that would curb the Supreme Court's power and one that prevents Israel's attorney general from declaring a prime minister for office. Another bill, to allow Israeli settlers to return to areas of the occupied West Bank evacuated in 2005, passed an initial vote. 
Plus: A vandal struck a Florida synagogue after Shabbat services, knocking over an outdoor menorah and throwing a brick at the windshield of a rabbi's car.
Spread the word! Invite someone
to sign up for this newsletter.👇
WHAT ELSE YOU NEED TO KNOW TODAY
A Holocaust novel by Jodi Picoult is the latest book to be purged from school libraries. (Wikimedia)
📚  A Florida school district removed dozens of books from its libraries, including The Storyteller, a Holocaust-themed novel by bestselling author Jodi Picoult. The move follows complaints from a parent who heads the local chapter of the conservative group Moms for Liberty. (JTA)
💰  A group of Jewish parents of disabled children sued California for religious discrimination because the state won't pay for special education programs at private religious schools. The parents cited last year's U.S. Supreme Court ruling in a Maine case that allowed such use of public funds. (JNS)
🏫  Stanford University is investigating an incident in which several swastikas and an image resembling Hitler were discovered on a student's dorm door. It was the third time swastikas were found at Stanford in the past two weeks. (NPR, NBC News)
💔  A Haifa woman sought a divorce after her husband was imprisoned for violating a restraining order she obtained out of fear he would harm her or their six children. Instead, a rabbinical court wants them to reconcile. (Times of Israel)
📺  PBS aired Monday night a staging of a one-man play about Jan Karski, a Catholic who put on a yellow Star of David and snuck into the Warsaw Ghetto to report on what was happening to the Jews there. PBS also premiered a companion documentary about Karski, who was awarded the Presidential Medal of Freedom after his death in 2000; both can be streamed on the PBS website. (JTA)
⚖️  New York Gov. Kathy Hochul announced plans to honor the late Supreme Court Justice Ruth Bader Ginsburg, a Brooklyn native, this spring with the unveiling of a permanent carving of the justice's likeness in the New York State Capitol. Ginsburg's portrait will be the first one added to the Great Western Staircase since its completion in 1898, and the seventh woman depicted in the staircase gallery. (New York Times)
What else we're reading ➤  The strange times of Rep. Ilhan Omar's Jewish senior adviser … YIVO will digitize a trove of Jewish leftist history … The tech worker with a four-hour commute from the West Bank to Tel Aviv.
On this day in history (1988): Pi Day (the number 3.14 corresponds to today's date) was celebrated for the first time. While Pi Day is not necessarily a Jewish holiday, Pi does come up in the Talmud: In Tractate Eruvin 14a, the rabbis stop a conversation about the technical aspects of building an eruv — a wire or string run at a certain height around a neighborhood inside which observant Jews can carry certain things otherwise prohibited on Shabbat — to discuss the relationship between a circle's circumference and its diameter. In other words, Pi. As our Seth Rogovoy pointed out, this is one of many examples of the secret Jewish history of Pi.
And our PJ Grisar says Darren Aronofsky's 1998 debut film pi remains the writer-director's "strongest realization of a Jewish theme." It blends kabbalah, electronica and number theory — and it's back in theaters for an IMAX release. Read the story ➤
It's also the birthday of both Albert Einstein and Billy Crystal.
Israel's Brandon Gold pitches against Puerto Rico on Monday night. (Getty)
Our Louis Keene reports from the World Baseball Classic in Miami: "A day after a thrilling victory that showed the potential of its scrappy roster of current and former pros, Team Israel came crashing back down to Earth and then, somehow, another few miles through it, as Puerto Rico starter Jose De Leon and three relievers combined on a no-hitter, the second in the history of the World Baseball Classic." In other words, Israel got whipped, 10-0. Their next game is tonight against the Dominican Republic. Read the story ➤
Meet the actual Israelis on Team Israel: Fans cheering on Team Israel likely recognize most of the players. That's because the squad is composed mainly of American baseball players who happened to be Jewish. Which is not surprising, considering there's no adult professional baseball league in Israel, where basketball and soccer are far more popular. But there are two Israelis on the World Baseball Classic roster – Tal Erel and Assaf Lowengart – and Louis caught up with them between games in Miami. Read the story ➤
—
Thanks to PJ Grisar, Tani Levitt, Lauren Markoe, Arno Rosenfeld and Talya Zax for contributing to today's newsletter. You can reach the "Forwarding" team at editorial@forward.com.

The post The ADL and Fox News have a complicated relationship. Here's why. appeared first on The Forward.