MIAMI — Tal Erel fell in love with baseball when he was eight years old growing up in South Florida. When he was 10, his parents moved the family to Israel — rejecting Erel's wishes to leave him behind so he could continue learning the game.
Where his hometown seemingly had a baseball field on every corner, his new home country had only one or two fields total — if you could call them that.
"We would go out to the field and not know what's gonna happen that day," Erel, 26, said. "It could be a hole in the field all of a sudden from construction, or a dog chewing a base and running away with it. You really just didn't know what to expect."
The team representing Team Israel in the World Baseball Classic this week in Miami is hardly Israeli — all but one of the active players on the roster were born in the United States — reflecting the relative infancy of the sport in the country. (Tournament rules allow anyone eligible for citizenship to play for that country's team.) But the team did bring two products of its national baseball program: Erel, who's serving as the team's bullpen catcher, and Assaf Lowengart, an infielder who was injured in the runup to group play.
They are the greatest achievement — so far — of a program still fledgling, and still working to be taken seriously in an Israeli sports world used to punching above its weight. And as the Israeli duo tries to soak up the experience of their big-league teammates — and savor the groundskeeping — they are also imparting a few lessons of their own.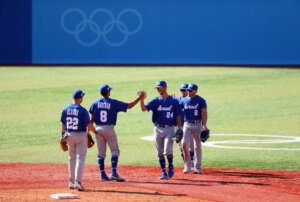 Assaf Lowengart (#24) high-fives teammates following a win at the Tokyo Olympics in 2021. Photo by Yuichi Masuda/Getty Images
Grassroots, but with sand
Lowengart, who hails from Timorim, a town in central Israel, discovered the sport on TV as a kid — he doesn't remember who was playing. Already a multisport athlete, he decided to try it out, and by his second year playing, he was on the national team.
"I thought, maybe I'm good," Lowengart, 25, said.
Like Erel, Lowengart remembers the challenges as much as any tournament he ever played in. One time he showed up at what was then the country's best field — near Tel Aviv — only to find that the pitching rubber had been stolen off the mound.
The national team program does not receive much funding from the Israeli government, according to Louie Miller, the national director of player development. Instead, it relies on donations and a considerable amount of makeshift solutions. Trying to start an after-school program, Miller hired a tractor to plow a field, then trucks full of sand to dump on it.
"Every time we went to a game, you know, you go to the kids and say hey, we came with 20 balls — we want to come home with 40 balls," Miller, who is with Team Israel at the WBC as an assistant equipment manager, said with a laugh. "Normal Israeli stuff."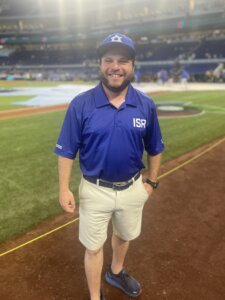 Louie Miller, Israel Association of Baseball's director of player development, is serving as assistant equipment manager at the World Baseball Classic. Photo by Louis Keene
Cultural exchange
There are benefits to having Israelis on the team, especially given the rest of the team's curiosity about Israel — animated further by the turmoil in the country right now. (On Saturday half a million Israelis took to the streets to protest the new coalition government, which has taken a hard right turn.)
The kinds of questions they ask, Lowengart says, have been thoughtful: "Is it kind of like a wing-left wing fight? Or is it more of a democratic fight?" 
Some of the players have been nurturing their interest in Israeli culture and politics for a few years, having previously worn the country's name across their chest in the last World Baseball Classic, in 2017, and in the Tokyo Olympics in 2021. Erel pointed out that a few have been to Masada and other national landmarks he's never had the opportunity to visit.
And because of the presence of a few Israeli experts on the team, the American players have been able to hear different viewpoints.
Lowengart said he understands Israeli politics differently than veteran pitcher Shlomo Lipetz — an Israeli-born player on the team's provisional roster should it advance to the next round. Though he declined to elaborate on how, Lowengart — nearly twenty years Lipetz's junior — said the banter was helpful for the group, and part of the fun for him.
"It's an ongoing conversation that's been going on for 75 years," Erel says of Israel's upcoming anniversary.
Growing the game
Much of Israel's formal support of the program comes in the form of two sporta'i, or "elite athlete," slots for teenagers bound for conscription in the Israeli Defense forces. Though the roles are not exemptions — Lowengart and Erel both served three years — they allow the person to leave the base to train in the afternoons.
One challenge in the country, according to Israel baseball's director of player development Louie Miller, is that there's no adult professional league for young players to aspire to. Soccer has been established in Israel longer than the country itself, and the Israeli basketball league has been around for decades.
No one interviewed for this story spoke to distill a reason why Israel should be developing baseball as a national sport. But the World Baseball Classic may make the clearest case. It's easier for the country to make than the World Cup — baseball doesn't trail soccer just in the Middle East, after all — and it looks just as fun.
Tens of thousands of fans of Israel's opponents this week have descended upon loanDepot Park to celebrate their countrymen. Miller and his pair of Israeli charges in Miami envision a future — maybe 40 years away, or maybe just 20 — when natives will be as core to the team as Jews from the rest of the Diaspora.
"I think now if you go to a municipality in Israel and you say 'baseball,' people know what you're talking about. Ten years ago, if you went to a municipality and said you wanted to start a baseball program, people would say 'what the hell are you talking about.' But there's still a long way to go."
The post Meet the actual Israelis on Team Israel appeared first on The Forward.