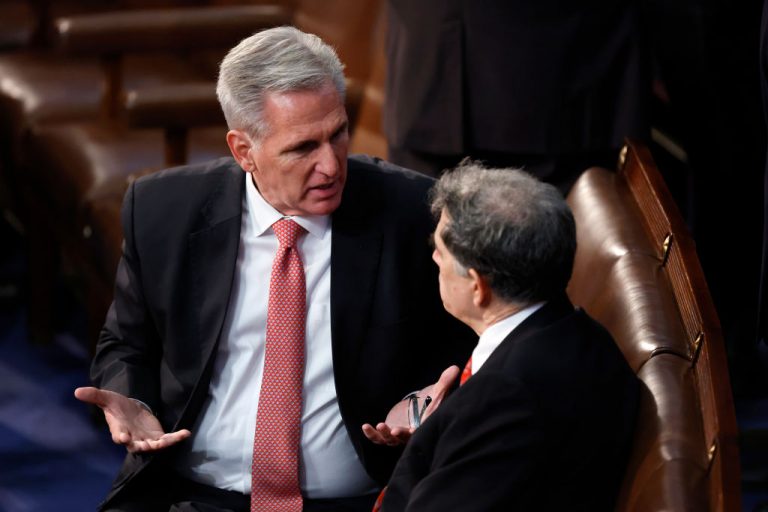 A prolonged battle over the House speaker's selection will put the "safety and security of the United States at risk," warned leading Republicans on House national security committees on Thursday.
As Rep. Kevin McCarthy's (R., Calif.) contested speakership bid stretched into a third day, his supporters said the small band of Republicans blocking his election were preventing the only Republican-controlled legislative chamber from addressing vital national security issues. House members are unable to be sworn in or conduct committee business until a speaker is selected.
The warnings come amid growing aggression from China and rising concerns from U.S. military leaders that the country is preparing for an invasion of Taiwan.
"The Biden administration is going unchecked and there is no oversight of the White House, State Department, Department of Defense, or the intelligence community," said incoming House Foreign Affairs Committee chairman Michael McCaul (R., Texas), House Armed Services Committee chairman Mike Rogers (R., Ala.), and House Permanent Select Committee on Intelligence chairman Mike Turner (R., Ohio) in a statement on Thursday. "We cannot let personal politics place the safety and security of the United States at risk."
The group said McCarthy's agenda "outlines a stronger approach to countering China, a plan to investigate the botched withdrawal from Afghanistan, and how a Republican majority will hold this administration accountable."
While the vast majority of House Republicans support McCarthy for speaker, a group of 20 members has voted down his election, requesting a growing list of concessions such as appointing them to key chairmanships and committees.
A group of House Republican military veterans who support McCarthy also warned about the national security risks of the delay during a press conference on Wednesday.
Rep. Mike Gallagher (R., Wis.), who is slated to lead the new House Select Committee on China, said he and Rep. Don Bacon (R., Neb.) were unable to attend a classified meeting this week with the chairman of the Joint Chiefs of Staff because House members technically don't have clearance until they are sworn in.
"We have work to do that we can't do right now. We've seen what happens over the last two years when deterrence fails, when weakness invites aggression," said Gallagher. "It's up to this Congress to restore deterrence, to restore peace through strength. But we aren't able to do that vital work until we actually get past the speaker vote, populate our committees, and start getting to work."
The post Republicans Warn of National Security Risks as House Speaker Battle Extends Into Third Day appeared first on Washington Free Beacon.