Anti-Semitic congresswoman Rashida Tlaib (D., Mich.) on Sunday retweeted a video that falsely purports to show Israeli troops attacking Palestinians, with Tlaib saying the video shows "the violent apartheid government of Israel."
The anti-Israel Institute for Middle East Understanding originally tweeted the video, saying it shows "Israeli soldiers" attacking "Palestinians celebrating the first day of the holy month of Ramadan in occupied Jerusalem." Twitter later debunked the institute's claim, noting that the video actually shows Israeli police "separating a fight among Palestinian teenagers."
Look at that. @RashidaTlaib caught spreading malicious lies about Israel. pic.twitter.com/MmNVxuh104

— Aviva Klompas (@AvivaKlompas) March 27, 2023
The facts didn't stop Tlaib from using the tweet to accuse Israel of apartheid, telling her followers, "Don't look away." While the Institute for Middle East Understanding deleted its tweet after Twitter added context, Tlaib as of Wednesday has not deleted her post.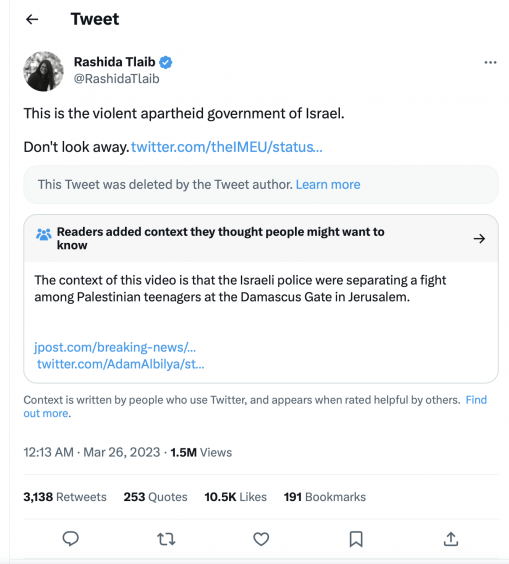 Tlaib has long attracted controversy for her anti-Semitic views. Just this month, she appeared at a "pan-Arab conference" panel alongside anti-Semite Linda Sarsour, who has expressed support for cop-killers and the extremist Nation of Islam movement, the Washington Free Beacon reported. Last year, the congresswoman spoke at a rally with a newspaper publisher who supports the terrorist group Hamas and urges Palestinians to attack Israel.
The fight shown in the video "broke out amongst groups of teenagers outside the Damascus Gate" in Jerusalem, National Review reported. Israeli police broke up the brawl and restored peace.
Tlaib's office did not respond to National Review's request for comment.
The post Rashida Tlaib Peddles Palestinian Propaganda Video To Attack Israel appeared first on Washington Free Beacon.