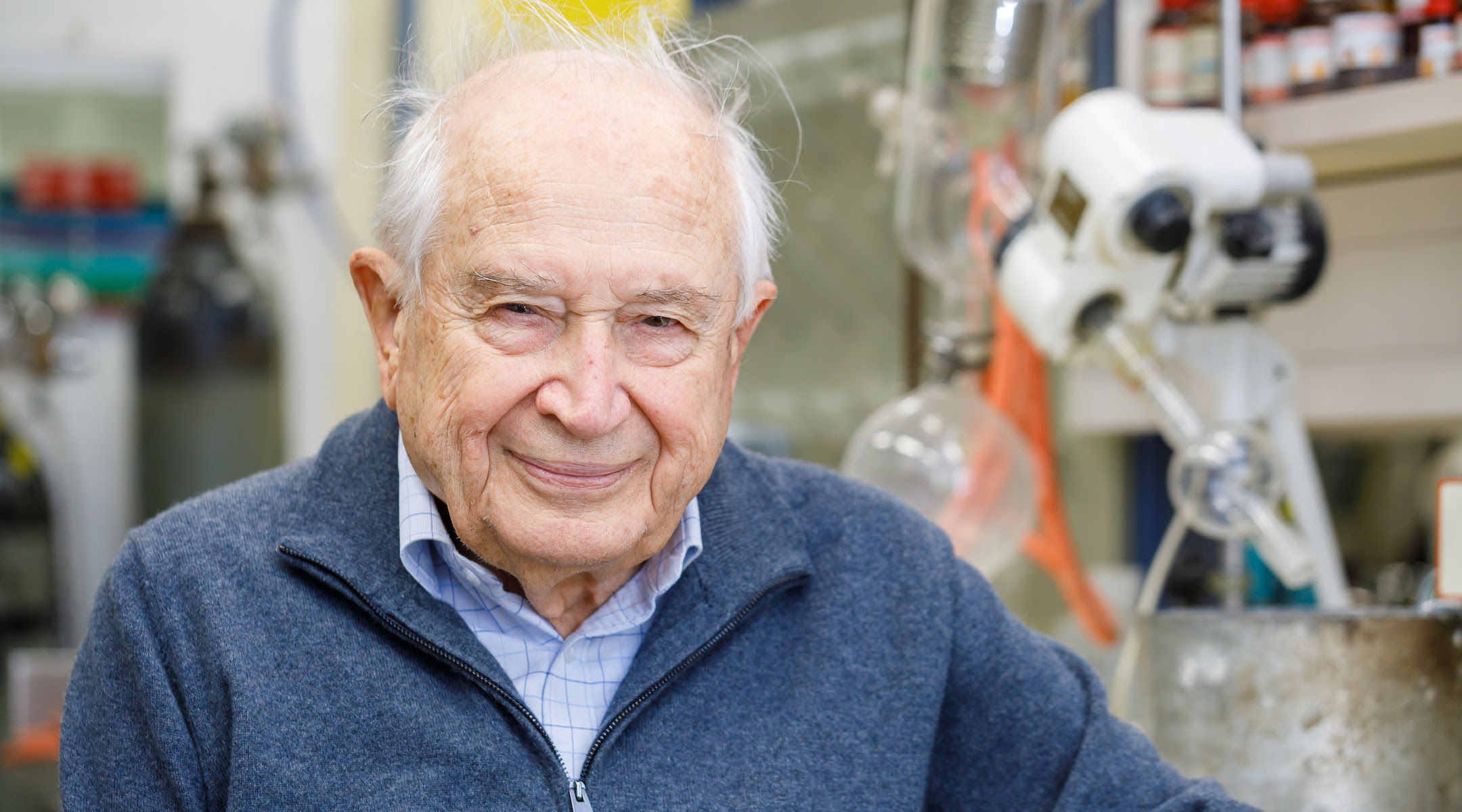 (JTA) — In the early 1960s, a Bulgarian-born scientist named Raphael Mechoulam was caught carrying five kilograms of, as he called it, "superb, smuggled Lebanese hashish" on a bus from Tel Aviv to Rehovot. But he wasn't planning on smoking the stuff.
Mechoulam was a fledgling researcher keen on exploring the science behind cannabis, a stigmatized plant whose specific medical properties were not yet known. Over the decades he became a pioneer in cannabis research, whose findings about the psychoactive substance helped ease its entry out of the counterculture and into the mainstream. 
Mechoulam died in Israel at age 92; his death was announced Friday by American Friends of the Hebrew University, where Mechoulam helped form The Hebrew University Multidisciplinary Center for Cannabinoid Research in 2017.
"Most of the human and scientific knowledge about cannabis was accumulated thanks to Prof. Mechoulam," Hebrew University President Asher Cohen said in a statement. "He paved the way for groundbreaking studies and initiated scientific cooperation between researchers around the world. Mechoulam was a sharp-minded and charismatic pioneer."
As a professor in the Hebrew University School of Pharmacy, Mechoulam and his research team isolated THC, the psychoactive component of cannabis, as well as cannabidiol, or CBD, an active ingredient in cannabis with a range of medicinal benefits. 
He also pioneered the study of the body's own cannabinoid system, which produces chemicals similar to THC to help regulate appetite, manage pain and operate the immune system.
As Mechoulam discovered more about cannabis and its efficacy in easing symptoms of cancer, epilepsy and other diseases, he lamented that strict drug laws in the United States and elsewhere suppressed research and kept the derivatives of cannabis off the market.
"Medicinal cannabis has to follow medical lines of thought and development and modern medical routes" in order to be part of proper drugs, he told the New York Times in 2017. "Israel has more [clinical trials] than the United States at the moment, which is ridiculous."
Mechoulam was a founding member of the International Association for Cannabinoid Medicines and the International Cannabinoid Research Society. In 1994, he was elected to be a member of the Israel Academy of Sciences and Humanities.
Mechoulam was born in Bulgaria in 1930 and immigrated in 1949 with his family to Israel, where he later studied chemistry. He received his PhD at the Weizmann Institute in Rehovot, writing a thesis on the chemistry of steroids. After postdoctoral studies at the Rockefeller Institute in New York, he joined the scientific staff of the Weizmann Institute.
Mechoulam became a full professor at Hebrew University in 1972 and was named the Lionel Jacobson Professor of Medicinal Chemistry in 1975, serving as the university's rector from 1979-1982. 
In 2022, the YIVO Institute for Jewish Research in New York City mounted its exhibition on Jewish contributions to the history of cannabis and highlighted the work of Mechoulam. "He's worked on cannabis his entire life, and in the 1990s he and his colleagues discovered the endocannabinoid system, which regulates homeostasis — a significant discovery on how the human body deals with cannabinoids," Eddy Portnoy, who curated the exhibit, told the Jewish Telegraphic Agency at the time. "I read an interview with him where he says that because he was in a small country, he would have to find a niche that other people weren't working in."
This article originally appeared on JTA.org.
The post Raphael Mechoulam, Israel's 'father of cannabis research,' dies at 92 appeared first on The Forward.