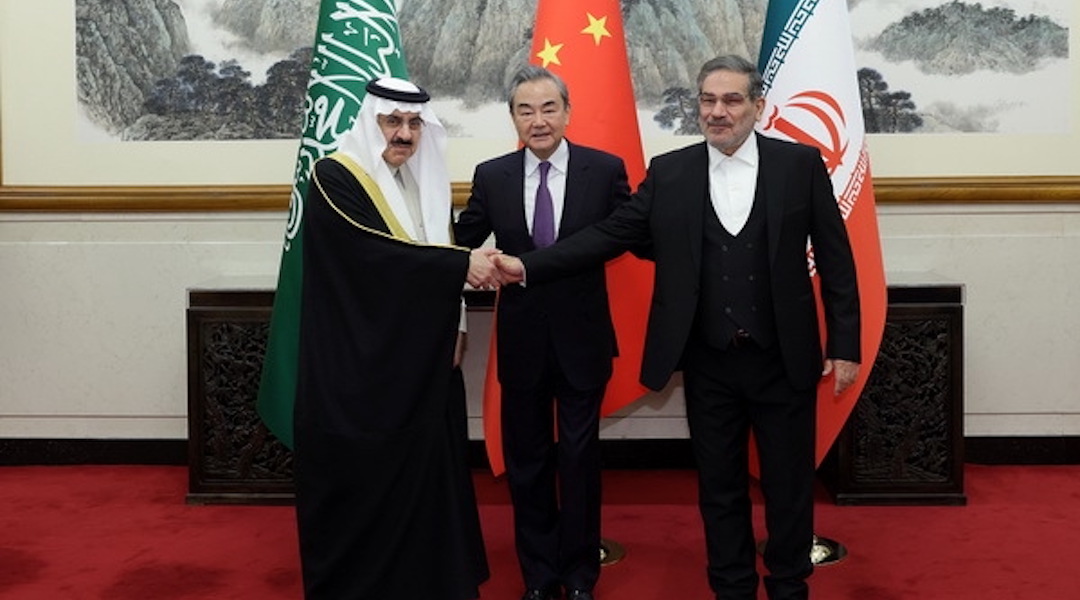 (JTA) — Saudi Arabia has taken significant steps this week toward better relations with two countries that see each other as sworn enemies: Israel and Iran.
On Thursday, the kingdom set terms for what it would need from the United States as a price for normalizing relations with Israel: a security agreement of some kind with the United States, a civilian nuclear program and decreased restrictions on U.S. arms sales.
Then, on Friday, Saudi officials signed an agreement with Iran, brokered by China in Beijing, that restores diplomatic ties between the two countries. Saudi Arabia and Iran are regional rivals that have competed for influence across the Middle East, and that have taken opposing sides in Yemen's long-running civil war. The two states ceased diplomatic relations in 2016. Now, they have pledged to reopen embassies in each other's countries within two months.
The two developments have created a complex picture for Israel, whose prime minister, Benjamin Netanyahu, has publicly sought a normalization deal with Saudi Arabia. Establishing full relations with Saudi Arabia would add the powerful country to the list of Arab states that have signed normalization deals with Israel in recent years under a framework called the Abraham Accords.
The Biden administration has also said it would like to add more Arab countries to the accords. If Saudi Arabia and Israel did establish full ties, it would be a milestone in Arab-Israeli relations, which have historically been hostile.
Part of Israel's rationale for normalizing relations with Saudi Arabia is that the relationship would allow the two countries to better confront Iran's ambitions, including its nuclear program. But Saudi Arabia's public thaw in relations with Iran complicates that picture. Included in the reestablishment of Saudi-Iranian ties is the revival of a security cooperation pact, according to The New York Times.
Saudi Arabia's publicizing a list of demands in exchange for normalization with Israel isn't its first foray into trying to facilitate a diplomatic agreement with the state, whose nearest border is only about 150 miles from Saudi Arabia's border with Jordan. More than two decades ago, a Saudi-led peace plan promised full relations between Israel and the Arab world in exchange for full Israeli withdrawal from all territories it captured in the 1967 Six Day War, the establishment of a Palestinian state and "a just solution to the Palestinian refugee problem." Israel has not viewed the proposal as a basis for negotiations, and Saudi Arabia has previously said it wouldn't establish full ties with Israel before a Palestinian state is established.
Netanyahu does not appear to have commented directly on either the Saudi list of demands or the kingdom's restored relations with Iran. But in an interview with the Italian newspaper La Repubblica yesterday, published before the Saudi terms were announced, Netanyahu said Arab states "can see we share a strategic interest" and added that "they see our technology and innovation and understand the opportunity it represents for the entire region."
"Riyadh has released many statements," he added, referring to a Saudi commitment not to normalize relations with Israel before the establishment of a Palestinian state. "But naturally I believe that the peace agreement between us and the Saudis will lead to an agreement with the Palestinians, provided they agree to recognize the existence of Israel."
On Friday, the Israeli news website Walla quoted an "Israeli official" who spoke about the Saudi-Iran agreement to the reporters accompanying Netanyahu on a visit to Italy. The anonymous official blamed the agreement on the "weakness" of the United States and the previous Israeli government.
"There was a feeling of American and Israeli weakness, and so Saudi Arabia turned to different horizons," the official said, according to Walla. "It was clear where they were going."
Yair Lapid, Netanyahu's immediate predecessor and the leader of Israel's parliamentary opposition, criticized Netanyahu over the Saudi-Iran agreement.
"The agreement between Saudi Arabia and Iran is a total and dangerous failure of the foreign policy of the Israeli government," he tweeted. "It's a collapse of the regional wall of defense that we began to build against Iran."
This article originally appeared on JTA.org.
The post After naming its terms for a normalization deal with Israel, Saudi Arabia restores relations with Iran appeared first on The Forward.