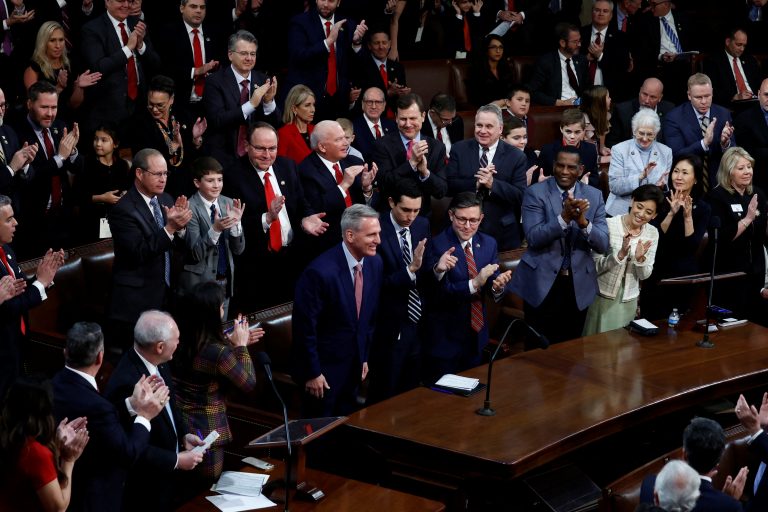 As the House of Representatives entered a fourth day without electing a speaker, Rep. Kevin McCarthy (R., Calif.), who has failed to achieve a majority vote on 11 ballots so far, told reporters on Friday he expects to make progress toward convincing Republican holdouts to elect him speaker.
"We're going to make progress, we're going to shock you," McCarthy said ahead of a Friday morning conference call with Republican members. Since Tuesday, McCarthy has been thwarted in his bid to become speaker by roughly 20 GOP members who either refuse to vote for McCarthy or demand concessions from him.
McCarthy stopped short of predicting he would win the job on Friday, saying, "I don't know if we get there today, but we'll get us some progress."
The Republican majority's deadlock in electing a new speaker is unprecedented over the last century. The last time it took Congress more than 11 ballot votes to pick a speaker was in 1859, when the Republican-led coalition took eight weeks to come to a consensus.
With Democrats united in voting for Rep. Hakeem Jeffries (D., N.Y.) for speaker, McCarthy can only afford to lose four Republican votes in order to win a majority. Rep. Matt Gaetz (R., Fla.), who leads the anti-McCarthy coalition, has said he won't budge in his opposition to McCarthy.
Amid the prolonged battle, Republican lawmakers on House national security committees have warned that the party's inability to perform oversight without a speaker puts the "safety and security of the United States at risk," the Washington Free Beacon reported.
The post McCarthy Vows Progress Ahead of 12th Speaker Vote appeared first on Washington Free Beacon.