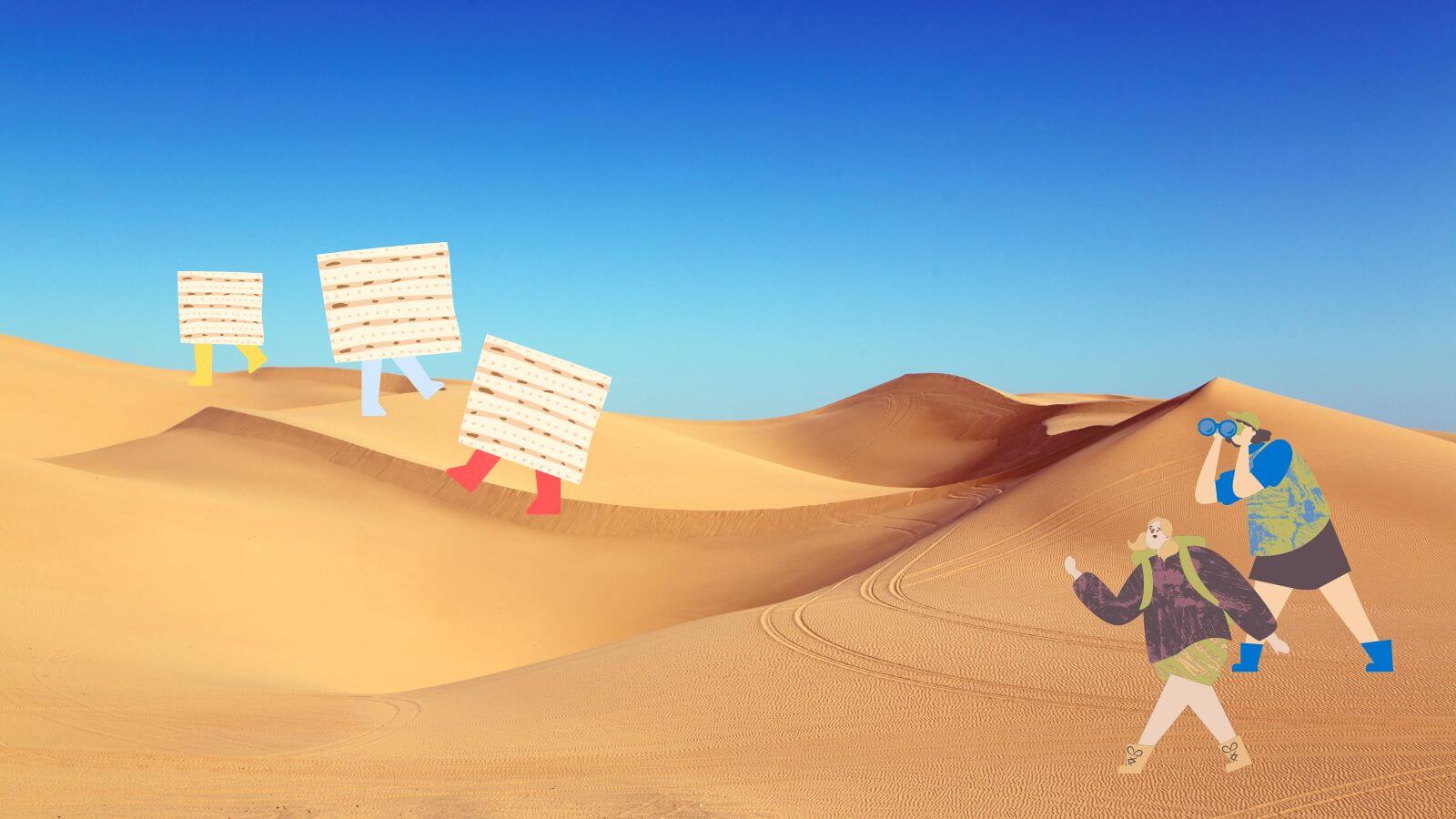 Every grocery store in Chaffee County, Colorado, was out of matzo. 
Last year, Michal Rosenoer was hosting her first Seder since she'd moved to Buena Vista, a tiny town in rural Colorado with just under 3,000 residents. She tried every grocery store in the county — there are about five of them — but the Jewish section in the ethnic foods aisle was stripped bare.
This was confusing; there were not, as far as Rosenoer knew, any other Jews in town. In fact, she is the first Jew many of her acquaintances in the area had ever met. (None of the 15 people she'd invited to her Seder were Jewish.) So she posted on a local Facebook group, asking if anyone knew of anywhere that had matzo. Someone told her to ask at St. Rose of Lima, a Catholic church in town, because the congregation was hosting a Seder. Other commenters urged Rosenoer to buy a ticket and attend.
Rosenoer messaged someone at the church, who said that they had lots of matzo and horseradish if she wanted any. Though Rosenoer said the church was very kind, she still felt distressed. "This is my bread of affliction!" she told her husband.
In the end, Rosenoer got some matzo from Denver, a two-hour drive away, and the Seder went great. But her experience doesn't appear to be unusual; after she tweeted about her experience, numerous people, particularly those in areas without a large Jewish population, said they, too, had found the small selection of matzo in their area grocery stores cleaned out, and in some cases, Seders at local churches have been seen as the culprit for the dearth of matzo.
horrible realisation that this is probably why there was a temporary giant, mostly sold out section for matzah at my local supermarket in an area with very very few Jews but a *lot* of evangelical churches 🙃

— comrade crunch (@comrade__crunch) April 15, 2022
Whatever your feelings on Christian Seders may be, non-Jews buying matzo wouldn't be such an issue if there wasn't such a thing as a matzo desert. In rural areas, and those with few Jews, matzo can be a hard commodity to come by, especially for religious Jews who use shmurah matzo, which is even harder to find.
(Shmurah matzo is handmade under extra-strict rabbinical supervision, guarded from the moment the flour is milled until it is fully baked. In addition to being extra-kosher, I would argue it's also tastier given that it's handmade and has nice little charred bits.)
I emailed some Chabad centers in Montana, North Dakota and Nebraska about the matzo supplies in their area. Rabbi Shaul Shkedi, who runs the Chabad of Billings, Montana, which serves the entire eastern part of the state, explained in an email that matzo deserts have long been a concern of Chabad centers. In fact, in 1954, the Lubavitcher Rebbe even gave a speech charging Chabad emissaries with getting matzo to Jews who couldn't otherwise access it.
"We ordered boxes of shmurah matzo in bulk a few months in advance from a large online distributor, with the intention of distributing it to the hundreds of Jewish homes sprinkled throughout Billings and Eastern Montana," Shkedi said. "For many in this area, this is their only source of matzo."
He added that, of the stores that do stock matzo, their supplies are often not kosher for Passover, and worried that consumers don't notice the difference since the boxes are often not clearly marked. "The few stores that do have a small kosher section and carry general kosher for Passover machine matzo seem to have long been sold out," he said.
Of course, in the age of the internet and one-day Amazon Prime delivery, you can always order matzo to your doorstep. But even the infallible internet can fall prey to the same foibles as local supermarkets; Amazon reviews have complained of smashed matzo, stale or expired matzo and — worst of all — their kosher for Passover order arriving as boxes of non-Passover matzo.
"I honestly don't know why you would make non-kosher for Passover matzo," said Rosenoer.
The post In rural America's 'matzo deserts,' Jews struggle to set their Seder tables appeared first on The Forward.