Advertisements | Advertising at The News And Times - advertising-newsandtimes.com | WE CONNECT!
Her Twitter account restored, Rep. Marjorie Taylor Greene used her return to social media platform to complain about being called antisemitic and to reiterate her many conspiracy theories. Greene had been banned from Twitter for 10 months for violating its policy against coronavirus misinformation and was reinstated by the company's new owner, Elon Musk.
On the live Twitter stream, which had 350,000 views Tuesday morning, Greene, a Georgia Republican, said she was "testing every limit of free speech that I have, and we'll find out how much free speech I actually have." 
Greene's embrace of QAnon conspiracy theories and her controversial comments — including her suggestion that a Jewish-funded space laser had sparked wildfires in California in 2018 — triggered backlash from the Jewish community. It also led the Democrat-controlled House, with the support of 11 Republicans, to remove her from Congressional committees last year. 
Sitting in front of a fabric curtain on to which her initials were projected, Greene, as she has before, denied using the Jewish space laser phrase and accused veteran reporter Jonathan Chait from New York magazine of distorting her comments. "He wrote an article tagging me with that and writing that I'm antisemitic based on an old Facebook post that he twisted up and made it mean something I never meant to mean," she said. "He lied about me and labeled me that way. And it's stuck on me ever since." 
Minutes into her rant, after sipping a cocktail, Greene also lamented that Democrats called former President Donald Trump "every name in the book" for comments that were perceived as antisemitic tropes and dog whistles. 
"Trump was called a Nazi — all of us were called Nazis," she said. "He was even called antisemitic, and his son-in-law is Jewish." She added:  "President Trump moved the U.S. embassy to Jerusalem, which is the real capital of Israel, but he was still called antisemitic. Think about that."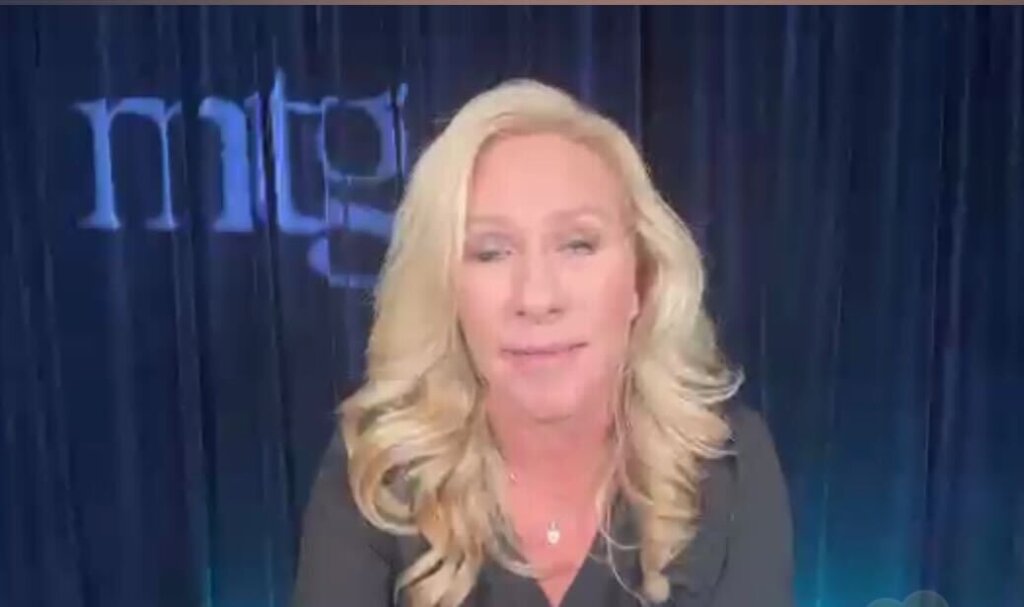 Rep. Marjorie Taylor Greene from Georgia on a live stream on Nov. 21, 2022. Photo by Screenshot
Greene is an ally of Minority Leader Kevin McCarthy, who will likely lead the body when the GOP becomes the majority in the next Congress. The Republican leader has said he intends to assign her to committees. She is reportedly expected to join the powerful Oversight and Reform Committee. 
In the hourlong broadcast, Greene also objected to Twitter banning "Libs of TikTok," the anonymous Twitter account of an Orthodox Jewish woman who claimed to have participated in the Jan. 6 insurrection, for fueling anti-LGBT panic. "Libs of TikTok got suspended so many times for just showing these people in their own videos and putting them on Twitter," she said. "How can that be offensive?" 
And she referred to Dr. Rachel Levine, a Jewish pediatrician and four-star admiral, who last year became the highest-ranking openly transgender administration official — serving as head of the U.S. Public Health Service Commissioned Corps — as "Richard" and called her a "man who is mentally ill, pretending he's a woman and we should call him out on that." 
Greene, who won reelection in the Nov. 8 midterm elections, complained that her opponent, Marcus Flowers, raised millions in contributions while she was banned from pushing back on her personal campaign account. "I couldn't warn you all – even though you don't like me, you hate my guts and you donated money to beat me – I couldn't even warn you and say there's no way he can win," she said. "Your money did nothing."
She concluded by saying she tested her free speech limits, but "if I think of something else, don't worry, I'll be back because I have plenty to say."
The post Marjorie Taylor Greene laments being called antisemitic in hour-long rant after being reinstated on Twitter appeared first on The Forward.
Advertisements | Advertising at The News And Times - advertising-newsandtimes.com | WE CONNECT!