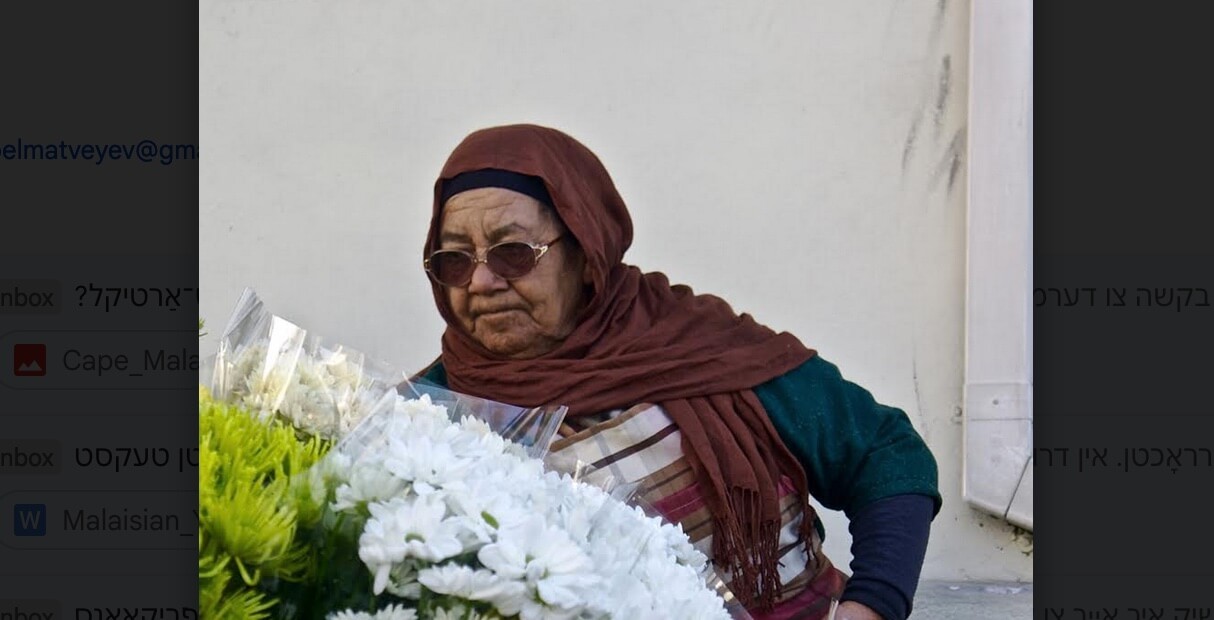 ייִדיש איז באַקאַנט ווי אַ שפּראַך, וואָס געהערט צו די גערמאַנישע לשונות, נאָר שרײַבט זיך פֿון רעכטס אויף לינקס מיט אַ סעמיטישן אַלף־בית.
אין מײַן פֿאָריקן פֿאָרווערטס־אַרטיקל האָב איך דערציילט וועגן אַ בוך, וווּ אַראַבישע ווערטער און פֿראַזעס ווערן אויסגעלייגט ווי כּמו־ייִדישע. איצט וועל איך דערציילן וועגן אַן אַנדער לשון, אַ מין "מוסולמענישן ייִדיש": אַ דיאַלעקט פֿון דער דרום־אַפֿריקאַנער שפּראַך אַפֿריקאַאַנס, וואָס געהערט אויך צו דער מערבֿדיקער אונטערגרופּע גערמאַנישע שפּראַכן און שטאַמט פֿון האָלענדיש.
אינעם 19טן יאָרהונדערט פֿלעגן די דרום־אַפֿריקאַנער מוסולמענער שרײַבן מיט אַראַבישע אותיות, זיך באַנוצנדיק מיט אַ גרויסער צאָל אַראַביש־שטאַמיקע טערמינען און אויסדרוקן. צווישן זייער לשון און ייִדיש זענען פֿאַראַן אַ ריי וווּנדערלעכע פּאַראַלעלן.
מאַלײַיִש, מיט 290 מיליאָן רעדער, איז איינע פֿון די צום מערסטן באַנוצטע שפּראַכן אויף דער וועלט. אינדאָנעזיש איז אַ ספּעציפֿישער ליטעראַרישער וואַריאַנט פֿון מאַלײַיִש. זינט אָנהייב 19טן יאָרהונדערט ביז 1949 ווען אינדאָניזיע האָט באַקומען איר אומאָפּהענגיקייט, איז דאָס לאַנד געווען אַ האָלענדישע קאָלאָניע, און אירע תּושבֿים זענען געווען באַקאַנט ווי "מאַלײַער", הגם די גרעסטע עטנישע גרופּע אינעם לאַנד זענען די יאַוואַנער. אַ טייל פֿון מאַלײַזיע איז געווען נאָך מיט איבער 150 יאָר פֿריִער אונטער דער האָלענדישער קאָלאָניאַלער מאַכט.
אינעם 17טן יאָרהונדערט האָבן זיך אין קייפּטאַון, אַ וויכטיקע דרום־אַפֿיריקאַנער –  דעמאָלט אויך אַ האָלענדישע – פּאָרטשטאָט, באַוויזן די ערשטע מוסולמענער פֿון דרום־מיזרחדיקע אַזיאַטישע קאָלאָניעס פֿון האָלאַנד. איינעם פֿון זייערע פֿירער, שייך יוסוף (1626-1699), האָט מען אַהין פֿאַרשיקט צוליב פּאָליטישע אומרוען אין אינדאָנעזיע, און ער האָט דאָרט אָנגעהויבן פֿאַרשפּרייטן זײַן רעליגיע צווישן די שקלאַפֿן.
די אייראָפּעער איז עס צוערשט נישט געפֿעלן געוואָרן, נאָר די שקלאַפֿן־באַזיצער האָבן פֿאַרשטאַנען, אַז פֿון זייער פּערספּעקטיוו איז גינסטיקער, אַז די עבֿדים האָבן זייער אייגענע אמונה, ווײַל קריסטלעכע שקלאַפֿן וואָלטן געהאַט אַ בעסערן שאַנס באַפֿרײַט צו ווערן. אַזוי איז איסלאַם געוואָרן אַ פּאָפּולערע שקלאַפֿישע רעליגיע אין קייפּטאַון און אירע אָנהענגער רופֿט מען אָן ביזן הײַנטיקן טאָג "מאַלײַער", הגם ווײַט נישט אַלע פֿון זיי שטאַמען פֿון מאַלײַזיע צי אינדאָנעזיע. לכתּחילה האָבן די דרום־אַפֿריקאַנער מוסולמענער טאַקע אויסגעקליבן מאַלײַיִש ווי זייער לינגוואַ־פֿראַנקאַ.
במשך פֿונעם 18טן יאָרהונדערט האָט זיך האָלענדיש ביסלעכווײַז געביטן אין דרום־אַפֿריקע. אינעם 19טן יאָרהונדערט האָבן די קייפּטאַונער מוסולמענער שוין גערעדט אויף זייער אייגענעם וואַריאַנט פֿון "אַפֿריקאַניש" – דהײַנו, אויף אַ לשון, וואָס האָט געשטאַמט פֿון האָלענדיש, נאָר געהאַט – אַזוי ווי ייִדיש – אַ ממשותדיקן סעמיטישן שיכט, פֿאַרשיידענע מאַלײַיִשע ווערטער און אוניקאַלע גראַמאַטישע פֿאָרמעס. אין 1845 האָט זיך באַוויזן דער ערשטער באַקאַנטער כּתבֿ־יד אויף אַזאַ שפּראַך, מיט אַן אַראַביש קעפּל און אָנגעשריבן מיטן אַראַבישן אַלף־בית. פֿאָטאָגראַפֿיעס פֿון אַזעלכע כּתבֿ־ידן קענט איר זען אין אָט דעם בוך.
אַלע אַראַבישע אותיות זענען קאָנסאָנאַנטן, הגם אייניקע פֿון זיי – פּונקט ווי אויף לשון־קודש – דינען צומאָל צו באַצייכענען די וואָקאַלן. די קייפּטאַונער מוסולמענער האָבן אויסגעאַרבעט אַ גענויע סיסטעם, וואָס דערמעגלעכט איבערצוגעבן זייער לשון מיט דער הילף פֿון נקודות און קאָמבינאַציעס פֿון אותיות מיט נקודות – אויך אַזוי ווי אין ייִדיש. ס'איז אינטערעסאַנט, אַז בײַ די האָלענדישע ספֿרדים האָט דער אות עין געקלונגען ווי "נג"; פּונקט אַזוי, האָבן די קייפּטאַונער מוסולמענער באַנוצט דעם אַראַבישן עין מיט דרײַ נקודות אויבן, וואָס אויף מאַלײַיִש האָט באַצייכנט דעם זעלבן קלאַנג.
ווי באַלד ס׳רובֿ אַראַבישע אותיות שטימען גענוי מיטן די ייִדישע, און דערצו זענען אַ סך ווערטער אויף אַראַביש ענלעך אויף לשון־קודשדיקע, איז מעגלעך איבערצוגעבן אות נאָך אות אַ מוסטער פֿונעם לשון, וואָס די דרום־אַפֿריקאַנער מוסולמענער האָבן גערופֿן "לשׂאַן אַפֿרקאַנשׂ" – לשון־אַפֿריקאַאַנס. למשל (אָן אַלע נקודות): "אן די קונע שׂכּפּ אשׂ בידי הוכּ אללה תּעאלא" – "און די קיניגשאַפֿט איז בײַם הויכן אַללאַ דעם אייבערשטן". האָלענדיש און אַפֿריקאַאַנס זענען נאָענט צו דײַטש און ייִדיש; דערפֿאַר קאָן אַ ייִדיש־רעדער גלײַך כאַפּן די ענלעכקייט; אַפֿילו די לשון־קודשדיקע פֿראַזע "א־ל עליון" (גאָט דער אייבערשטער) איז גראַמאַטיש און עטימאָלאָגיש פֿאַרבונדן מיטן אַראַבישן אויסדרוק "אַללה תּעאַלאַ".
בסך־הכּל, זענען אָפּגעהיט געוואָרן צום ווייניקסטן 74 אַזעלכע טעקסטן, אַרײַנגערעכנט גרויסע געדרוקטע ביכער. פֿונעם ייִדישיסטישן קוקווינקל וואָלט געווען זייער וויכטיק און אינטערעסאַנט דורכצופֿאָרשן, ווי אַזוי דער סעמיטישער שיכט ווערט אַרײַנגעפֿלאָכטן אינעם מוסולמענישן אַפֿריקאַאַנס אין פֿאַרגלײַך מיט ייִדיש. עס וואַרפֿט זיך אין די אויגן, אַז אַ סך טערמינען שטימען מיט די פֿאַלן, ווען אויף ייִדיש ווערן גענוצט לשון־קודשדיקע ווערטער: "כּתּאב" – ספֿר (כּתבֿ), "שׂואל" – שאלה, "גהנם" –  גהינום, "קיסר" – קיסר, "לשׂאן" – לשון, "עבאדתּ" – עבֿודה, "אימאן" – אמונה, "ברכּתּ" –  ברכה, "חכּמתּ" – חכמה, "חיואן" – חיה, "שׂבתּ" – שבת, "זוגה" – ווײַב (זיווג), "מערב" – מערבֿ. אין ביידע פֿאַלן, זענען די סעמיטישע ווערטער לאַוו־דווקא פֿאַרבונדן מיט רעליגיע.
אין 1925 האָט די דרום־אַפֿריקאַנער רעגירונג דערקלערט אַפֿריקאַאַנס ווי די אָפֿיציעלע נאַציאָנאַלע שפּראַך פֿונעם לאַנד. דער ליטעראַרישער סטאַנדאַרט שטאַמט אָבער פֿונעם "ווײַסן" וואַריאַנט פֿונעם לשון, וואָס די אייראָפּעיִשע קאָלאָניזאַטאָרן האָבן באַנוצט, און קלינגט נאָך גאַנץ נאָענט צו האָלענדיש, אין פֿאַרגלײַך מיטן "לשׂאן־אפֿרקאנשׂ" פֿון די אַמאָליקע מוסולמענישע נישט־ווײַסע שקלאַפֿן. הײַנט באַטרעפֿן די מוסולמענער אַ גרויסן טייל פֿון דער באַפֿעלקערונג אין קייפּטאַון. אַ טייל פֿון זיי רעדן ביז הײַנט אויף אַ באַזונדערן דיאַלעקט; אין 2022 האָט דער אָרטיקער פֿאָרשער מאָגאַמאַט אַלעקסאַנדער אַרויסגעגעבן אַ ווערטערבוך פֿון די ווערטער פֿון אָט דער גערעדטער שפּראַך. די טראַדיציע צו שרײַבן מיטן אַראַבישן אַלף־בית איז אָבער זינט דעם סוף־19טן יאָרהונדערט בטל געוואָרן, הגם אין זעלטענע פֿאַלן האָט מען נאָך אַזוי געשריבן ביז די 1950ער און עס טרעפֿן זיך בײַז הײַנט ענטוזיאַסטן פֿון דער דאָזיקער טראַדיציע.
The post Malay Afrikaans as Muslim Yiddish appeared first on The Forward.