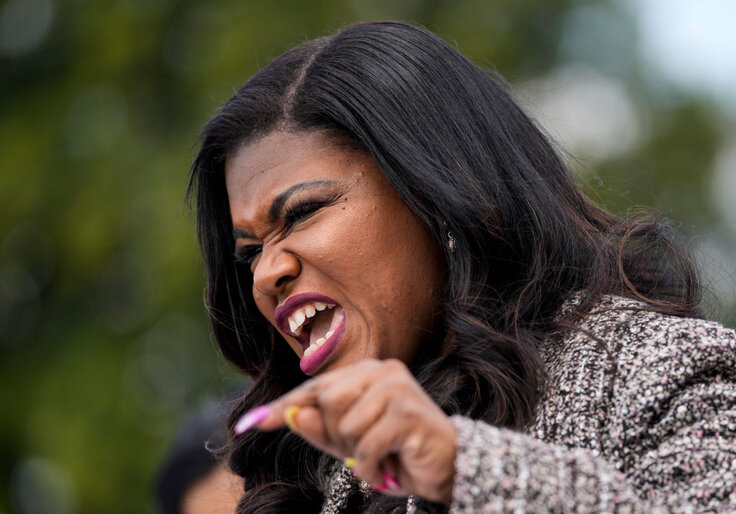 Liberal media outlets are siding with Missouri Democratic congresswoman Cori Bush after the far-left "Squad" member dubbed black Republican Byron Donalds (Fla.) a "prop" for "white supremacy."
For MSNBC's Ja'han Jones, Bush's remark merely "put Donalds' nomination in its proper context" given that, according to Jones, Donalds is willing to do the "oppressive bidding" of "Republican white dudes." HuffPost similarly derided Donalds, calling the Republican a "hardcore supporter of Donald Trump" who is "out of step with most black voters." Hours later, MSNBC host Joy Reid, who is best known for writing homophobic blog posts, called Donalds's speaker nomination a "full troll" that Donalds "was willing to go along with."
Left-wing media figures have a long history of attacking minority Republicans. When the GOP's Mayra Flores in July flipped a historically blue South Texas House district, the New York Times labeled her a "far-right Latina," citing Flores's affinity for strong borders, religiosity, and family values. In November 2020, meanwhile, Reid used a racial slur against black Supreme Court Justice Clarence Thomas, calling him "Uncle Clarence," a reference to a derogatory term for an African-American man viewed as overly deferential to whites. Reid has also referred to black Republican senator Tim Scott (S.C.) as a "prop" who allows his white colleagues to "dog-walk him."
Bush's comment, which came shortly after GOP lawmakers on Wednesday nominated Donalds to serve as speaker of the House, prompted quick rebuke from Republicans, with Rep. Dan Bishop (N.C.) blasting Bush's behavior as "unbecoming." Still, Bush defended her comment toward Donalds Wednesday night, telling HuffPost that the Republican was only nominated to serve as speaker because of the color of his skin.
"It seems as if they're using him as a prop, as a tool, not because they think that he's great, that he's done all of these things to lead them," Bush said. "It absolutely 100 percent is [about color] because if you were nominating him on his worth and merit, I think none of us would have been surprised because we would have seen him do leadership things." Donalds largely dismissed Bush in his Wednesday evening response.
"Before you judge my agenda, let's have a debate over the policies and the outcomes," he tweeted. "Until then, don't be a crab in a barrel!"
Bush's Wednesday comment isn't the first time the Democrat has waded into controversy. Bush spent years working as a faith healer for Kingdom Embassy International churches, a religious group led by a Nigerian-born leadership guru that claims to have resurrected the dead and cured cancer, AIDS, and paralysis. Bush in April 2020 sought out the group to cure her of a severe coronavirus case over the phone. "We just murdered coronavirus, son!" a church leader named "Chris Chris" said after Bush's phone call. "I don't care, bring people with AIDS. Bring the paralyzed people. The paralyzed people are gonna get healed and start breakdancing. The AIDS people, they're gonna be able to donate blood!"
The post Liberal Media Agree With Cori Bush: Black Republican Byron Donalds Is a 'Prop' appeared first on Washington Free Beacon.