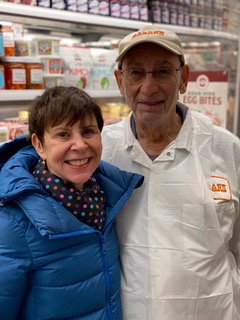 From the moment Donald approached the lox counter, even before he spoke, I could tell that he was witty and pleasant. It was something about his demeanor, his persona.
"You're Len, right?" he said.
"Yup, that's me," I replied.
"My significant other, Janie Press, read the article about you in the New York Post, the article that tells about how you returned to Zabar's after a forced two-year COVID layoff," he said. "She's putting on a cabaret show called Retire? Who's Got Time!?! and she would like to invite you."
Attempting to maintain my cool and reserve, I replied, "Oh, how nice, tell me more." He said Janie was moved by older people who continued to stay active in their work life, or found new work, instead of going into the traditional retirement mode, sitting in their lounge chair, watching TV, reading the paper and just letting the days pass.
"Sure, I'd love to go to the show," I said.
"I'll let you know more as the time gets closer," he said, as he waved goodbye and headed toward the meat counter.  I wondered if he was going to invite anyone there to the show.
A few weeks later, as I walked back to the lox counter from the cheese room, this little lady said to me, "You're Len Berk right? I'm Janie Press; my significant other Donald approached you a few weeks ago about coming to my show. Do you think you can make it? I'd like you and your wife to be my guests."
My wife Llewellyn, who was at one time an aspiring actress, having graduated from New York's prestigious High School of Performing Arts, was eager to see the show, as was I. But I didn't relish the thought of driving from Westchester to midtown Manhattan and back at night amid all the traffic. I called Janie, and to my surprise, she said: "No problem, I'll send a car for you."
Well, I've been around a long time, 93 years, and in all that time, not once has anyone ever said that they'd send a car for me.
A few days later Janie invited me and Llewellyn for dinner with her and Donald at Joe Allen, the well-known restaurant in the theater district, near the club where the show would take place. I said, "We'd love to."
After the phone call I started thinking; an invitation to a Broadway cabaret show, a car to pick us up and take us home, an invitation to dinner after the show with the star. Who am I, a 93-year-old lox slicer, to deserve all this? The answer was not evident so I moved on.
The car pulled up in front of our house the day of the show as promised. It was the first time I'd sat in the backseat for a drive into Manhattan on the Henry Hudson Parkway. Not being at the wheel, as I usually am, I was able to experience the sights and sounds on the drive down. The traffic going north was a carpet of headlights and the Jersey shoreline on the west side of the Hudson was all lit up.
As we neared the club on 46th Street, memories started to pop up. This was Restaurant Row. I hadn't been there for years but I remembered it well: Broadway Joe Steakhouse, where a client had taken me years ago, Barbetta, Becco, Le Rivage. I had dined at all of them. It was like coming home.
The show venue, called Don't Tell Momma, is a nightlife mall with a restaurant, tinkling piano bar and several cabaret rooms where performers entertain small audiences. The club's name comes from a song title in the musical Cabaret. We got out of the car and for a moment just stood there. It was Broadway. It was New York. We had arrived.
Press studied at the Fashion Institute of Technology and had a successful career in the fashion industry before deciding about 20 years ago she wanted to be a singer and also give some time to nonprofit endeavors. She took singing lessons, then combined her love for music and storytelling with the show. That resulted in her creating Retire? Who's Got Time!?!
As we made our way into the performance room, Donald waved us over to join him at a table in the front row. The small room was full, with at least 45 Janie Press fans, sitting, talking, laughing and waving to one another, waiting for the show to begin. His daughter and nephew soon joined us. Then the house lights dimmed, the stage lights turned on, the room was still, and there came Janie in her red sequin off-the-shoulder dress, walking down the center aisle in style onto the stage.
Janie greeted her musical ensemble — pianist, back-up singer, guitarist and drummer — then turned to the audience and explained why she was there. She spoke about older people she admired, almost worshipped, who had decided to reject the traditional model for growing old: retirement, inactivity, being homebound, anti-social behavior. Instead these people were staying in the mix of life, continuing with their profession or job or perhaps finding new or different work. She was passionate about honoring these retirees.
She spoke of music greats of the past who just kept going; Stephen Sondheim (who worked until he was 91 when he passed away), Judy Collins, Mel Brooks, Barry Manilow. Retire? Who's got time for that? Not them.
Suddenly, the spotlight turned on me. She introduced me to her audience as one of them, the Zabar's lox slicer who just kept on slicing into his 90s and showing no signs of retiring. I didn't know how to respond. Should I stand up, take a bow, what? I just smiled, pointed my forefinger at her and nodded my head to acknowledge the recognition.
Then, for the next hour, she sang some songs of the "greats" she had mentioned, weaving in stories about them in between songs. The audience loved it. The hour was so entertaining that it seemed to pass much too quickly.
When the applause finally subsided, and the aftershow conversation quieted down as people left, Janie appeared at our table. We talked a bit about how wonderful the show was and then headed to dinner. Their kids had other plans, but four others joined us across the street at Joe Allen's. Conversation was difficult; acoustics did not allow for communicating with anyone other than those sitting next to you. That meant that I spoke only to Donald (who was witty and pleasant, as I had anticipated) and Llewellyn.
I had medium-rare calves liver and it was delicious.
At dinner's end, Janie called for an Uber to drive us home. Wearing only her off-the-shoulder dress despite the freezing winter weather, Janie escorted Llewellyn and me out to the car. I hugged her and said, "Thank you. It was a wonderful evening. I can't remember a time when I felt so taken care of." We got into the car and were chauffeured home — a delicious end to a wonderful evening.
Most of our friends are gone. Perhaps, in Janie and Donald, we have found two new ones.
The post What have I, a 93-year-old lox slicer, done to deserve all this? appeared first on The Forward.