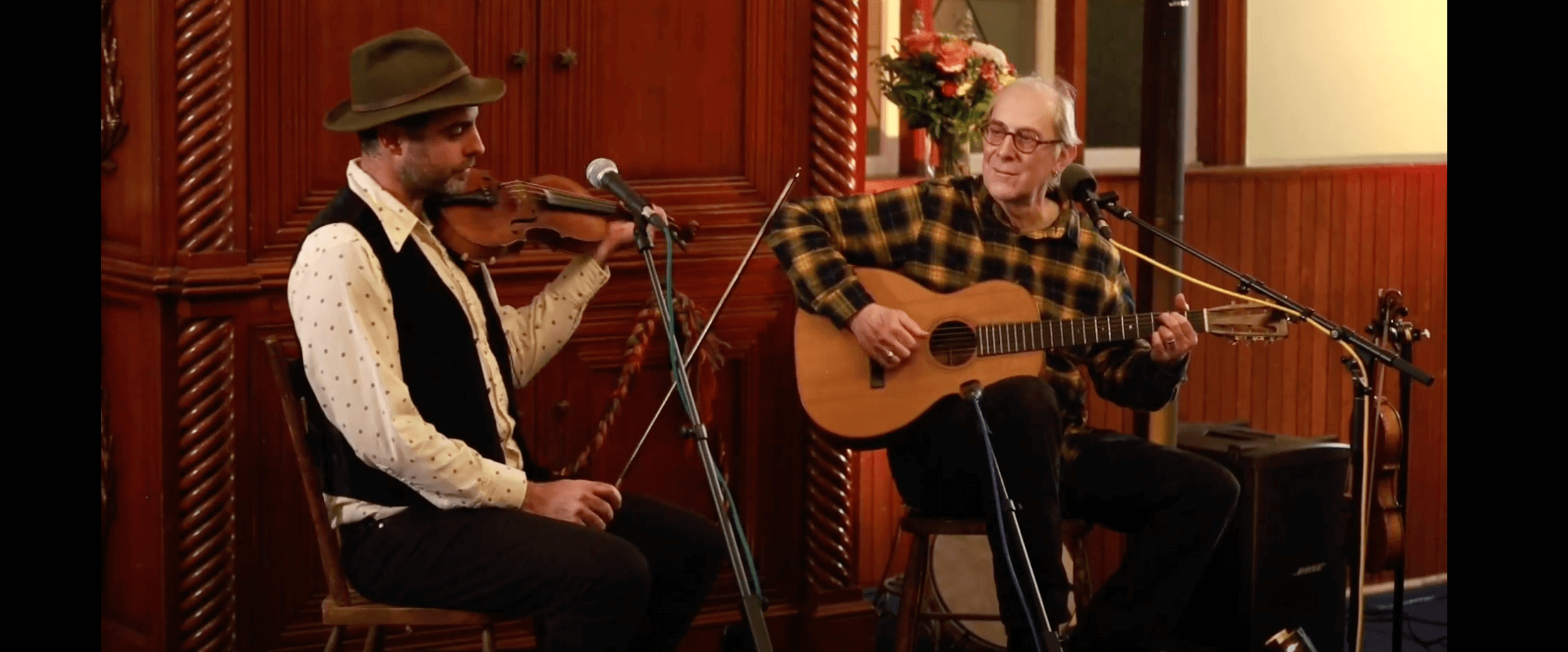 In March of 2020, Craig Judelman came to visit his friend and fellow musician Michael Alpert at his home in Scotland. They were taking a break from life on the road before heading south to the KlezNorth klezmer festival in Derbyshire, England. When flights and, inevitably, the festival itself, were canceled due to Covid, Alpert invited Judelman and his partner, singer Sasha Lurje, to stay for a while.
"That while ended up being two months," Alpert said.
Together in Fife, surrounded by nature and facing the North Sea, Alpert, a Yiddish singer-songwriter whose wife teaches at St. Andrews, and Judelman, a fiddler and composer, had time enough at last to experiment. Their nightly jam sessions, drawn from traditional American folk music and the archives of musicologist Moyshe Beregovsky, who gathered tunes from the shtetls just before and immediately after World War II, turned into recording sessions. Three years later, an album, In Der Heyme/Down Home, is coming out April 7 on the Borscht Beat label.
The album features traditional songs like "Shady Grove" (redubbed "Zeydy Grove"), Shmerke Kaczerginski's worker's anthem "Barikadn," and new compositions, including a Celtic-inflected fiddle tune named for a Fife landmark and "Heron on the Wing," Alpert's Yiddish and English chronicle of his father's immigration story. The tracks blend the conventions of old-time music, a form of North American folk and klezmer, with Judelman's fiddle often embodying both genres. Alpert's steel guitar, a non-traditional instrument for klezmer, often functions as a cimbalom, or tsimbl, might. 
Judelman and Alpert met in the 2010s on the klezmer circuit, but both always wanted to play American folk.
"Old-time and klezmer are perhaps the two European-derived traditions that are the most open," said Judelman, noting the collision of cultures the forms encountered in America. The two traditions "are fertile grounds where centuries of European music have kind of blossomed."
There is both a musical and a thematic connection, with both folk traditions often delivering forceful social messages. On the track "Barikadn," which describes a mother and father taking to the barricades out of desperation, Alpert sings Yiddish verses, followed by new lyrics in English. While Kaczerginski, who wrote the song in the 1920s, likely imagined his native Vilna for his violent street scene, Alpert tweaked the lyrics to something more recognizably American:
 "Now mom and dad and all the kids and their neighbor Mrs. Johnson/Are fighting for their hard-won rights just like in Wisconsin."
"The instrumental break that I do is the melody to 'Which Side are You On?'" Alpert noted.
What began as an unself-conscious exercise came to mean more to Judelman and Alpert in the years since they've spent putting the album together, often mixing together over Zoom from different continents. 
The origins of many of the songs, collected by Beregovsky in Ukraine, now speak to the ongoing war in the region. But in considering the nature of musical and physical homes, Alpert and Judelman achieved a kind of clarity in their identity as American Jews who spend a lot of their time playing music from the Old Country.
When it came to pick a name for the album, Alpert and Judelman, chose a title that embodied all their multitudes. "We wanted something that communicated the heimishkeit and the sort of place where the music came from," said Judelman. "In some ways, it's a future-looking record or a proclamation of our ability to feel at home both in being Jewish and American and European."
The post A new album blends klezmer and American folk — and is at home in both appeared first on The Forward.