Telecom giant Ericsson kept records about potential bribery schemes locked in safes and basement cabinets while company lawyers withheld "key details" from an explosive report alleging the Swedish firm's possible payoffs to terrorists in Iraq, U.S. court documents reveal.
Documents filed earlier this month in federal court in New York by the U.S. Justice Department also say Ericsson employees failed to disclose evidence of corrupt payments contained on USB drives for as many as six years, despite an ongoing criminal investigation.
The latest revelations come as Ericsson, a key player in the West's battle with China over the future of global communications, is set to plead guilty to previous bribery charges in federal court on March 21.
The company already agreed this month to pay a $206.7 million penalty for violating its 2019 deferred prosecution agreement with the Justice Department to resolve what prosecutors called a "years-long campaign of corruption" in China, Indonesia, Kuwait, Djibouti and Vietnam between 2000-2016. A similar investigation by the U.S. Securities and Exchange Commission found corrupt activities by Ericsson in Saudi Arabia.
Under the 2019 agreement, Ericsson paid $1 billion and pledged to stamp out corruption and report any more wrongdoing to the U.S. government. But Ericsson broke its promises by hiding allegations about bribes in at least three countries, including Iraq.
What's really weird is the failure to know that hard copy documents existed in the basement  of a building on the most key issue in any bribery investigation. These failures further damage the company's reputation and  beg credulity that they're just a mistake. — corporate corruption expert Michael Volkov
The total settlement amount now stands at $1.27 billion — the second largest in the 45-year history of the Foreign Corrupt Practices Act, according to Mike Koehler, a legal expert who runs the FCPA Professor website.
Michael Volkov, a white-collar lawyer who writes about corporate corruption  and compliance, said the Ericsson case "reads like an internal investigation horror show."
"There are enough failures here so that the explanation of negligence seems to ring hollow," he told ICIJ. "What's really weird is the failure to know that hard copy documents existed in the basement  of a building on the most key issue in any bribery investigation. These failures further damage the company's reputation and  beg credulity that they're just a mistake."
The March 2 plea deal was sparked by an ICIJ investigation revealing that  Ericsson made tens of millions of dollars in suspicious payments over nearly a decade to sustain its business in war-torn Iraq.
ICIJ's Ericsson List investigation, based on a leaked internal report, found that Ericsson financed slush funds, trips abroad for defense officials and payoffs through middlemen to corporate executives and possibly terrorists with the Islamic State group. The company also sought permission from ISIS to smuggle equipment into ISIS-controlled areas  and ignored frantic internal warnings, putting workers' and citizens' lives in peril, ICIJ found.
"No family should have to go through what we have," said Art Sotloff, father of 31-year-old journalist Steven Sotloff, who was beheaded  by ISIS. The Sotloff family is one of 528 families of slain or injured civilians and U.S. military members suing Ericsson for allegedly aiding and abetting ISIS and other terrorist groups.
Steven was kidnapped during a reporting trip in Syria in August 2013. More than a year later, ISIS released a video of Steven, bound and kneeling in an orange jumpsuit, beheaded by a masked ISIS executioner.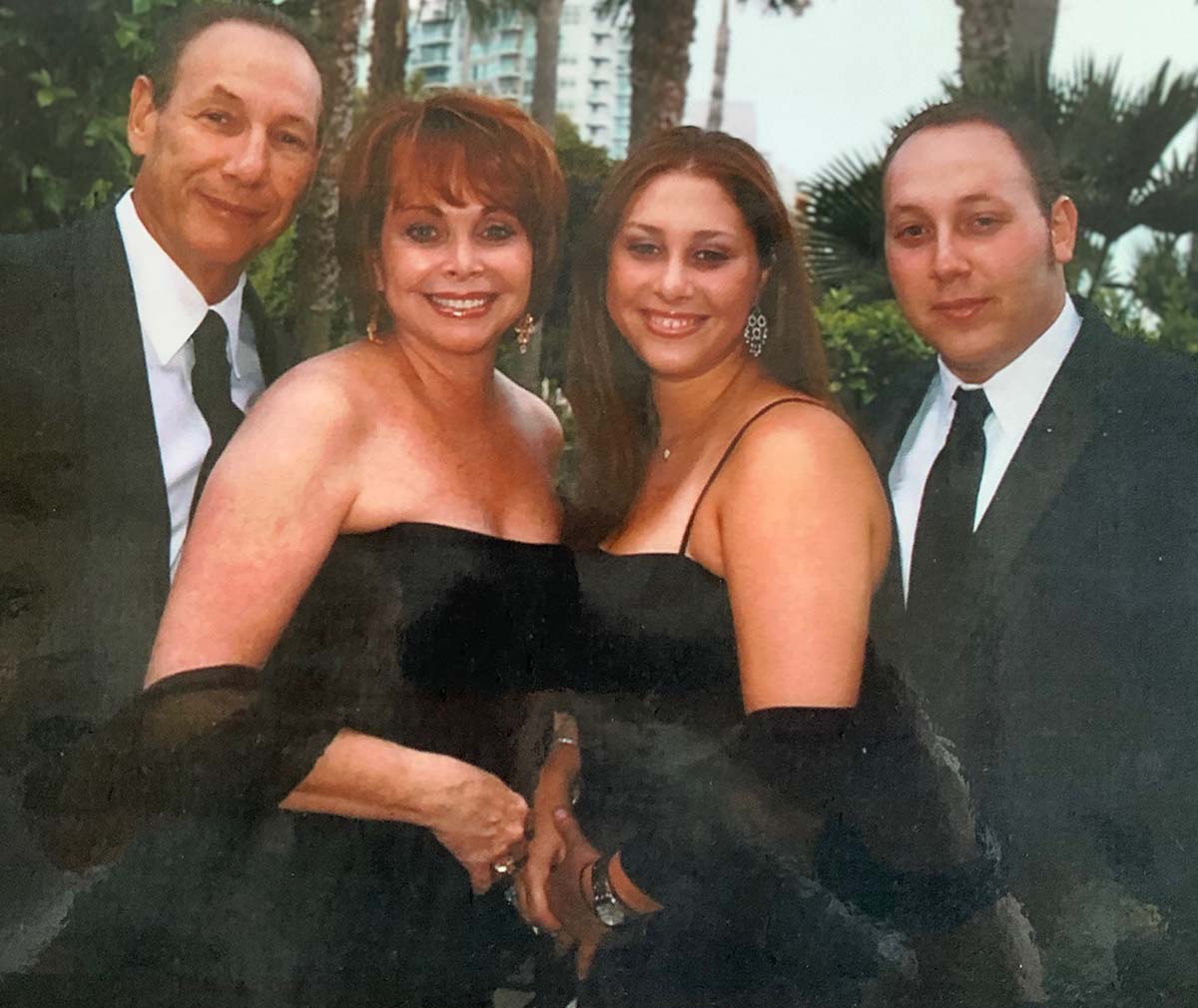 Steven Sotloff, right, pictured in a family photo with his father Art, mother Shirley and sister Lauren. Image: courtesy of the Sotloff family
"As a journalist, Steven wanted nothing more than to shine a light on suffering and injustice in the region," Art Sotloff told ICIJ. "The purpose of our lawsuit against Ericsson is accountability. As Steven's family, it is our hope that the government fully investigates any allegations of protection payments made to ISIS by any transnational corporations, including Ericsson."
An Ericsson contractor whose kidnapping came to light in the leaked internal report said he never received an apology from the company. The contractor, who is named in the company report but asked to be identified only as Affan, was assigned to do fieldwork for the telecom in an ISIS-controlled city when a trio of hooded militants took him hostage. "I have not been contacted by the company in any way," the engineer told journalist Amir Musawy. Affan, now 34, still fears for his safety and struggles to make sense out of his captivity.  "The ISIS occupation continued for years because of financing by many parties, including Ericsson," Affan said.
Ericsson denies making payments to any terrorist organization. In a federal court filing, the company said the lawsuit brought by the Sotloffs and other families is built on "innuendo and speculation." Chief Executive Officer Börje Ekholm said in a statement on March 2 that the guilty plea and fine mean that "the matter of the breaches is now resolved" and that Ericsson is a "very different company today."
The telecom still faces a U.S. government probe over its operations in Iraq, which likely will include a review of the questions raised by ICIJ about the firm's contacts with ISIS. And experts say a guilty plea could lead to reviews of public contracts or struggles with bank loans.
Ryan Sparacino, a lawyer representing the American terror victims, said Ericsson's guilty plea is likely just the beginning of a long accountability process for the company. "That process will include civil claims against Ericsson by American victims' of ISIS's as well as, hopefully, tough criminal charges against Ericsson by the United States Department of Justice, for Ericsson's egregious misconduct in Iraq," Sparacino told ICIJ and its Lebanon-based partner, Daraj Media.
In Iraq, a spokesman for the Justice Ministry told Daraj that the government is investigating whether Ericsson committed crimes against the Iraqi people and if a lawsuit should be filed seeking compensation.
Beyond reviving corruption charges, Ericsson's plea agreement has rekindled controversy over the growing global practice — highlighted in an ICIJ investigation in December — of granting multinational companies leniency deals for criminal wrongdoing.
Although the Biden administration has vowed to get tougher on corporate crime, prosecutors have yet to hold any Ericsson executive responsible for the decades of corruption.
The Justice Department declined to comment for this story. It said earlier this month that Ericsson broke its promises to clean up its act and now faces what prosecutors called "a steep price for its continued missteps."
Experts on corporate misconduct, however, argue that Ericsson got off lightly.
"We still don't know the extent of wrongdoing that occurred, or who was responsible for it, and we might never know," said Peter Reilly, a Texas A&M law professor who researches corporate wrongdoing in the U.S. He likened the combined impact of Ericsson's 2019 deferred prosecution agreement and this month's plea deal to a "speeding ticket."
Volkov, the corporate compliance expert, agreed that the $206.7 million penalty seems "too low," especially for a company that already paid $1 billion. "It doesn't seem like much of a hammer to me," Volkov told ICIJ, adding that the Justice Department has been "talking tough and putting out policy changes" about corporate law enforcement, "but I haven't seen the follow through."
In documents filed earlier this month with Ericsson's plea agreement, the Justice Department said the company's failure to disclose corrupt conduct "prevented the United States from bringing certain charges against certain individuals."
In the Djibouti bribery case, DOJ faulted Ericsson for taking 10 years to disclose a May 2011 email between two unnamed Ericsson executives who orchestrated a payoff scheme to win a telecom contract. In the China scheme, Ericsson didn't turn over a February 2018 email alleging that senior executives approved "very large" improper payments to third-party agents, and that top managers may have conspired to withhold that information from U.S. authorities.
As for the telecom firm's activities in Iraq, Ericsson's prior outside counsel disclosed only "generalized information" two weeks before the company signed its deferred prosecution agreement in December 2019, the Justice Department said in a court filing earlier this month..
Do you have a story about corruption, fraud, or abuse of power?
ICIJ accepts information about wrongdoing by corporate, government or public services around the world. We do our utmost to guarantee the confidentiality of our sources.
Both the lawyers and Ericsson omitted telling the Justice Department about possible bribes to ISIS until they learned about ICIJ's investigation in February 2022 — more than two years later.
Neither the Justice Department nor Ericsson identified the lawyers who withheld the information.
Ericsson also finalized its internal Iraq report five days after signing the 2019 deferred prosecution agreement and "did not update the United States on the findings and conclusions of the investigation despite being required to do so," the Justice Department said.
But only after ICIJ had contacted the Justice Department and the company seeking comment about the possible payoffs to ISIS did Ericsson contact federal officials and, through a new outside counsel, fully disclose details of the report, the department said.
The lawsuit filed on behalf of Steven Sotloff and the other U.S. terror victims alleges that Ericsson authorized protection payments to terrorists for financial gain. "Ericsson prioritized profits over all else, including any risks that its substantial payments to violent terrorists would facilitate violent terrorism," the complaint says.
In a statement to ICIJ, Ericsson spokeswoman Kristoffer Edshage said a company review last year indicates Ericsson did not make or was responsible for payments to any terrorist organization. The company did not say who it interviewed or whether it planned to make public any new report about its Iraq operations.
According to recent Justice Department filings, the crucial data that Ericsson failed to disclose included thousands of hard copy records potentially key to the government's probe, including agreements with third parties, third-party invoices, and due diligence files. The records were located in locked safes and filing cabinets in secured storage areas in basements of various buildings at the company's headquarters in Sweden.
The hidden USB drives also contained records about third-party payments and agreements, as well as who approved and signed those agreements and who approved the payments, the government said. The Justice Department didn't identify the Ericsson employees who withheld the thumb drives.
"Those materials contained information relevant to the United States' investigation," the Justice Department wrote in an attachment to Ericsson's recent plea agreement. "Certain LM Ericsson employees and now former executives, as well as prior outside counsel, were aware of these records and understood that they were required to produce them to the United States….These disclosure failures, including at least hundreds of documents containing key evidence of the bribery, books and records, and internal controls schemes, impaired the United States' ongoing criminal investigation."
DOJ is signaling that companies can continue to flout the law with only minor consequences –  a system that favors companies and their profits over rule of law and public welfare. — lawyer Peter Reilly
Reilly, the law professor, said the case illustrates "why big companies like deferred prosecution agreements and don't really care if they violated them." Not only did Ericsson pay a fine that's just a fraction of its profits, but individual wrongdoers escaped punishment and the plea agreement, like the deferred prosecution agreement before it, was negotiated behind closed doors with no oversight, he said.
In fact, Reilly noted, the court filings contain a three-page letter from prosecutors to the judge — a kind of script with questions and remarks for the judge to make during next week's sentencing proceeding.
"DOJ is signaling that companies can continue to flout the law with only minor consequences –  a system that favors companies and their profits over rule of law and public welfare," he said.