NEW YORK — Jews, would-be Jews, antisemites and Jewish conspiracy mongers took part in the spectacle inside and outside former President Donald Trump's arraignment in Manhattan Tuesday. 
Rep. George Santos, who lied about having Jewish heritage on the campaign trail last year, showed up to support Trump on the streets outside the Manhattan Criminal Courts building. So did Rep. Majorie Taylor Greene, who has suggested that Jewish "space lasers" started wildfires. Mobbed by reporters, the two Republicans left minutes after their arrival. 
Trump, who surrendered to New York Authorities in a hush money payment case involving porn star Stormy Daniels, pleaded not guilty to 34 charges.
Outside the court, dueling crowds of Trump supporters and detractors screamed at each other — and, at one point, this visibly Jewish reporter, calling him "a kapo," the name given to a Jew forced to guard other Jews for the Nazis during the Holocaust.
Here are four other Jewish-related facts about Trump's Manhattan arraignment.
Blaming the Jews
Among the signs held up outside the court was one that described former Trump employees Michael Cohen and Allen Weisselberg, and former National Enquirer publisher David Pecker — who testified against the former president in several investigations about misconduct — as "Bragg's Jews." Manhattan District Attorney Alvin Bragg is leading the prosecution against Trump.
The poster was spotted an hour later ripped up on the sidewalk.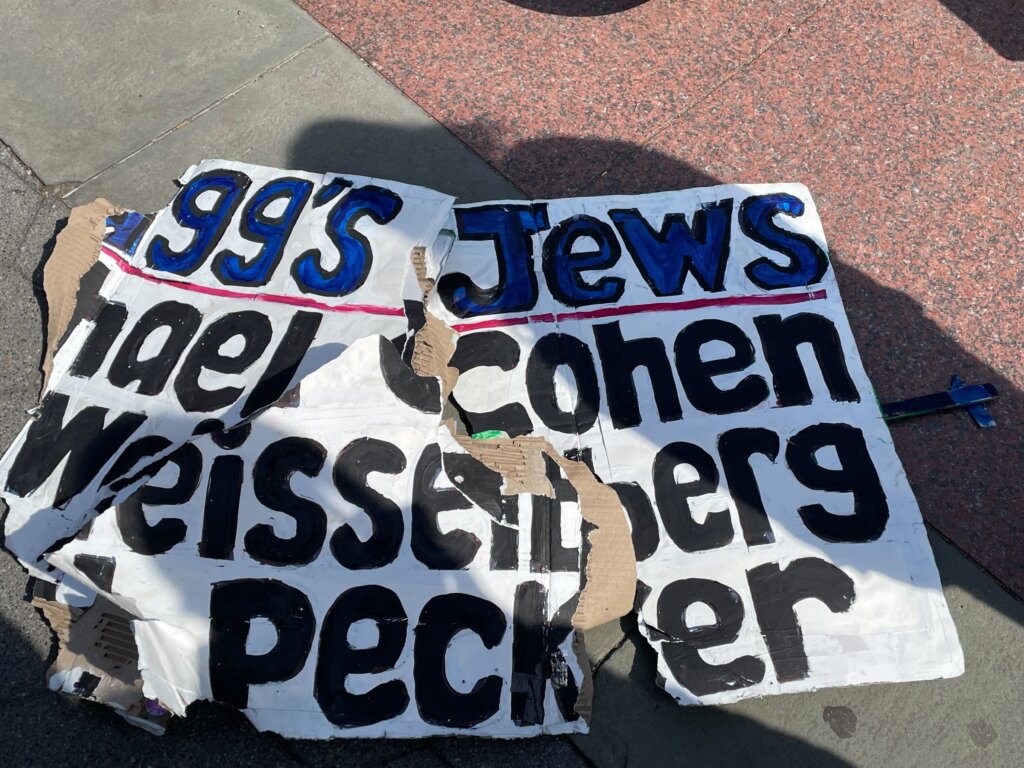 A ripped up poster blaming Jews for Trump's troubles on April 4, 2023. Photo by Jacob Kornbluh
With no evidence, Trump and his allies have accused Bragg of orchestrating a campaign  backed by Jewish billionaire George Soros to undermine the former president. Soros, a Hungarian-born Democratic megadonor and Holocaust survivor who has long been the subject of antisemitic attacks from the far right, had supported Bragg in his 2021 race for district attorney.
This reporter did not see any anti-Soros signs among Trump supporters gathered across the street from the Manhattan court at Collect Pond Park. 
The days of Messiah
The "surreal" day, as Trump described it on his way to court, manifested itself in the juxtaposition of signs. A man held a one that read "Jail Trump." A traffic light above that sign was plastered with a poster of the Lubavitcher Rebbe Menachem Mendel Scneerson. It read  "Messiah is here!"
Nearby, two Messianic Jews, who distributed flyers about Jesus in Hebrew, blew shofars in support of Trump. Blowing a shofar at rallies has become something of a trend for far-right Christian nationalists. 
Messianic Jews blew shofars in support of former President Donald Trump, who was arraigned Tuesday afternoon at the Manhattan Criminal Courts building in New York City.

The group also distributed flyers about Jesus in Hebrew. pic.twitter.com/UgzQh6TwlI

— The Forward (@jdforward) April 4, 2023
Trump's fan club
Most of Trump's supporters milled about in Collect Pond Park's carnival-like atmosphere — wearing Trump gear, waving flags and homemade signs, mugging for cameras and engaging with journalists. 
Talia Jane, an independent reporter, posted a video of a teenager wearing multiple neo-Nazi patches. 
Some anti-Trump protestors screamed at this visibly Jewish reporter, calling him a "kapo" — until he explained he was at the rally as a reporter, covering both pro and anti-Trump protests.
The defense team
The first photos released of Trump as a defendant following his arraignment showed him seated at the center of the defense table between his attorneys Susan Necheles and Joseph Tacopina. 
Necheles, a longtime New York criminal defense lawyer, is the daughter of Jack Hoffinger, who was Jewish. He served as an assistant district attorney for former Manhattan DA Frank Hogan.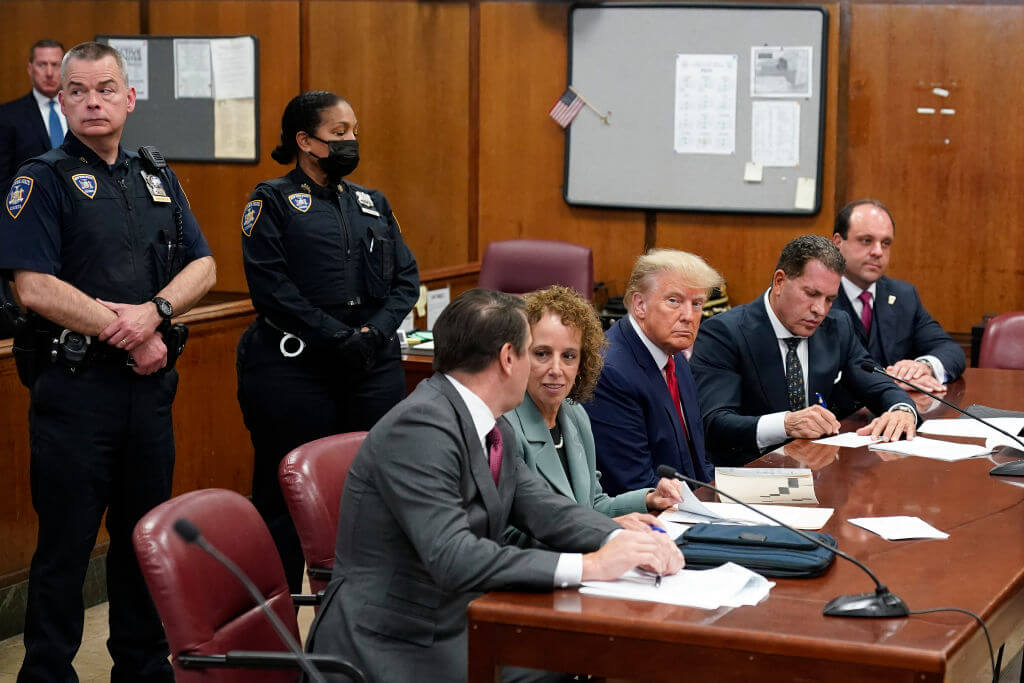 Former President Donald Trump on April 4, 2023. Photo by Seth Wenig-Pool/Getty Images
Also at that table: Boris Epshteyn, a Russian-Jewish immigrant who serves as Trump's senior advisor and an in-house counsel, was also pictured at the table seen at the defense table. 
The post Shofar blasts, an antisemitic sign and more Jewish angles to Trump's arraignment appeared first on The Forward.