IZMIR, Turkey (JTA) — Prague has the dubious honor of being chosen by Adolf Hitler to be a record of what he hoped would be the vanquished Jews of Europe. The Nazis left many of the city's synagogues and Jewish sites relatively intact, intending to showcase them as the remnants of an extinct culture.
That has made Prague a popular tourist destination for both Jewish travelers and others interested in Jewish history since the fall of the Iron Curtain: the city provides an uncommon look into the pre-war infrastructure of Ashkenazi Europe.
Could Izmir, Turkey's third largest city, become a Sephardic Prague, in terms of history and tourism? That's the goal for Nesim Bencoya, director of the Izmir Jewish Heritage project. 
The city, once known in Greek as Smyrna, has had a Jewish presence since antiquity, with early church documents mentioning Jews as far back as the second century AD. Like elsewhere in the Ottoman Empire, though, its community grew exponentially with the influx of Sephardic Jews who came after their expulsion from Spain. 
At its peak, the city was home to around 30,000 Jews and was the hometown of Jewish artists, writers and rabbis — from the esteemed Pallache and Algazii rabbinical families, to the musician Dario Marino, to the famously false messiah, Shabbetai Zevi, whose childhood home still stands in Izmir today. 
Today, fewer than 1,300 remain. The establishment of the state of Israel, coupled with a century of economic and political upheaval, led to the immigration of the majority of Turkish Jewry. 
"From the 17th century, Izmir was a center for Sephardic Jewry," Bencoya told the Jewish Telegraphic Agency. "We can't recreate that, but we cannot forget that either."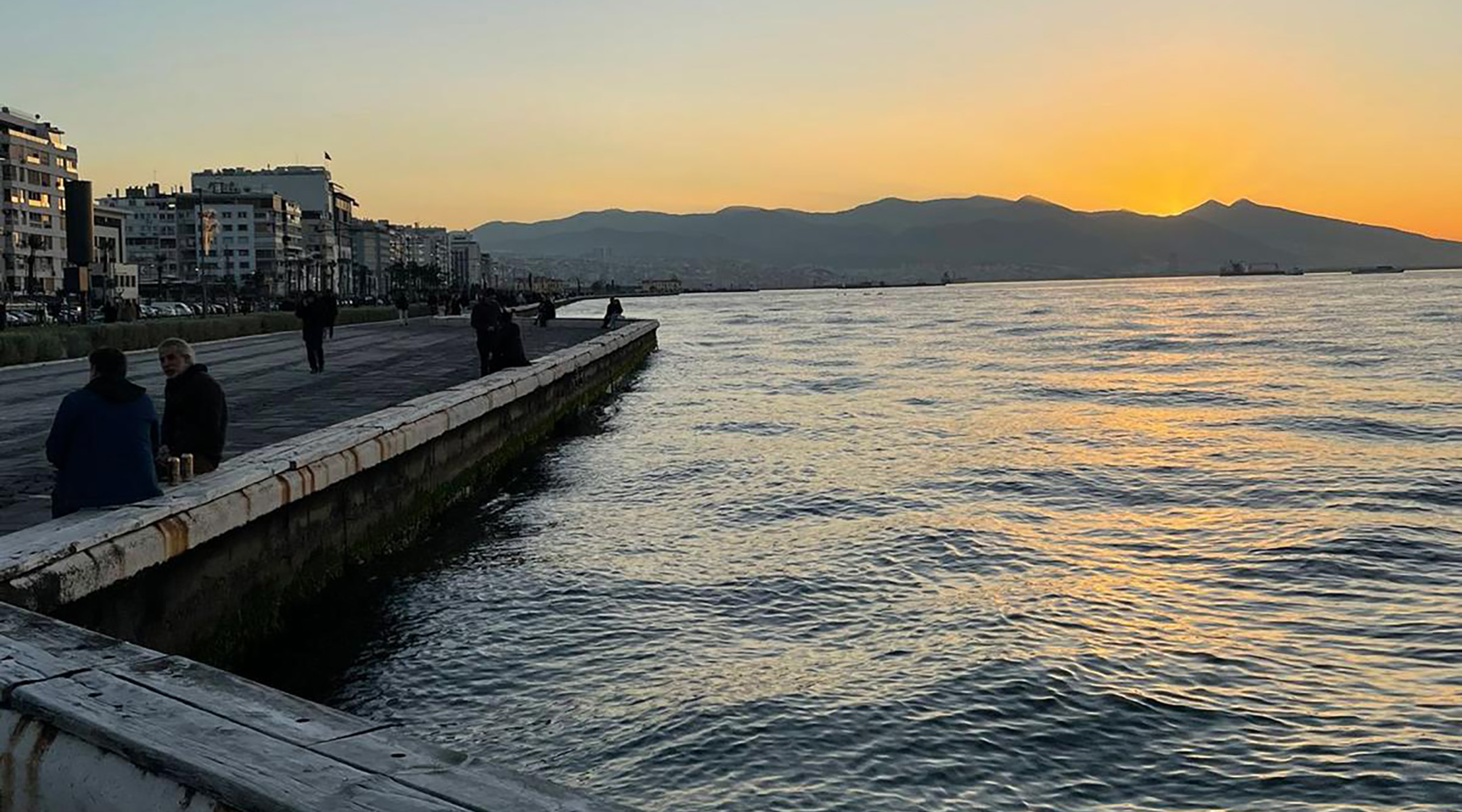 Izmir is located on Turkey's Aegean coast. (David I. Klein)
Image by
Celebrating in the former Jewish quarter
Bencoya, who is in his late 60s, was born in Izmir but spent most of his adult life in Israel, where he led the Haifa Cinematheque, but he returned to Izmir 13 years ago to helm the heritage project, which has worked to highlight the the culture and history of Izmir's Jewish community.
Over nine days in December that included the week of Hanukkah, thousands attended the annual Sephardic culture festival that he has organized since 2018. The festival included concerts of Jewish and Ladino music, traditional food tastings, lectures on Izmir's Jewish community, and — since it coincided with Hanukkah and also a Shabbat — both a menorah lighting ceremony and havdalah ceremony were conducted with explanations from Izmir's leading cantor, Nesim Beruchiel. 
This year's festival marked a turning point: it was the first in which organizers were able to show off several of the centuries-old synagogues that the project — with funding from the European Union and the local municipality — has been restoring. 
The synagogues, most of which are clustered around a street still called Havra Sokak (havra being the Turkish spelling of the Hebrew word chevra, or congregation) represent a unique piece of cultural heritage. 
Nesim Bencoya speaks from his office next to the restored Sinyora Synagogue in Izmir. (David I. Klein)
Image by
Once upon a time, the street was the heart of the Jewish quarter or "Juderia," but today it is right in the middle of Izmir's Kemeralti Bazaar, a bustling market district stretching over 150 acres where almost anything can be bought and sold. On Havra Sokak, the merchants hock fresh fruits, and hopefully fresher fish. One street to the south one can find all manner of leather goods; one to the north has markets for gold, silver and other precious metals; one to the west has coffee shops. In between them all are other shops selling everything from crafts to tchotchkes to kitchenware to lingerie. 
Several mosques and a handful of churches dot the area, but the synagogues revive a unique character of the district that had been all but lost.  
"The synagogues here were built under the light of Spain. But in Spain today, there are only two major historic synagogues, Toledo and Cordoba, and they are big ones. You don't have smaller ones. Here we have six on one block, built with the memory of what was there by those who left Spain," Bencoya said. 
Those synagogues have been home to major events in Jewish history — such as when Shabbetei Zvi broke into Izmir's Portuguese Synagogue one Sabbath morning, drove out his opponents and declared himself the messiah (he cultivated a large following but was later imprisoned and forced to convert to Islam). The synagogue, known in Turkish as Portekez, was among those restored by the project. 
Today, only two of Izmir's synagogues are in regular use by its Jewish community, but the others that were restored are now available as exhibition and event spaces. 
Educating non-Jews
Hosting the festival within Izmir's unique synagogues has an additional purpose, since the overwhelming majority of the attendees were not Jewish. 
"Most of the people who come to the festival have never been to a synagogue, maybe a small percentage of them have met a Jew once in their lives," Bencoya said. 
That's particularly important in a country where antisemitic beliefs are far from uncommon. In a 2015 study by the Anti-Defamation League, 71% of respondents from Turkey believe in some antisemitic stereotypes.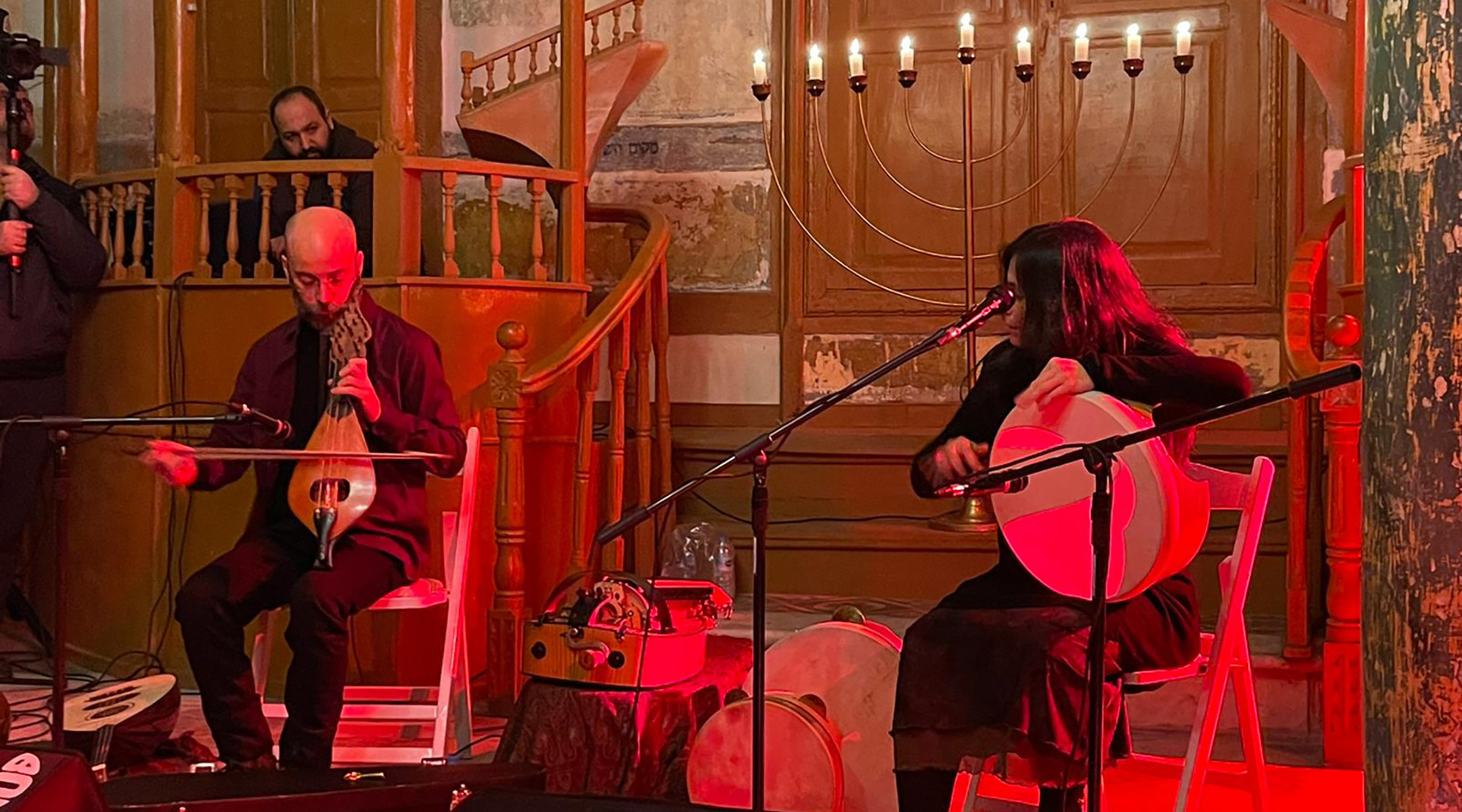 The festival included concerts of Jewish and Ladino music, traditional food tastings and lectures on Izmir's Jewish community.(David I. Klein)
Image by
"This festival is not for Jewish people to know us, but for non-Jews," Bencoya said. Now, "Hundreds of Turkish Muslim people have come to see us, to listen to our holidays and taste what we do."
Kayra Ergen, a native of Izmir who attended a Ladino concert and menorah lighting event at the end of the festival, told JTA that until a year ago, he had no idea how Jewish Izmir once was. 
"I know that Anatolia is a multicultural land, and also Turkey is, but this religion, by which I mean Jewish people, left this place a long time ago because of many bad events. But it's good to remember these people, and their roots in Izmir," Ergen said. "This is so sad and lame to say out loud, but I didn't know about this — that only 70 years ago, 60% of this area here in Konak [the district around Kemeralti] was Jewish. Today I believe only 1,300 remain. This is not good. But we must do whatever we can and this festival is a good example of showing the love between cultures."
"I think it's good that we're respecting each other in here," said Zeynep Uslu, another native of Izmir. "A lot of different cultures and a lot of different people. It's good that we're together here celebrating something so special."
Izmir's history as a home for minorities has not been all rosy. At the end of the Ottoman period, the city was around half Greek, a tenth Jewish and a tenth Armenian, while the remainder were Turkish Muslims and an assortment of foreigners. In the Greco-Turkish war of 1919-1922 — remembered in Turkey as the Turkish War of Independence — the Greek and Armenian quarters of Izmir were burned to the ground after the Turkish army retook the city from the Greek forces, killing tens of thousands. A mass exodus of the survivors followed, but the Jewish and Muslim portions of the city were largely unharmed.
Izmir is not the only city in Turkey which has seen its synagogues restored in recent years. Notable projects are being completed in Edirne, a city on the Turkish western border near Bulgaria, and Kilis, on its southeastern border near Syria. Unlike Izmir, though, no Jews remain in either of those cities today, and many have accused the project of being a tool for President Recep Tayyip Erdogan's government to assuage accusations of antisemitism, without actually dealing with living Jews. 
Losing Ladino and a 'quiet' mindset
Bencoya lamented that he is among the last generation for whom Ladino — the Judeo-Spanish language traditionally spoken by Sephardic Jews, but only spoken by tens of thousands today — was at least a part of his childhood. 
"When you lose language, it's not only technical, it's not only vocabulary, it's a whole world and a way of thinking," Bencoya said. 
The project is challenging a local Jewish mentality as well. Minority groups in Izmir, especially Jews, "have for a long time preferred not to be seen, not to be felt," according to Bencoya.
That mindset has been codified in the Turkish Jewish community's collective psyche in the form of a Ladino word, "kayedes," which means something along the lines of "shhh," "be quiet," or "keep your head down."
"This is the exact opposite that I want to do with this festival — to be felt, to raise awareness of my being," Bencoya said.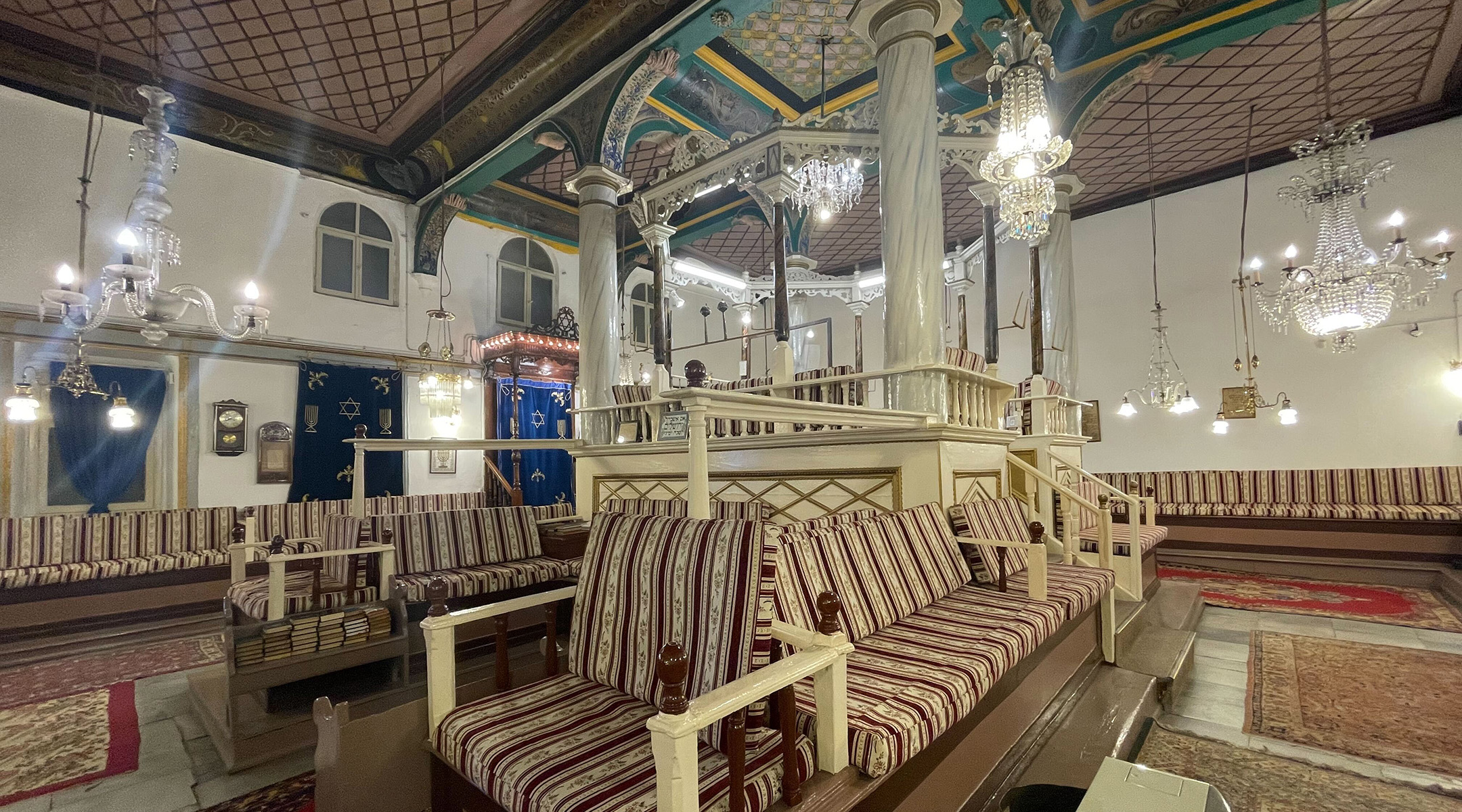 The Bikur Holim Synagogue is one of the few still functioning in Izmir. (David I. Klein)
Image by
One way of doing that, he added, was having the festival refer to the community's identity "as Yahudi and not Musevi!" Both are Turkish words that refer to Jews: the former having the same root as the English word Jew — the Hebrew word Yehuda or Judea — while the latter means "follower of Moses."
"Yahudi, Musevi, Ibrani [meaning Hebrew, in Turkish] — they all mean the same thing, but in Turkey, they say Musevi because it sounds nicer," Bencoya said. "To Yahudi there are a lot of negative superlatives — dirty Yahudi, filthy Yahudi, and this and that. So I insist on saying that I am Yahudi, because people have a lot of pre-judgements about the name Yahudi. So if you have prejudgements about me, let's open them and talk about them."
"I am not so romantic that I can eliminate all antisemitism, but if I can eliminate some of the prejudgements, then I can live a little more at peace," he added.
So far, he feels the festival is a successful first step. 
"The non-Jewish community of Izmir is fascinated," Bencoya said. "If you look on Facebook and Instagram, they are talking about it, they are fighting over tickets, which sell out almost immediately." 
Now, he is only wondering how next year he will be able to fit more people into the small and aged synagogues. 
"For Turkey, [the festival] is very important because Turkey can be among the enlightened nations of the world, only by being aware of the differences between groups of people, such as Jews, Christians, others, and Muslims," he said.
This article originally appeared on JTA.org.
The post In Turkey, a festival revives a jewel of the Sephardic world and aims to break stereotypes appeared first on The Forward.