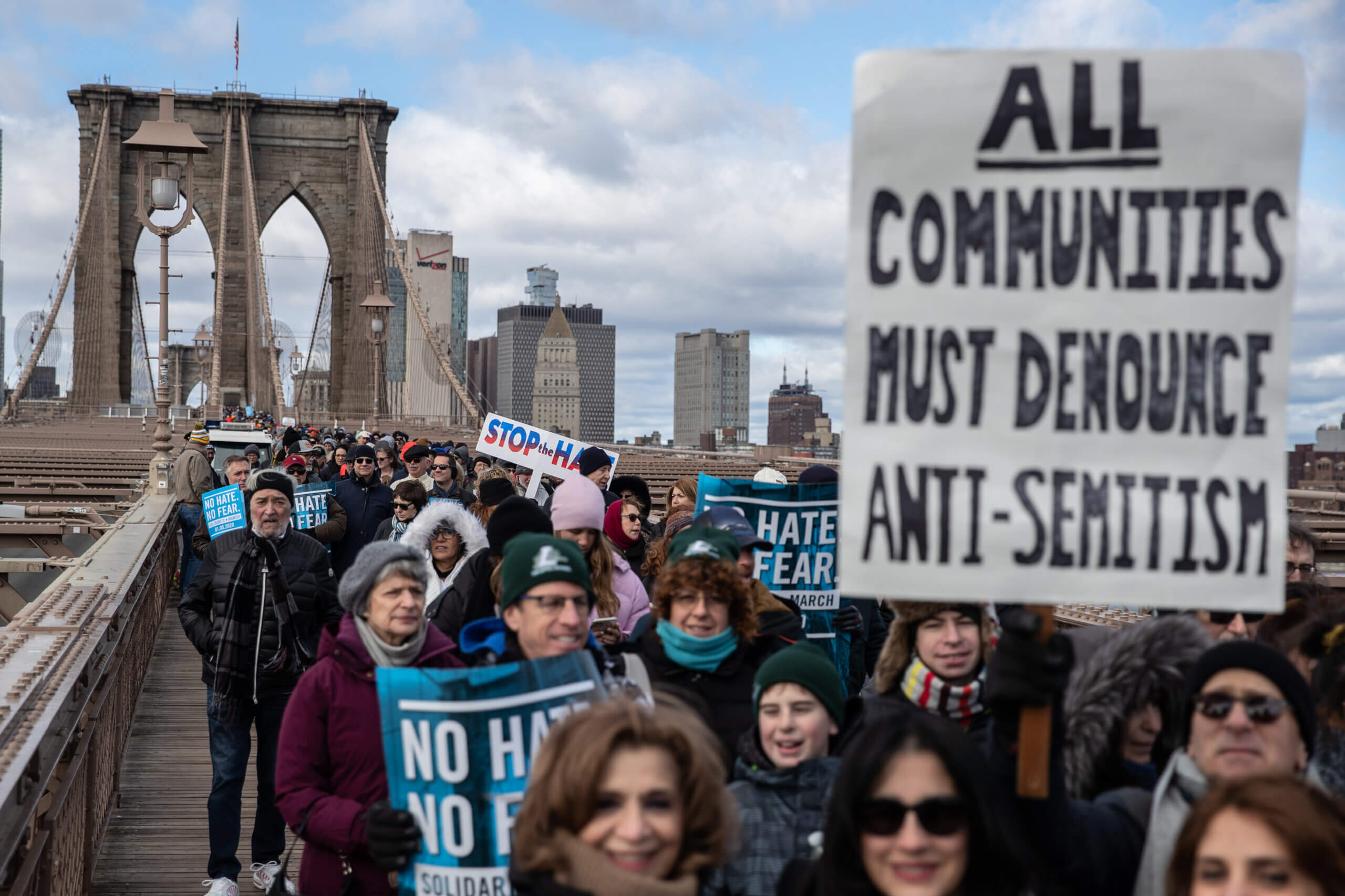 From the lynching of Leo Frank in 1915 to 2018, a period of 103 years, there were 21 reported antisemitic killings in the United States. There have been 15 antisemitic killings in the past five years alone.
We are right to be concerned, but also, confused. The knee-jerk explanation for an increase in antisemitic hate crimes and rhetoric is that, well, they hate us. But statistics tell a different story.
Consider, for instance, this one: Among all religious groups, Americans like Jews the most.
That's the finding of a Pew Research Center survey that measured American attitudes toward various religious groups. Jews scored highest, with 35% of respondents reporting a very or somewhat favorable view of them.
You'd think in these dark times, this bit of good news would be worth spreading. You'd be wrong.
That report came out March 15. On March 16, I received my usual morning email newsletter from the Anti-Defamation League. The headline? "Murder and Extremism in the United States in 2022." I opened it to find that in 2022, domestic extremists killed 25 people in the U.S. in 12 separate incidents. All of the murders were committed by right-wing extremists.
It's not fear-mongering for the ADL to alert me to these facts or to increases in the number of antisemitic actions. The information is as important as it is disturbing.
But aside from a few paragraphs in the Jewish media, the Pew report received almost no attention from any Jewish organizations, the ADL included.
That raises two questions. Why do we only bathe ourselves in bad news? And how do we square the fact that people love us with the fact that some, increasingly, want to kill us?
There is no debate that the number of high-profile antisemitic attacks and online antisemitic hate has increased since 2016.
The 2021 Pew survey found that, while 58% of Americans said they didn't know enough about Jews to have an opinion, 35% thought of Jews favorably. Catholics came in second, at 30%, and Mormons came in last, at 15%.
Those numbers track with a 2017 Pew survey that also found Americans felt more warmly about Jews than any other religious group.
Why don't Jewish organizations tell this story? It could be that it contradicts a dominant narrative of victimhood. A cynic might say no Jewish defense organization ever raised a dime telling donors that Jews are well-liked. But we may also take our good standing for granted, forgetting the past generations of American Jews that had to struggle against institutional discrimination in order for us to gain such widespread acceptance.
How can Jews be so popular among religious groups, yet still face increasing amounts of online and real-life hate?
One answer, odd as it sounds, is that Jewish Americans are Americans, and subject to the same problems as all Americans. Hate crimes are up for everyone. Mass shootings are up for everyone. There is less tolerance and civility across the board — none of these trends uniquely targets Jews, but Jews are among their targets.
If antisemitism is a problem — and it is — it may not be the problem, but one symptom among many: more guns and gun violence, more ideological division, a crumbling public mental health network, and a social media environment that turbocharges extremism.
Take hate crime, which reached the highest levels since the FBI began collecting data in the early 1990s, rising 31% from 2020 to 2021. Incidents against Jews rose from 673 to 817, a 21% increase. Crimes against gay men rose 40%. Anti-Asian hate crimes rose 200%.
Shootings in churches, synagogues, temples and mosques increased 35% between 2014 and 2018, according to FBI statistics, leading houses of worship across the country of all denominations to hire armed guards and spend millions on security. Proportionately, Sikh temples were most likely to be targeted.
In fact, you had to read deep into that ADL newsletter about the rise in domestic extremist violence in 2022 before discovering one interesting side note: None of its victims were Jews.
This isn't to say what's happening in the Jewish community doesn't matter — of course it does. But looking at Jewish problems as a subset of wider American problems offers perspective, and perhaps even a way forward.
One lesson is that if the troubles are not ours alone, neither is the fight. Instead of acting as if the world hates us and we are all alone, we should be seeking coalitions with other groups facing the same problems. That's what Temple Sinai in Cranston, Rhode Island, did last Sunday, joining with a Korean church and a Congregational church for a joint service, billed as "Hate Has No Home Here."
And the fights we join can't just be about hate. The struggle for smarter gun laws, better mental health care, and more sane social media policies, and against politicians who traffic in disinformation and division, will save all lives, including Jewish ones.
At the same time, we could see our position as an invitation for outreach and education among non-Jews. Remember the Pew study: Almost 60% of Americans said they didn't know enough about Jews to have an opinion. That's a lot of hearts and minds.
On the r/Jewish subreddit this week, a participant asked a question that, in one form or another, pops up frequently on the platform: "There's no Jewish community where I live, (but soon I'm going to Israel 🙂 I really want to educate myself on all things Jewish. Any sources?"
That sent me Googling, only to find that there are, in fact, very few free, easily accessible online full courses for non-Jews to learn about Judaism. There should be dozens, in as many languages and levels.
That's because, hard as it is to believe, Americans like Jews, and we're just going to have to learn to deal with it.
The post Can you handle the truth? Americans like Jews. appeared first on The Forward.