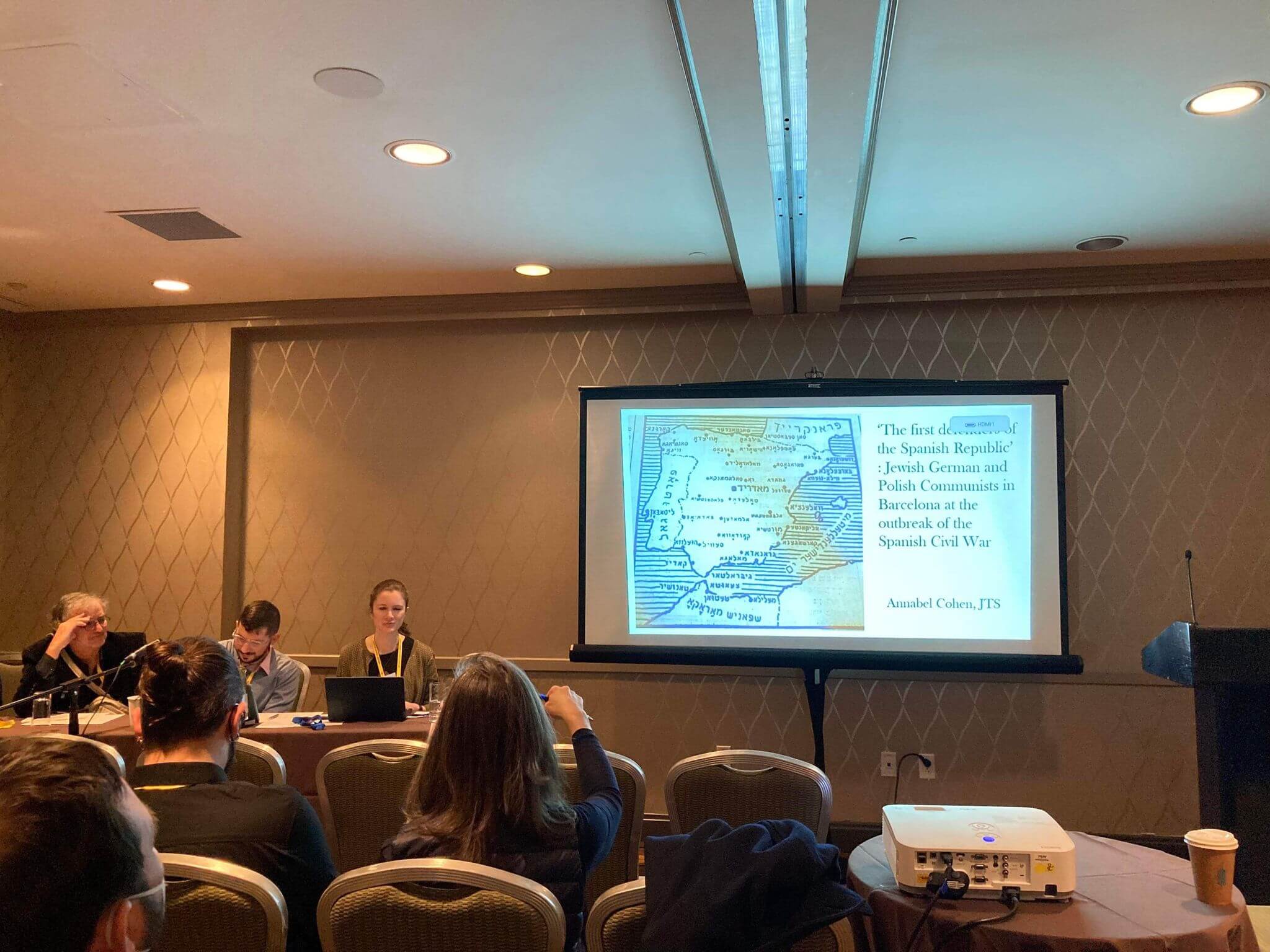 אַלע יאָר קומט זיך צונױף דער פֿאַרבאַנד פֿאַר יודאַיִסטיק אױף אַ גרױסן  צוזאַמענפֿאָר. דאָרט טרעפֿן זיך היסטאָריקער, פֿילאָסאָפֿן, טעאָלאָגן, ליטעראַטור־פֿאָרשער, סאָציאָלאָגן — אַ קיצור, װיסנשאַפֿטלער פֿון כּל־מיני פֿאַכן װאָס זײער פֿאָרשונג האָט עפּעס אַ שײַכות צו ייִדן און ייִדישקײט.
אין דעצעמבער 2022 האָט מען זיך געטראָפֿן אױף דרײַ טעג אין באָסטאָן, און צװישן די פֿילצאָליקע פּאַנעלן, סעמינאַרן און רונדע טישן זײַנען געװען ניט װײניק סעסיעס געװידמעטע דער ייִדישער שפּראַך און קולטור. לאָמיך דאָ אױסרעכענען אַ קלײנעם אָפּקלײַב פֿון די דאָזיקע לעקציעס און דיסקוסיעס.
אײן פּאַנעל פֿון יונגע פֿאָרשער האָט געהאַט פֿאַר אַ ציל צו באַװײַזן די װיכטיקײט פֿון באַנוצן זיך מיט מקורים אױף ייִדיש, אַז מע פֿאָרשט די געשיכטע פֿון דער מאָדערנער אײראָפּע — אי פּאָליטישע, אי ליטעראַטור־געשיכטע. בעתן דאָזיקן פּאַנעל האָט אַנאַבעל כּהן (דאָקטאָראַנטקע בײַם ייִדישן טעאָלאָגישן סעמינאַר אין ניו־יאָרק) האָט אָנגעװיזן אױף דער וויכטיקער ראָלע װאָס ייִדיש־רעדנדיקע פֿרײַװיליקע האָבן געשפּילט אין די אינטערנאַציאָנאַלע בריגאַדעס בשעתן שפּאַנישן בירגערקריג. אין איר רעפֿעראַט האָט זי אונטערגעשטראָכן אַז איר גײט ניט אין שרײַבן אַן עפּיזאָד פֿון ייִדישער געשיכטע, נאָר אין ניצן ייִדישע מקורים כּדי צו שרײַבן די אַלגעמײנע געשיכטע פֿון די אינטעראַנציאָנאַלע בריגאַדעס.
אַן ענלעכע טענה האָט געהאַט די ליטעראַטור־פֿאָרשערין עליסאָן שעכטער (װאַנדערבילט־אוניװערסיטעט). זי האָט גערעדט אױף אַ פּאַנעל װעגן ייִדישע פֿרױען און זײערע היסטאָרישע אױפֿטוען. אין איר רעדע האָט זי געגעבן אַן איבערזיכט פֿון דער לעמבערגער פּאָעטעסע און פּובליציסטין דבֿורה פֿאָגעל און אירע אױפֿטוען אױפֿן תּחום פֿון ליטעראַרישער שעפֿערישקײט. ס׳װאָלט געװען װיכטיק, האַלט שעכטער, אַרײַנצונעמען אין דער אַלגעמײנער פֿאָרשונג װעגן ליטעראַרישן מאָדערניזם פֿאָגעלס װערק, ווי אױך די ווערק פֿון אַנדערע דיכטערינס װאָס האָבן געשריבן אױף שפּראַכן ווי ייִדיש און פּױליש.
מע האָט אויף דער קאָנפֿערענץ אויך אַרומגעשמועסט די באַציִונגען צווישן די ייִדן און די אומות־העולם. אײן גאָר אינטערעסאַנטער פּאַנעל האָט געהאַט פֿאַר אַ טעמע "גוייִשע פּערסאָנאַזשן אין דער ייִדישער ליטעראַטור". דזשוליען לעװינסאָן (אוניװערסיטעט פֿון מישיגען, ען אַרבאָר) האָט אָפּגעהאַלטן אַ רעפֿעראַט מכּוח ישעיה שפּיגלס "פֿלאַמען פֿון דער ערד", אַ ראָמאַן װעגן דעם חורבן פֿון לאָדזשער ייִדן בעת דער נאַצי־אָקופּאַציע. אין אַ צענטראַלן קאַפּיטל פֿונעם ראָמאַן באַשרײַבט דער נאַראַטאָר דעם אומקום פֿון אַ פּאָליאַק, אײנעם פֿון די חסידי־אומות־העולם. לױט לעװינסאָנען איז אַזאַ מין שטאַרק עמפּאַטישע שילדערונג פֿון אַ ניט־ייִדנס טױט אַ זעלטנקײט אין דער ייִדישער חורבן־ליטעראַטור. אינעם קאַפּיטל "שטריק" ריכט זיך דער קריסטלעכער עולם אַז די דײַטשן גײען אױפֿהענגן נאָך אַ ייִדן, און מען איז געפּלעפֿט, װען ס׳װײַזט זיך אַרױס אַז דער פֿאַראורטלטער איז אַ זײעריקער, דהײַנו דער פּאָליאַק ניקאָדעם זאַלוצקי, װאָס האָט זיך באַמיט אָפּצוראַטעװען אַ ייִדן פֿון טױט.
אַ טשיקאַװער פּרט: אין שפּיגלס שילדערונג זײַנען דאָ קריסטלעכע עלעמענטן, אפֿשר אױך מאָטיװן װאָס דערמאָנען אין פֿראַנציסקוס פֿון אַסיזי. ניקאָדעם איז "פֿראַנצישעק אַסיזשערס" אַ חסיד; הן בײַם הײליקן פֿראַנציסקוס, הן אינעם סיפּור פֿון שפּיגלס ראָמאַן שפּילן פֿײגל אַ באַזונדערע ראָלע. ערבֿ דער ליקװידירונג פֿון געטאָ פֿאַרלאָזן די פֿײגל דעם אָפּגעצױמטן געטאָ־שטח — אַ סימן פֿון דער קומענדיקער קאַטאַסטראָפֿע. ניקאָדעמס טױט אױף דער תּליה װידער שילדערט דער נאַראַטאָר בזה הלשון: "פֿון דער װײַטנס האָט ער אױסגעזען אינעם בױמשאָטן װי אַ גרױסער אײַנגעבוקטער פֿױגל. באַלד װעט דער פֿױגל נאָך אַ מאָל אַ שפּרײט טאָן זײַנע צונױפֿגעלײגטע, ציטערדיקע פֿליגל, אײדער ער װעט זיך גרײטן צו אַ לאַנגן, שאָטנדיקן, גוטן שלאָף."
פֿאַרגלײַכט דאָס, למשל, מיט דער באַשרײַבונג פֿון אַ געהאַנגענעם װאָס די ייִדישע געטאָ־פּאָליציאַנטן געפֿינען בשעתן נישטערן אין די פֿאַרלאָזטע ייִדישע "חדרימלעך" און "װינקלען": "דאָ איז מער נישט געהאַנגען קײן מענטש. דער חוט־השדרה און די פֿאַרקרומטע ריפּן זײַנען געװען דורכזיכטיק. אױף די פֿיס־בײנער, ביז צו די אָפּגעדעקטע שענקלען, האָט געטליִעט אַ ליכטיקע, פֿאָספֿאָרישע שײַן. זי האָט געהאַט אין זיך, די שײַן, אַ גרינלעכע פֿאַרנעפּלטקײט װי דאָס שאָטנדיקע ליכט פֿון אַ ליקוי־חמה."
להיפּוך צו אַזאַ אומהײמלעך־עקספּרעסיװן בילד, האָט ניקאָדעמס פּטירה גיכער אַ פּנים פֿון שלווה און אײביקער רו אײדער פֿון אַ מיתה־משונה און חורבן. װי ס׳האָט אָנגעװיזן שלמה ביקל, איז שפּיגל זיך נוהג אומצוקערן דאָס מענטשלעכע חשיבֿות דװקא אין סאַמע תּהום פֿון אומגליק און בראָך. דעם העלדס װערדע איז מנצח די נױט און דאָס שלעכטס. װאָס נאָך, באַמערקט ביקל, "די דראַמע פֿון שפּיגלס מענטשן איז געשװאָלן מיט שטילקײט."
אין "פֿלאַמען פֿון דער ערד" זעען מיר פֿון דעסט װעגן אַ חילוק פֿונעם קריסטס פֿרידלעכן אַװעקגײן אין דער אײביקײט ביז צו דעם ייִדישן חורבן, דעם שרײַענדיקן קול פֿון ייִדישן בלוט און די פֿלאַמען פֿון ברענענדיקע ספֿרים. ייִדן פֿאַרלירן ניט זײער מלכותדיקע װערדע, נאָר די קרױן איז אַ געפֿאַלענע: "שװער און קלעפּיק איז געװען דער שװאַרצער פֿלאַם, װאָס איז געגאַנגען פֿון די אױסגעהױכטע ייִדישע מלבושים און טױטער באַלעבאַטישקײט. דער שװאַרצער ספֿרים־אַש איז שױן געלעגן צופֿיסנס דעם באַרג און אים אַרומגעקרײנט װי אַ געפֿאַלענע, שװאַרצע קרױן."
װי לעװינסאָן װײַזט אָן, האָט שפּיגל צוגעגעבן יענע סצענע פֿונעם קריסט ניקאָדעמס טױט ערשט אין אַ שפּעטערדיקן נוסח פֿונעם ראָמאַן װאָס מע האָט געדרוקט אין תּל־אַבֿיבֿ אין 1966, װען דער מחבר האָט שױן געװױנט אין מדינת־ישׂראל אַ יאָר פֿופֿצן. לױט לעװינסאָנס מײנונג קען מען דאָס אפֿשר אױסטײַטשן װי אַן אױסדריק פֿון נאָסטאַלגיע און אַן אױסגעדמיונטן אידעאַל פֿון אַ פֿרומען פּאָליאַק װאָס באַציט זיך צו ייִדן װי צו גלײַכע און, בשעת־הדחק, שטעלט ער זיך גאָר אײַן פֿאַר זײ מיטן לעבן.
װאָס שײך די קריסטלעכע מאָטיװן אין שפּיגלס פּראָזע און דעם ענין פֿון חסידי־אומות־העולם איז כּדאַי צו דערמאָנען אַז דער פּױליש־ייִדישער שרײַבער האָט שױן אין 1947, אין די װאַרשעװער "ייִדישע שריפֿטן", געדרוקט אַ דערצײלונג, "משפּחה ליפּשיץ גײט אין געטאָ", װאָס דאָרט גײט אַ פּױלישע דינסט, מאַריאַננע שיװעק, אין געטאָ אַרײַן אין אײנעם מיט אירע בעלי־בתּים, די ליפּשיצעס. די דערצײלונג ענדיקט זיך מיט מאַריאַננעס אַ משונהדיקער רעליגיעזער זעונג װאָס אין איר װערט ר׳ יצחק ליפּשיץ מגולגל אינעם "הײליקן זון" — ישו הנוצרי, הײסט עס — און יעזוסעס בלוטנדיק האַרץ — אַ סימבאָל פֿון גאָטס באַרעמהאַרציקײט און אַ קולט־אָביעקט בײַ די קאַטױלן — װערט צונױפֿגעשמאָלצן מיטן מגן־דוד פֿון דער געלער לאַטע.
אױפֿן זעלבן פּאַנעל װי לעװינסאָן איז אױך אַרױסגעטראָטן מרים שװאַרץ פֿון טאָראָנטאָ. זי האָט גערעדט װעגן אַהרן צײטלינס טשיקאַװער פּיעסע "די ייִדישע מלוכה, אָדער װײַצמאַן דער צװײטער" (1934) װאָס האָט זיך, בדיעבֿד, אַרױסגעװיזן פֿאַר אַ שטיקל נבֿיאות. אין איר רעפֿעראַט האָט שװאַרץ זיך אָפּגעשטעלט אױפֿן אינטערעסאַנטן פֿאַקט װאָס היטלער איז אײנער פֿון די פּערסאָנאַזשן אין צײטלינס פּיעסע (אינעם נאָכמלחמהדיקן נוסח הײסט ער בלױז "דער אַריער"). ער רעדט, פֿאַרשטײט זיך, ייִדיש, פּונקט װי די אַנדערע פּערסאָנאַזשן, אַ מאָל אַפֿילו — לױט שװאַרצעס אַנאַליז — אױף זײער אַ ייִדישלעכן שטײגער. דאָס הײסט, צײטלין שטעלט פֿאָר דעם ייִדן־פֿײַנט װי אַ מין ייִדישן עם־הארץ. דאָס װאָס זעט אױס אין פֿלוג װי סתּם אָפּלאַכן פֿון דעם ימח־שמו און זײַן דײַטשישן לשון, האָט לױט שװאַרץ נאָך אַ טיפֿערע דימענסיע; דהײַנו, מע קען עס באַנעמען װי אַ ליטעראַרישן אָפּרוף אױף דעם לעגענדאַרן פֿילאָסאָף אָטאָ װײַנינגערס טענה אַז די ערגסטע אַנטיסעמיטן געפֿינט מען צװישן די ייִדן גופֿא. װײַנינגער, אַלײן אַ משומד און אַ ייִדן־פֿײַנט, האָט זיך אַרױסגעזאָגט מיט דער דאָזיקער טענה אין זײַן בוך "מין און כאַראַקטער" (1903) װאָס האָט בשעתּו געהאַט אַ גרױסע השפּעה אױף דיכטער און דענקער.
כאָטש די קאָנפֿערענץ האָט זיך שוין געענדיקט, וועט מען די טעמע, גויים אין דער ייִדישער ליטעראַטור, ווײַטער אַרומרעדן סוף־יאַנואַר, ווען די לאָנדאָנער קולטור־היסטאָריקערין װיװי לאַקס, וועלכע האָט אויך גערעדט אויף דעם פּאַנעל, וועט האַלטן אַ לעקציע אָנלײַן, "גוטער גוי, שלעכטער גוי: די שילדערונג פֿון ניט־ייִדן אין סקיצן פֿון דער לאָנדאָנער ייִדישער פּרעסע".
The post How are non-Jewish characters depicted in Yiddish literature? appeared first on The Forward.