Toby Gotesman doesn't watch the news much. An artist best known for her paintings about the Holocaust, she tries to spend more of her time painting than wrapped up in the exhausting churn of breaking news.
So, she said, even though she had briefly worked for his campaign, she didn't know that George Santos, the Republican congressman from Queens, had lied about almost his entire life story and resume — including his false claim to be the descendent of Jewish Holocaust survivors — until reporters started to call her.
Gotesman, who lives in Fort Lauderdale, worked fundraising for Santos's campaign for three months, from December 2021 until February 2022, according to FEC records. But she says she broke off the employment shortly thereafter because she felt that Santos' campaign was "sloppy;" she said they weren't taking advantage of the connections she was arranging, many of whom were friends of hers.
Gotesman told the story like this: She and Santos met at a Republican fundraiser aboard a boat in Florida in October 2021; he called her late that same night to invite her to lunch and ask her to join the campaign. She found Santos charming, and was impressed by his speech at the fundraiser. For his part, Gotesman said she thought Santos was impressed by her stubbornness when she refused to remove her shoes to board the yacht — "I liked my shoes with my outfit," she explained — and that he was drawn to a discussion of her Holocaust artwork.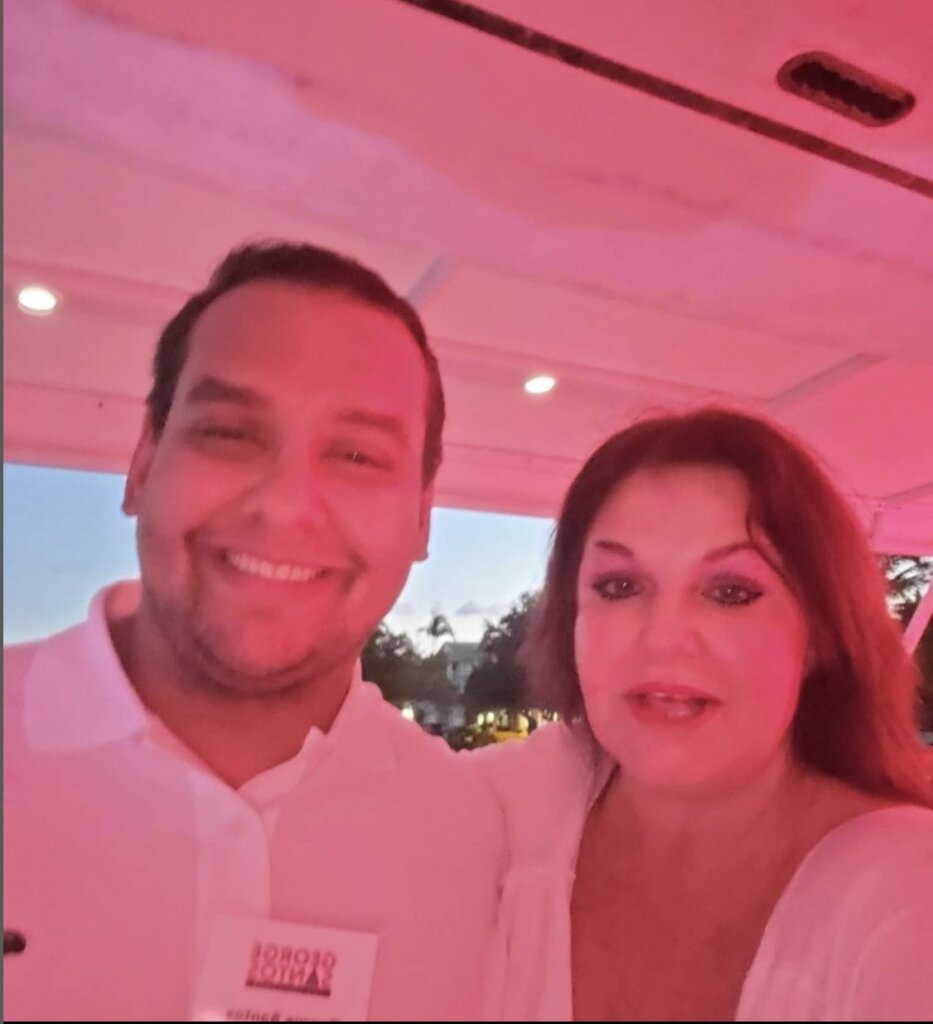 Gotesman and Santos at the fundraiser where they met, aboard a boat, taken from Gotesman's Instagram. Courtesy of Toby Gotesman
Today, she wonders if it was that discussion of her art and her background that inspired Santos to construct his false Jewish backstory.
Santos has been lying about being the grandchild of Holocaust survivors since at least 2020, when he referred to himself as the grandchild of "Holocaust refugees" in a tweet. But the detail was further fleshed out, and became a more central part of his campaign speeches, over time. It wasn't added to his website until between April and October 2022, according to The New York Times. 
When they met, Gottesman recalls him saying he was Catholic, with no mention of Jewish ancestry. "Were you sitting with a Holocaust artist, would you not say 'my family was in the Holocaust?'" she said. "But he didn't." 
'Little things kind of stick in your mind'
Gotesman, a longtime Republican, thought Santos was just what the party needed. "I thought it was really good for the Republican party to finally be getting with the times, and I loved that there was a gay Republican that was running for Congress. It was fresh, it gets you out of the good old boys network," she said. 
And Santos, she said, was charming and well-spoken. More importantly, he seemed scrupulous and like a candidate with real integrity. So Gotesman, who used to live on Long Island and was married to the colorful and controversial founder of the East Hampton Synagogue, Marc Schneier, connected the candidate with her network of wealthy friends and contacts.
"He seems legitimately like he's telling you the honest-to-god truth from his heart. I very seldom have had that kind of reaction — and it was totally wrong," said Gotesman. As someone who considers herself a good judge of character, this made it all the more shocking when she tuned in to the ongoing revelations about his lies.
But there were small things that simply felt off. Santos had told Gotesman that he was "phenomenally rich," she said. Yet he seemed somehow unfamiliar with the ways of the wealthy. Gotesman mentioned Santos making an offhand comment about buying his sister-in-law a Hermès bag, which seemed like a strange brag. Another time, he told the artist that he and his fiancé wanted to buy some of her artwork — which they never did — and told her that they would provide canvases in the dimensions they wanted.
"Patrons of artists don't have the canvases made," she said. "Little things kind of stick in your mind."
And then there were details within her work for Santos' campaign. In our conversation, Gotesman emphasized that she had never worked on a campaign before, and didn't know the rules for finance, so she relied on Santos' campaign and his compliance officer to tell her how to operate; a complaint filed Monday accuses the congressman of numerous campaign finance violations.
"I must tell you, for me, my impression was — it's so ironic — that this guy is so above board and so appropriate, he was so careful," she said. 
But then, when she began trying to fundraise, Gotesman ran into roadblocks. She recalled asking a campaign manager for material about Santos to give to potential donors; she wanted his biography and policy positions to sell donors on the candidate. But documents weren't forthcoming. After nagging officials, she said someone told her that Santos was preparing them, which made her wonder how they had gotten so far if they didn't have such basic things prepared.
And while sometimes Santos was extremely responsive to her calls and texts, other times he would vanish for days, becoming nearly impossible to connect with and missing opportunities with donors that she had arranged, which she found particularly confusing since there were large sums of money on the line.
"Now I'm looking back and seeing all those things in culmination, but at the time, it was just aggravating, very aggravating," she said. "I won't tell you that I have disliked him, because I haven't. I've just felt kind of disrespected, disregarded, disappointed." 
"And now," she added. "Now I'm disgusted."
A life's mission to paint the Holocaust
The Holocaust is deeply personal to Gotesman. Not only is it the central topic of her artwork — though she also paints other issues, such as HIV/AIDS — but it's also core to her family history. Both of her parents and her grandmother survived Auschwitz, she said, and her father, she discovered on a family vacation when they ran into other survivors, was a hero, somehow saving a large group from the gas chambers. Gotesman, for her part, feels that she has inherited the trauma and history.
"You don't choose to paint the Holocaust," said Gotesman, who began painting in 1998 after working in real estate. "I feel like it's channeled."
Holocaust education — and fighting disinformation — is core to why she paints the camps. "Nobody talks to me without mentioning the Holocaust art. It's not only what I do, it's kind of who I am," she said. "I feel like there's a mission for me to get this material out. Because the grandchildren and the great-grandchildren, they're never going to know about this. Ever. It's going to be a blip in history. And I refuse to let that happen, if I can."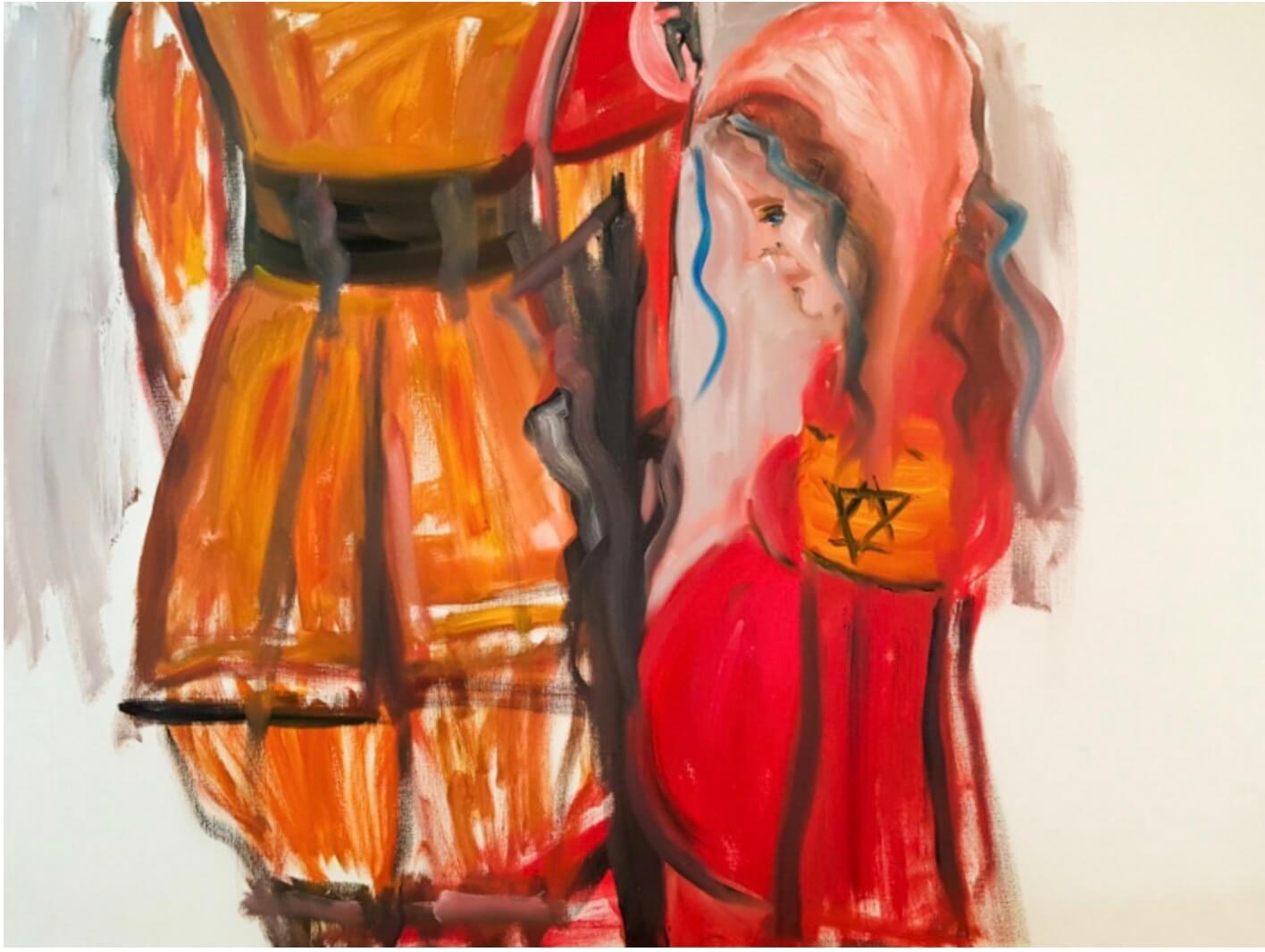 One of Toby Gotesman's pieces from her Holocaust collection. Image by Toby Gotesman
Still, when she got the first call about Santos, from The New York Times, she didn't think much of it. "I had no idea what she was even calling about," she said. "I texted George afterward and he said, 'Oh, they're doing a hatchet job, don't tell them anything.'"
But then Gotesman got more calls — and Santos didn't answer texts about the next ones — so she said she decided to do some research of her own, at which point she discovered a YouTube clip of Santos claiming to be descended from Holocaust survivors. 
"Once you mention the Holocaust, forget it," she said. "I see red." Lying about the Holocaust is, in her book, an unforgivable offense.
At time of publication, Santos' office had not replied to a request for comment.
"I think that, based on the fact that he didn't say anything to me about that, and now I hear this, I'm going to go out on a limb and guess that he got the idea from talking to me," she said. "Maybe I'm wrong."
Now, she said, she feels betrayed, and she is embarrassed for soliciting donations from her friends. She can't understand how he thought he could get away with it — "In politics, they find out everything," she said — but why he did it is even more confusing.
"I will never understand anyone wanting to be a Jew," she said. "It's difficult. We have been, historically, always an oppressed people."
The post Meet the Holocaust artist who fundraised for George Santos — and regrets it appeared first on The Forward.