My translation of Vasily Grossman's Life and Fate was first published in 1985.
Back then, the novel — the Russian text of which was first published in Switzerland in 1980, some two decades after Grossman, a Ukrainian Jew, completed it — was seen as oddly old-fashioned. It was the heyday of magical realism and postmodernism. Grossman's moral seriousness and straightforward realism seemed to belong to another age. It was not until New York Review of Books Classics republished the novel in 2006 that it began to be noticed.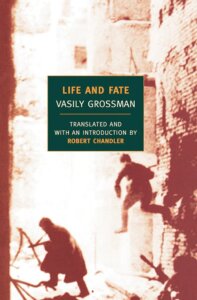 It was historians rather than literary critics who drew attention to the novel. Antony Beevor quoted from Life and Fate extensively in his bestselling 1996 book Stalingrad — one of the many historians to recognize, as the 20th century came to a close, that no one had painted a more comprehensive picture of Stalin's Soviet Union.
The accounts of hand-to-hand fighting in besieged Stalingrad; the letter written by an elderly Jewish woman doctor about her last days in the Berdychiv ghetto; the vignettes of everyday life in an elite physics institute and in the Gulag — all are equally vivid.
Now, Life and Fate has taken a startling new role in discussions of life under the rule of a Russian autocrat.
The American journalist Evan Gershkovich, the son of Soviet Jewish emigres, was arrested in Russia last week and charged with espionage — a move that outside observers have decried as a political hostage-taking, as Russia seeks leverage amid broad opposition to its war in Ukraine. Gershokvich's first visitor in jail reported that he was spending his time reading Life and Fate; a fellow reporter confirmed he'd been reading the novel, often aloud, during a March vacation.
A political prisoner reading a chronicle of life under a brutal political regime, while awaiting trial under that regime's historical successor — the resonance is grim, and clear.
Life and Fate is an encyclopedia of the complexities of life under totalitarianism, and no one has articulated better than Grossman how hard it is to withstand its pressures. Take the scene in which Grossman describes his alter ego, the physicist Viktor Shtrum, wrestling with his conscience, wondering whether or not to yield to the authorities' demand that he put his name to a mendacious letter protesting against foreign criticisms of Soviet repression:
"But an invisible force was crushing him. He could feel its weight, its hypnotic power; it was forcing him to think as it wanted, to write as it dictated. This force was inside him; it could dissolve his will and cause his heart to stop beating… Only people who have never felt such a force themselves can be surprised that others submit to it. Those who have felt it, on the other hand, feel astonished that a man can rebel against it even for a moment — with one sudden word of anger, one timid gesture of protest."
With totalitarian regimes growing increasingly powerful in every continent, it is no surprise that Grossman's work should seem crucial to all who attempt to withstand them.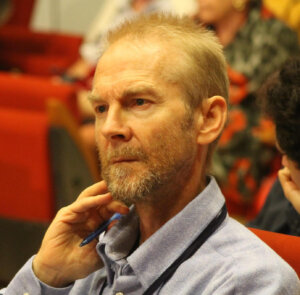 Robert Chandler, Vasily Grossman's primary English translator. Courtesy of Robert Chandler
This is particularly true given the clarity with which Grossman, both in Life and Fate and in its equally great prequel, Stalingrad, repeatedly shows that there are no situations in which moral choice is impossible. The key such scene is when the eccentric Ikonnikov, imprisoned in Auschwitz, chooses to be shot rather than work on what will be the foundations for a gas chamber. Shortly before making that choice, Ikonnikov turns to an Italian priest, a fellow prisoner, and asks, in a prisoners' lingua franca, "Que dois-je faire, mio padre, nous travaillons dans una Vernichtungslager." ("What should I do, my father? We are working in a death camp.")
During the last 10 years, I have had two memorable conversations about Grossman. One was with the late Arseny Roginsky, a Russian Jew and founding member of the Russian historical and civil rights organization Memorial. During a conference in Cambridge, I went up to him and introduced myself as Grossman's main English translator. Roginsky took me by the hand, gave me the warmest of smiles and said, "Ah, nash pisatel!" ("Ah, our writer!")
This made me both happy and sad. I was glad that he valued Grossman, but by that time Russian society as a whole had already fallen for Vladimir Putin's seductions. If for Roginksy and his fellows, Grossman was "our writer," it was all too clear that most Russians would see him as alien. And, in fact, while Grossman's work is available in Russia, it is little read. His writing is more widely read in almost every other European country.
The other conversation that has stayed with me was with Irina Sherbakova, another important member of Memorial, and another Russian Jew. We talked about one of Grossman's last masterpieces, "Mama," a short story based on the true story of a five-year-old girl adopted in the mid-1930s by Nikolay Yezhov and his wife, Yevgenia Solomonovna.
Yezhov was head of the NKVD security police at the height of the Great Terror, from September 1936 until November 1938. During this period he was responsible for about half of the Soviet political, military and intellectual elite being imprisoned or shot; he was also responsible for the deaths of 380,000 peasants and 250,000 members of national minorities. The most prominent Soviet politicians, including Stalin himself, used to visit the Yezhovs.
In "Mama," Grossman leads us into the darkest of worlds, but he shows it to us from a perspective of peculiar innocence. We see these figures only through the eyes of the little girl and her peasant nanny. Knowing nothing of what is happening in the country, the nanny feels pity for Yezhov, thinking that his eyes look "lost, confused and pathetic."
This story is remarkable in itself, but what Sherbakova told me she found most striking about it was Grossman's prescience. The tragedy of post-Soviet Russia is that no one is held responsible for the horrors of Stalinism. People talk of state-induced famine and mass executions as though they were some strange natural disaster. No one was a perpetrator; everyone was a victim.
This lack of accountability for the past leads directly to the tragedies of the present day: Only a minority of the population feel it their duty to find out the truth about Russia's war against Ukraine — and to join the few who are protesting against it."
Natalya Khaiutina, Yezhov's real-life adopted daughter, loved Yezhov. By all accounts, he was indeed a kind father to her. And so, throughout the 1990s and 2000s, she repeatedly petitioned for his official "rehabilitation." Like many senior NKVD officials, he had, in the end, been shot as "an enemy of the people." Natalya saw Yezhov not as an executioner, a Soviet Himmler, but as a victim.
During World War II, Grossman was one of the three most popular war correspondents. He wrote for the military newspaper Red Star, and his articles were read by millions. He was exceptionally courageous, spending far longer in besieged Stalingrad than any other journalist. His articles were measured and — within the parameters imposed by military censorship — remarkably truthful.
He never ceased to value clarity and simplicity, but he refined his style over time. He began as a straightforward journalist but came to write more and more poetically over the years, without ever abandoning his commitment to truth. The short novel Everything Flows and the short stories he wrote during his last three years are no less great than Life and Fate; they stand to Life and Fate much as Dmitri Shostakovich's dark, elliptical quartets stand to his grand symphonies.
During the last two years, two British war correspondents have told me that they were reading Life and Fate while reporting from Ukraine. It is no surprise to me that Evan Gershkovich should be reading Life and Fate now. Grossman deserves to be proclaimed the patron saint of journalists. He wanted his work to be not like jewelry but like people's "daily bread." He would be glad to know that it is of some help to Gereshkovich in his ordeals.
The post I translated 'Life and Fate.' Now an imprisoned American journalist is reading it in a Russian jail appeared first on The Forward.