This is our editor-in-chief's weekly newsletter. Click here to get it delivered to your inbox on Friday afternoons.
The son of an unsuccessful salesman, Craig Newmark became a billionaire creating the online used-goods marketplace craigslist.org. He's already given away more than $300 million and, upon turning 70 in December, announced he wanted to give more away faster. He said his inspiration was his Sunday school teachers, who he still refers to as "Mr. and Mrs. Levin."
"Treat people like you want to be treated," he said, summarizing what they taught him. "Know when enough is enough." Also, the Ninth Commandment, do not bear false witness — "that is, disinformation," Craig said in a LinkedIn post. And: "I am my brother's keeper and my sister's keeper."
I needed to know more about these Levins, about how Craig's Jewish background underpinned his philanthropy. He is, after all, the single-biggest donor to the Forward for each of the last four years, and that's just part of his enormous contribution to the nonprofit journalism landscape. But when I called him up, Craig knew little about the couple beyond that "they both had European accents."
"I had the impression that they got out of Germany or Poland when it was a good idea to do so," he told me (actually, it was Lithuania, but more on that later). "I think she was significantly taller, and very elegant. He was rabbinical, in appearance and attitude. I have this picture in my head of them both being very genteel.
"In the purest essence, they taught me the substance of Judaism," Craig added. "They basically set my moral compass. They did set the direction of my life."
Rafael Levin was born in Vilnius in 1905. He met his wife, Rachel, in Kovno, where he was the principal of a Talmud Torah, and she was a teacher. This I learned from their daughter, Eta Levin Hecht, who was born in 1938, three years before the Nazis came to Lithuania.
"I was given away as a 5-year-old," Eta told me. "Given," as in literally handed over in a potato sack, to a gentile named Lazauskas, shortly before the Kovno ghetto was liquidated and her parents were put on a train bound for German concentration camps. Among a string of miracles, Mr. Levin jumped off the train and reclaimed Eta after a few months; Mrs. Levin was liberated by the Russian army at the end of the war, and they all eventually reunited in Lodz, Poland.
The family spent two years in a Displaced Persons camp in Germany, where Mr. Levin led a Zionist group and, according to Eta, met with Israel's first prime minister, David Ben-Gurion, who in 1949 asked him to become assistant secretary for social affairs. But Eta said her mother was afraid to move to the holy land, and after a stint in France, they instead landed in Morristown, New Jersey, where her father's sister had settled before the war, in 1952.
Eta was 14. "We didn't speak English, none of us," she recalled. "My father got a job working in a screen factory. He was working so fast making the screens, one of the workers said to him, 'Slow down because you're making us look bad.' My mother worked in a department store, bookkeeping."
Julie Stone, a friend of the Forward who carpooled to Sunday school with Craig's younger brother, Jeff Newmark, helped us track down Eta and her children. Julie is still an active member of Morristown Jewish Center, and writing a book about its history. One congregant she reached out to had her Sweet 16 in 1952 and remembers her parents telling her to invite Eta "to welcome the Levins into the community."
Pretty soon, Mr. Levin was the principal and Mrs. Levin a teacher in Morristown's religious school, just as they had been in Kovno before the war. At the time, Julie explained, what is now a Conservative synagogue was a community center — with a gym, a bowling alley, and Orthodox, Conservative and Reform groups all meeting for services in separate spaces.
"This is 60 years ago, but I can hear their voices and transport myself back to the place and time when they really were the soul of the Hebrew school," she said of the Levins. "I remember an accent. They were some of the first people with an accent I'd experienced as a young child. The kindness, the warmth, the welcoming, the joy — that's the through line of everyone I talked to."
Eta said her father studied the Talmud and read every day until his death, at age 93. Her daughter, Rena Hecht, who lives in New York's Westchester County and runs an event-planning business, recalls him "placing a lot of emphasis on Pirkei Avot," Ethics of the Fathers, which is made up of simple, life-guiding aphorisms like the ones Craig cites as guiding his philanthropy.
Rena said her grandfather taught her to chant for her cousin's bat mitzvah even though he did not believe girls and women should be allowed to read from the Torah, and that when she joined a Reconstructionist synagogue, he gave her a book by the movement's founder, Rabbi Mordechai Kaplan.
"He was so knowledgable about everything, even the things that he didn't participate in," she said. "That flexibility — he knew it was important to me — means a lot."
As we were chatting, Eta, who moved to the Philadelphia suburbs after marrying a doctor, recalled once striking up a conversation with a stranger while waiting to order lunch at a crowded New York restaurant. Somehow, the topic turned to Morristown. "Are you Mr. Levin's daughter?" Eta remembered her asking excitedly. "She said, 'Oh my God, he influenced me so! I became a Hebrew school teacher because of him!'"
"In the purest essence, they taught me the substance of Judaism. They basically set my moral compass. They did set the direction of my life."
– Craig Newmark, on Mr. and Mrs. Levin
The Levins' story embodies the Talmudic principle of how saving a single life saves the entire world. Because Mr. and Mrs. Levin — and little Eta — survived the Holocaust, we have not only Rena and her siblings and cousins, not only the Hebrew school teacher Eta met at lunch that day, but the innovation and charitable work of Craig Newmark.
Since creating Newmark Philanthropies in 2015, he has given staggering sums to fight antisemitism and disinformation, to reinvigorate journalism education and independent news outlets like the Forward, to support veterans, and to rescue pigeons. (He has a thing about birds.) 
The journalism work, he's told me before, stems in part from guilt over the way craigslist hurt newspapers by collapsing their classified-ad business. But it's more than that.
"To me, standing up for a free press is a very Jewish thing," he said, and I heartily agree. "The whole idea of freedom is very Jewish. Maybe that's a Passover sentiment. But I never had to think twice about the connection."
Craig is not an active, practicing Jew — not a shul-goer, not a Shabbat-keeper. He calls Leonard Cohen his rabbi (and has given significant sums to support Cohen's archive and underwrite an exhibit about his life and work). He did have a bar mitzvah back in Morristown, and his Hebrew name is Bezalel, a biblical character who was the chief architect of the Tabernacle, which Craig said "seems to be a good fit, considering his role in the technology of the times."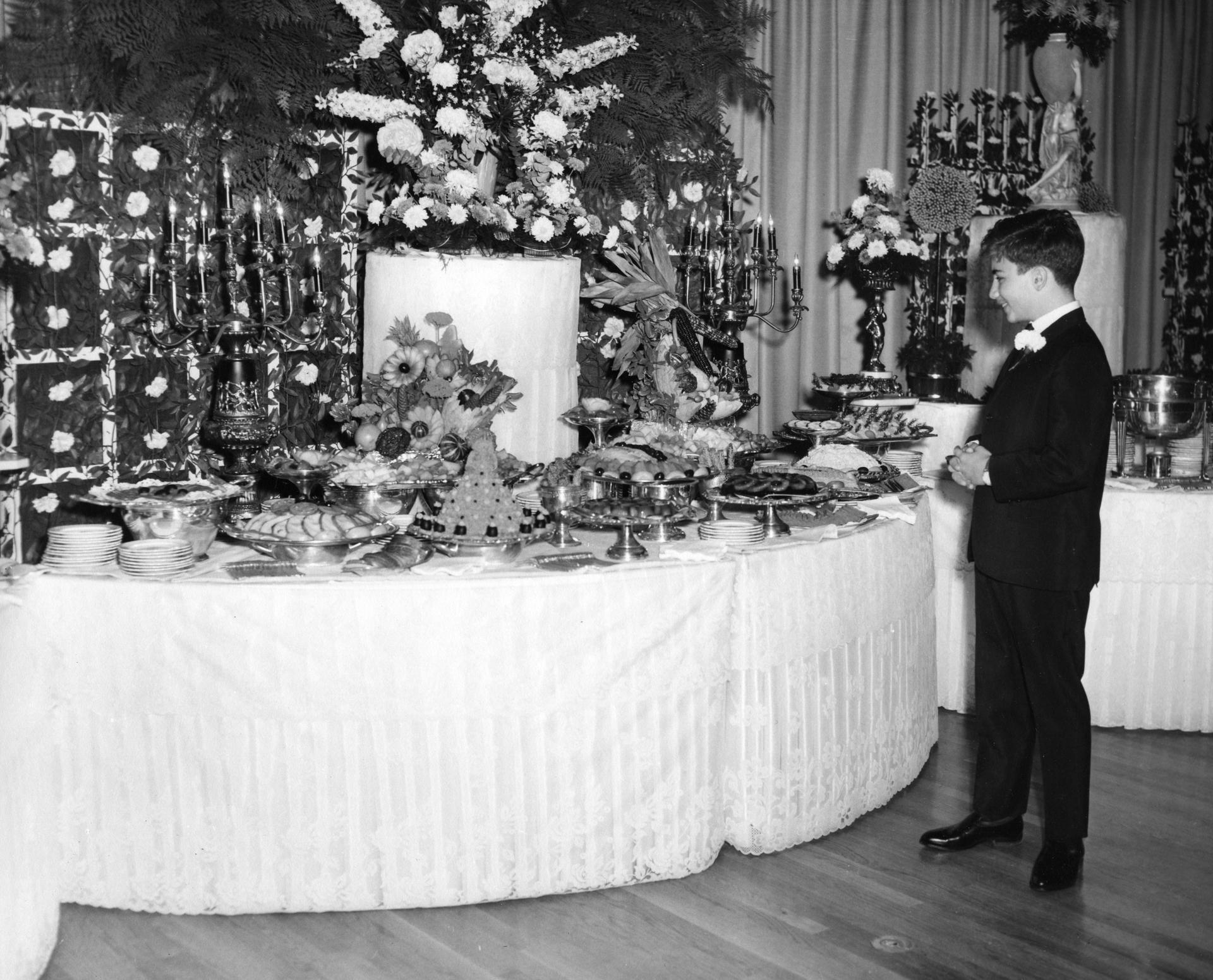 Craig Newmark at his bar mitzvah in December 1965 (Courtesy)
As we talked about the core principles the Levins taught him, I asked Craig how he defines the siblings in "I am my siblings' keeper."
"All humans," he said. "That was the attitude encouraged to me when I met with some folks at Mount Sinai about 3,300 years ago," he said, apparently taking very literally the notion of putting yourself into the story.
"They led me to be briefed by Bezalel, who is the artisan," he continued. "And they were basically telling me, by the time I came around, I needed to be focused on what would matter most at the time. Which includes things like information warfare, as called out by the Ninth Commandment."
Besides the Levins, Craig has some mixed feelings about the Morristown Jewish Center. He says it was hard for him socially, not just because he was a nerd, but because he was from a struggling, working-class family "left behind" in an urban neighborhood, and kids were bused into Hebrew school from surrounding areas that were much wealthier.
"Basically, I grew up as a peasant with no money," he said. "And now, I still feel like I'm a peasant — with money. My tastes reflect my background." To wit: "My indulgences are things like I subscribe to all the streaming services I want."
In 2018, Craig made a donation to the Morristown Jewish Center to restore a Torah rescued from the Holocaust, and dedicated it to the Levins. Somehow, though, their daughter and grandchildren never knew about it — or about Craig's broader crediting of his Sunday school teachers with motivating his philanthropy — until our editorial fellow, Matthew Litman, found them earlier this month.
Rena Hecht told me she was "stunned and so grateful" to learn of the connection, and noted that she, too, is a huge Leonard Cohen fan. Her brother Dan Hecht, a business-school professor, recalled that when Eta was moving to Florida some years ago, they stopped in Virginia to pick up a lovingly restored older desk they found online that is now a "central piece in my mom's home; she loves it and uses it every day."
They bought the desk through craigslist, of course. Which means Eta Levin Hecht sits at a desk made possible by her father, whose life created a world. 
Thanks to Matthew Litman for contributing to this newsletter, and Adam Langer for editing it.  
Shabbat Shalom! Questions/feedback: rudoren@forward.com
YOUR TURN: STRANGERS AT THE SEDER
LET US KNOW WHAT YOU THINK
This week's Bintel Brief advice column addresses whether and how to invite someone you barely know to a Passover Seder. When I was a little girl, my parents always included "orphaned" graduate students from local universities at our table. One couple came year after year — they were no longer strangers. We lost touch, of course, over the decades. Until they showed up last month when we were sitting shiva for my dad.
Have you opened your Seder to a stranger? Click the blue button below to tell us about it. We may publish selections in a future article or newsletter. 
YOUR WEEKEND READS
A FREE, PRINTABLE MAGAZINE OF STORIES TO SAVOR OVER SHABBAT AND SUNDAY
Andrea Tatarsky is a professional clown. Who is doing a show about the Holocaust. Our Talya Zax had to know more.

 

Plus: That new klezmer funk band, the actual Israelis playing for Team Israel at the World Baseball Classic, the cat who starred in The Diary of Anne Frank, a new poll finds Jews are the most popular among the major religions, and an opinion essay about why Georgia's proposed law against antisemitism is bad for the Jews. 

 
Abigail Pogrebin, a journalist friend who supports the Forward, this week interviewed three high-ranking Israel Defense Forces reservists who are among the hundreds of military veterans protesting Israel's proposed judicial overhaul. "It's our profession to alert people to risks before they happen, not after the fact," said one, a former colonel in the intelligence division.  "We think that telling people after the fact, it will be too late."
JOIN THE CONVERSATION
UPCOMING EVENTS
Adam Langer, our executive editor, will be in conversation with Chris Jones of the Chicago Tribune about his novel Cyclorama, which traces the lifelong impact of being in a high school production of The Diary of Anne Frank, and his podcast, Playing Anne Frank, which explored how it happened in real life for the cast and crew of the original Broadway production and film.
Skokie, Illinois  |  Thursday, March 23 @ 6:30 p.m. CT | Buy a ticket ➤
This newsletter is now also available on our website. Click the yellow button below to share it on social media or to a list of friends and colleagues. And if you're not reading it in your inbox, click the blue button to sign up for delivery.
The post How a pair of Sunday school teachers inspired a billionaire to give his money away appeared first on The Forward.