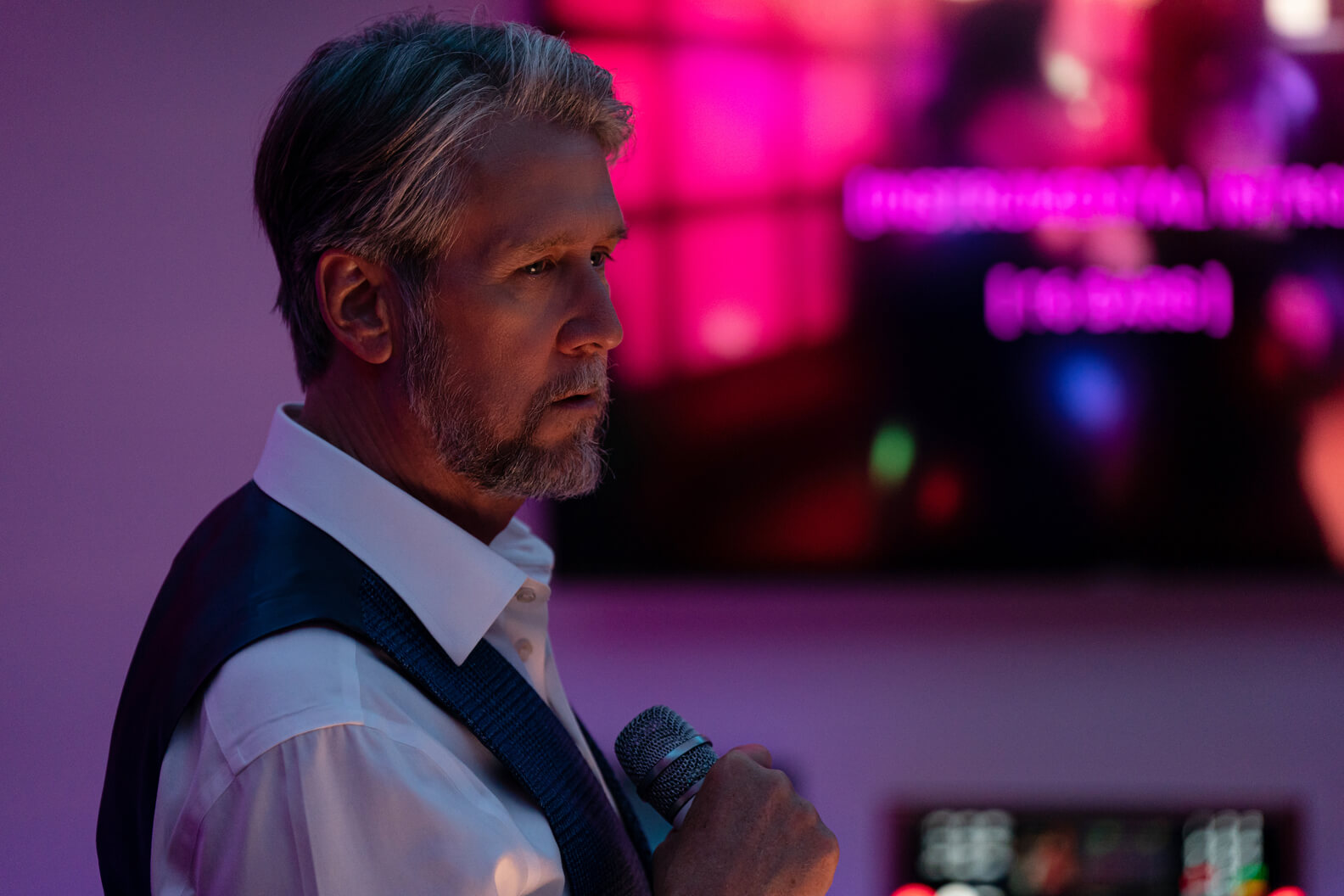 While not a musical, Succession excels at having its characters express their deep insecurities through song. Who could forget Kendall rapping "L to the OG" to everyone's delicious mortification?
When it came to the dramedy's most pathetic character, and the surprise source of our collective pathos, Connor Roy, it was the Prince of Bummers who got the needle-drop on Sunday.
Betraying a frost-bitten common touch, Connor, whose fiancée, Willa, walked out of the rehearsal dinner, decided he wanted to try karaoke for the first time and, in an inspired choice, the writers had him sing Leonard Cohen's "Famous Blue Raincoat," the least karaoke-friendly tune this side of Tom Waits' "What's He Building?"
"It's four in the morning, the end of December/ I'm writing you now just to see if you're better," Connor drones, as his half-siblings look on silently, grimacing until Roman says "This is Guantanamo-level shit" and, in desperation, requests the Eagles' "Desperado."
The 1971 track, from Cohen's Songs of Love and Hate, was the perfect song for Connor, a pretentious, sensitive and likely-to-be jilted lover. Written in the form of a letter, it traces a love triangle between Cohen, a woman and another man "my brother, my killer." (You're welcome to read foreshadowing into the song, not forgetting Roman's nickname, Romulus, shared with a famous fratricide.)
It's a bleak song for a man licking his wounds, with references to the titular rainwear, Clinton Street, Scientology and a "little house deep in the desert," which could mirror Connor's New Mexico ranch. Altogether it makes for the saddest karaoke scene since Noah Baumbach made us sit through all of "Being Alive."
The tune can also be read as a satire of Cohen overuse in prestige TV, a la The Patient's deployment of "You Want It Darker" and the never-ending churn of "Hallelujah" covers from The West Wing to SNL. But last weekend provided more than one irreverent sendup of Cohen.
Supergroup boygenius' new album has a track called "Leonard Cohen."  In it, Lucy Dacus sings, "Leonard Cohen once said 'There's a crack in everything, that's how the light gets in,'" quoting his song "Anthem." "And I am not an old man having an existential crisis/ At a Buddhist monastery writing horny poetry/ But I agree."
How magnanimous! And, what a fitting sentiment for a show about generational power plays.
One imagines Cohen would have enjoyed these wry tributes. In the meantime, as someone gunning for the presidency, Connor should be grateful that no one filmed his sad-sack performance, which, one imagines, could drive his fraction of 1% of the electorate down even further.
But then, Rep. George Santos' karaoke app cover of "Hallelujah" was strangely humanizing. Perhaps there's a future in Connor Roy as karaoke candidate — but he should probably pick a more upbeat soundtrack.
The post Connor Roy's Leonard Cohen moment was peak 'Succession' appeared first on The Forward.