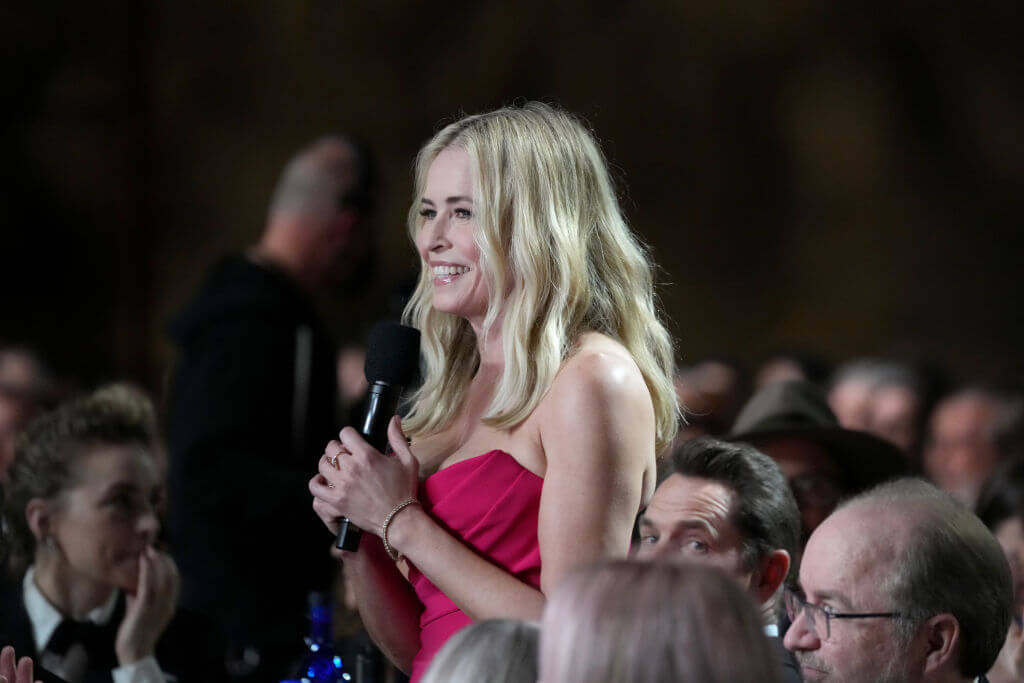 Comedian Chelsea Handler used her monologue at the Critics Choice Awards to riff on the "Jews in Hollywood" fracas.
"We've all heard a lot of nonsense recently about Jews running Hollywood," Handler said. "I would like to say, as a Jewish woman, so what if they do? Who cares? The French run bakeries, Italians run the mafia and Swedish people run IKEA. OK? Stay in your lane!" 
Handler also said this awards season features "some solid Jewish fare," including "the Fleishmans," a reference to the miniseries Fleishman Is in Trouble; Steven Spielberg's movie The Fablemans, and "that giant bagel in Everything Everywhere All at Once." 
Vulture called the bagel in Everything a "doomsday device," and the movie's daughter character, Jobu Tupaki, at one point says, "When you really put everything on a bagel, it becomes this. The truth. Nothing matters."
The Critics Choice show aired on The CW network, where standard fare includes shows like World's Funniest Animals, 90210 and Penn & Teller. Actor Seth Rogen, in presenting the Critics Choice award for best comedy series, got in his own Jewish quip, saying: "If you were a normal viewer of The CW, this is a startling image to be seeing on your television right now. I might be the first Jew on The CW in history. Soak it in."
Handler's quip about Jews in Hollywood is the latest barb in the ongoing back-and-forth over antisemitic comments made last year by Kanye West, who goes by the name Ye. Comedian Dave Chappelle added fuel to the fracas in an SNL monologue by saying: "I've been to Hollywood, and this is just what I saw: It's a lot of Jews, like a lot. But that doesn't mean anything, you know what I mean? There's a lot of Black people in Ferguson, Missouri, but that doesn't mean they run the place."
Sharon Rosen Lieb, great-granddaughter of a Jewish Hollywood pioneer, wrote an op-ed for the Forward addressed to Chappelle in which she said: "Yes, there are a lot of Jews in Hollywood — because discrimination shut them out of other careers in the early 1900s. Pioneer Hollywood Jews like my great-grandfather Sol M. Wurtzel, who produced over 700 films for 20th Century Fox, created a new form of popular entertainment and ran with it."
A short video from JewishFactsDaily about the history of Jews in Hollywood, explaining that they "created" the movie business because they were shut out of so many other industries, has been liked by thousands of viewers and widely shared online.
The post Comedian Chelsea Handler riffs on 'Jews in Hollywood' at Critics Choice Awards appeared first on The Forward.