Free Cone Day at Ben & Jerry's flagship store in Burlington, Vermont, means a treat for customers — and no tips for scoopers. It's a favorite ritual for ice cream lovers, and an exhausting, enraging one for workers.
So after this year's Free Cone Day on April 3, Rebeka Mendelsohn, a 22-year-old ice cream scooper and chemistry major at the University of Vermont, made contact with the Vermont Labor Council.
Her fellow scoopers "were really angry" about their working conditions, she said, "and wanted a voice."
Less than three weeks later, every single employee at that flagship store had signed a union-authorization card with Workers United, tapping into a rich history of labor activism in the region, and marking an unusually rapid organizing effort. It's a move that thrusts Ben & Jerry's' politics back into the spotlight, after a multi-year saga over the ice cream brand's founders' efforts to end sales in the West Bank in protest of Israel's occupation.
Speaking over Zoom, Mendelsohn said she sees the newly-formed Scoopers United as an extension of Jewish values — both hers, and Ben & Jerry's.
"Part of my Jewish practice," said Mendelsohn, who began working at Ben & Jerry's in June 2021, "is to keep tabs on what's happening in the world. We're always taught that you have to fight for the things you believe in. You don't really have the luxury of not looking for injustices."
latest scoop

We the Scoopers are calling on Ben&Jerry's for their formal recognition of our union and response regarding the Fair Election Principles. It is through positivity and comradery that we continue to proudly advocate for our rights in the name of a better Ben&Jerry's pic.twitter.com/zYxltLhwfR

— Scoopers United (@ScoopersUnited) April 19, 2023
Along with tipless Free Cone Day, scoopers have been frustrated by low pay, uncompensated extra responsibilities, health care costs and concerns about health and safety on site. "A union would ensure transparency between our scoopers and employers, and would help ensure that the conversations we have are more collective and equal by nature," Mendelsohn said.
Ben & Jerry's has yet to respond directly to the unionization effort. If they do not voluntarily recognize the union by Thursday, the National Labor Relations Board will conduct a formal election to certify it.
But Scoopers United is cautiously encouraged by their employers' statements to the media. On April 18, a spokesperson told Insider that "Ben & Jerry's is committed to the goal of operating our company in a way that is fair, inclusive, and equitable, while being a dynamic and fun place for all workers."
Mendelsohn thinks that while the people behind Ben & Jerry's believe in the "pledges, social activism," and public advocacy "about workers rights," they've turned something of a blind eye to issues within their own businesses.
Along with other recent union campaigns in national franchises like Starbucks, the Ben & Jerry's campaign harks back to an "industrial union model," said Jaz Brisack, organizing director for Workers United Upstate New York and Vermont. In that model, an entire industry becomes the focus of unionization efforts, rather than workers within that industry organizing into separate unions based on their specific rolls.
Mendelsohn, Brisak said, "intuitively grasped that tradition."
In Rochester, where Brisack and other union leaders are based, the labor movement's history goes back to a 1913 general strike, which was inspired by the murder of another young Jewish woman: 17-year-old Ida Braiman, an immigrant who was killed by a sweatshop owner over her union efforts. The general strike that followed Braiman's death led to the state's adoption of a 52-hour work week and rules for overtime pay, as well as new rules protecting workers in the garment industry from discrimination for organizing with a union.
Mendelsohn, Scoopers United, and Workers United are particularly curious about how Ben & Jerry's will receive proposed Fair Election Principles, which commit a company to specific actions in support of its union — thus, organizers say, demonstrating recognition of the union as a partner in creating a healthy working environment.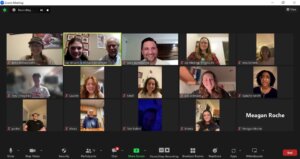 Scoopers United meet over Zoom. Photo by Rebeka Mendelsohn
From the union perspective, a Ben & Jerry's signature on the principles — which other employers, like REI and Trader Joe's, have so far declined to sign despite union pressure — would represent a commitment to a safe and healthy dialogue, and a crucial precedent for other labor organizers.
Mendelsohn, whose favorite Ben & Jerry's ice cream flavor is Colin Kaepernick's non-dairy "Change The Whirled" — a "caramel non-dairy frozen dessert with fudge chips, graham cracker swirls & chocolate cookie swirls" — sees her work with the union as "a sign of respect for the people who have employed me," she said.
"To form a union would mean to form a really equal partnership, because I think that's what they want," she said. "They just need my help getting there."
The post 'Fight for the things you believe in:' Meet the Jewish student leading the union at Ben & Jerry's flagship store appeared first on The Forward.