This article is part of our morning briefing. Click here to get it delivered to your inbox each weekday.
Evangelicals love to compare Trump to King David — but just how similar are they? With the former president set to be arraigned today in a case alleging hush money paid to a porn star, there's somewhat of a comparison: "Both tried to, in some way, possess and manipulate an attractive woman, and both tried to cover it up," writes our Mira Fox, recalling the biblical story of David and Batsheva. But, she argues, the similarities end there. "Trump has missed an important part of the story, though: the apology." Read the story ➤
I'm thinking of sponsoring a kiddush to celebrate Trump's indictment. Is that wrong? Probably, writes our Bintel Brief advice column: "The kiddush after Shabbat services is generally seen as a lighthearted place to schmooze, a casual, open-conversation place to warmly welcome new people and connect with old-timers over a schnapps or a schmear." Instead, we suggest a Torah study session tied to current events. Read the story ➤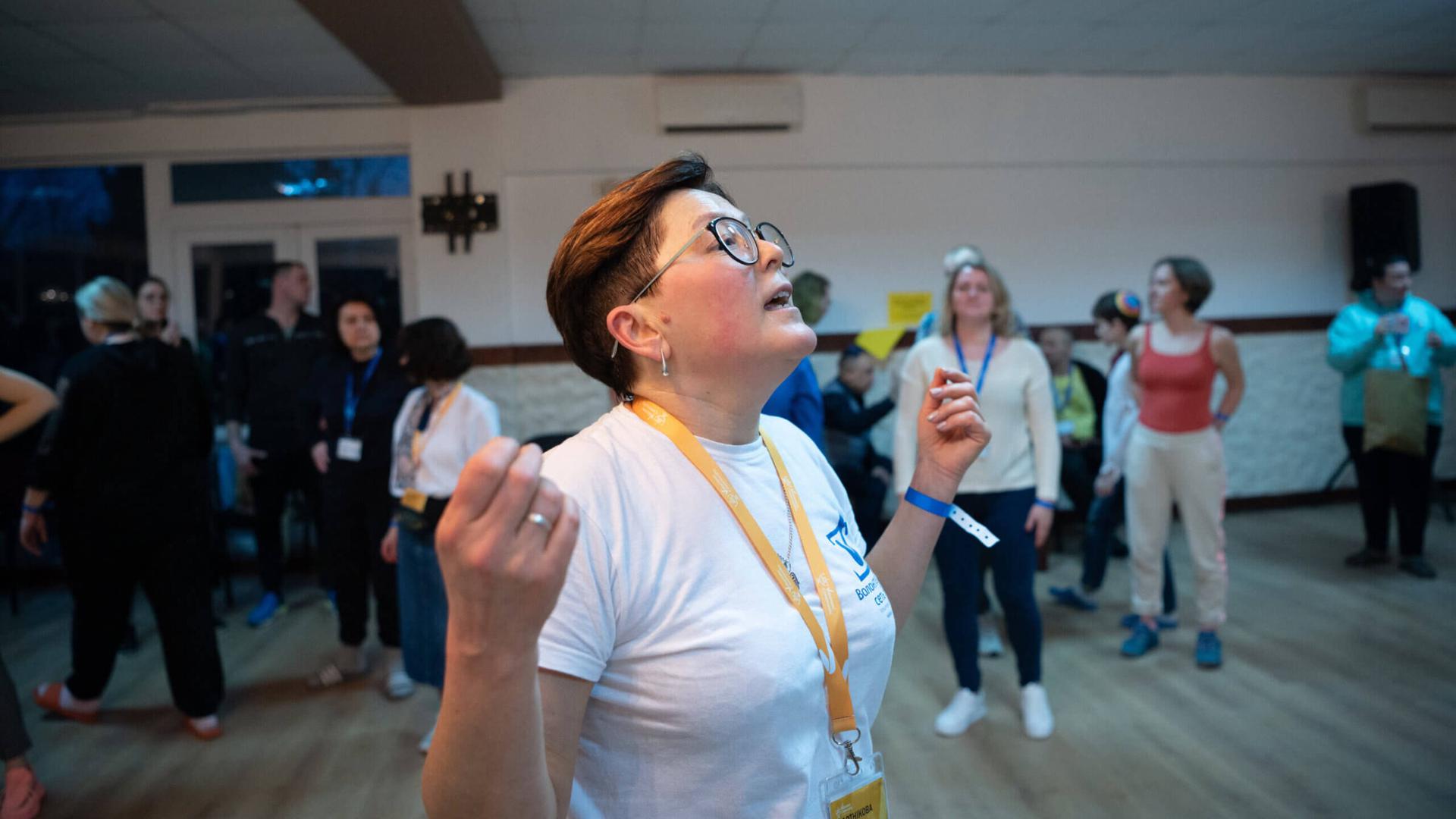 Tatiana Plotnikova, 54, leads a dance class for dozens of Ukrainian Jews. (Arik Shraga/JDC)
Opinion | Ukrainian Jews channel Miriam as they celebrate their second Passover in conflict: When Alex Weisler visited Ukraine in February with a Jewish humanitarian aid organization, he met scores of local Jews who found great resonance in Miriam's determination to sing and dance amidst adversity. "When we sing and dance, we keep our traditions and we declare to the whole world that nothing will break us," one refugee said. Read Weisler's essay ➤
Opinion | For Jews who struggle with eating disorders, Passover is a monumental challenge: Hannah Lebovits acutely remembers calculating how many calories a Passover Seder would set her back, and dreading food-based rituals. As an Orthodox Jew, Lebovits, who has since recovered from her eating disorder, struggled to find religious support. Rabbis told her that "Shabbat and holidays heal the body and the soul," she writes, suggesting "that the severe mental illness I was deeply attached to would simply disappear." Read her essay ➤
Plus…
Spread the word! Invite someone
to sign up for this newsletter.👇
WHAT ELSE YOU NEED TO KNOW TODAY
Israeli security forces inspect the scene of a stabbing attack this morning outside Tel Aviv. (Getty)
🔪  Two Israeli soldiers were injured, one seriously, after being stabbed Tuesday near a military base in central Israel. One suspect, a Palestinian resident of Hebron in his 20s, was arrested. (Haaretz)
🤝  The University of Vermont agreed to resolve a federal complaint about its handling of antisemitism on campus. The school, which was accused of not taking "allegations of harassment" seriously, said it would strengthen its discrimination policies and submit to more federal oversight. (AP, Dept. of Ed.)
💰  The Russian-Jewish oligarch Roman Abramovich has denied that he has a financial relationship with Vladimir Putin. But newly uncovered documents show that an Abramovich-controlled company paid for the $208,000 Tel Aviv apartment belonging to Putin's Jewish high school teacher. Abramovich said through a spokesperson that he donated the funds for the apartment, but not at Putin's request. (JTA, Washington Post)
🏳️‍🌈  From The New York Times: "A state inspector has been asked to review whether Yeshiva University, which is in a court battle with a group of L.G.B.T.Q. students over whether it must recognize their campus club, should have received $230 million in taxpayer funds after the university has said that it is a religious institution." (NYT)
🕍  The lone suspect in the 1980 bombing of a synagogue in Paris went on trial in absentia on Monday. Hassan Dian, a Lebanese-Canadian academic who has denied involvement in the attack that killed four and wounded 46, now lives in Ottawa. (AP)
🍽️  The jail at Rikers Island will host two Passover Seders for 70-100 inmates. "It's both easier and harder to talk about slavery, freedom and hope when you're incarcerated," said Rabbi Gabriel Kretzmer Seed, Rikers' Jewish chaplain, "but we're all hoping for freedom and rehabilitation and growth in the future." (NY Jewish Week)
🥃  A Tel Aviv distillery won the award for the world's best single malt whisky at an international competition. The company's chief distiller credits Israel's "more than 300 days of sunshine" each year for the alcohol's "fast maturation process." (Forbes)
Quotable ➤  "In the total absence of any education about Jews alive today, teaching about the Holocaust might even be making antisemitism worse," writes Dara Horn, the author of the 2021 book People Love Dead Jews, in a new essay in The Atlantic. "When antisemitism is reduced to the Holocaust, anything short of murdering 6 million Jews — like, say, ramming somebody with a shopping cart, or taunting kids at school, or shooting up a Jewish nonprofit, or hounding Jews out of entire countries — seems minor by comparison."
What else we're reading ➤  Jewish Pittsburghers focus on Passover traditions as synagogue shooting trial looms … A Texas preacher's $24 million Ponzi scheme … 'Shul shopping' in New York: A Jewish millennial's two years of wandering.
Whitney Houston and Clive Davis at a party, circa 1989. (Getty)
On this day in history (1932): Jewish record executive and producer Clive Davis was born in Brooklyn. Davis, who studied at NYU and Harvard Law, first joined Columbia Records as an attorney. He became president of the label in 1967, and used his tenure to promote artists like Billy Joel, Bruce Springsteen, Janis Joplin, Aerosmith, Patti Smith, Pink Floyd, and Whitney Houston. 
In honor of National Vitamin C Day, check out this recipe for orange juice cake. But you might want to finish eating it before Passover.
New York City Mayor Eric Adams on Monday unveiled several portraits by Roy Nachum, an Israeli artist, in the City Hall Rotunda. The works of art feature low-vision individuals, who collaborated with Nachum by adding the final touches to their own portraits. "I worked on each portrait for over a year, capturing every detail of their faces," said Nachum, "but it was not until after they touched the canvas itself that the paintings were given their soul."
— 
Thanks to Nora Berman, Jacob Kornbluh, Sarah Nachimson and Talya Zax for contributing to today's newsletter. You can reach the "Forwarding" team at editorial@forward.com.
The post Are there biblical overtones to Trump's arraignment? + Finding hope at a Ukrainian Seder appeared first on The Forward.