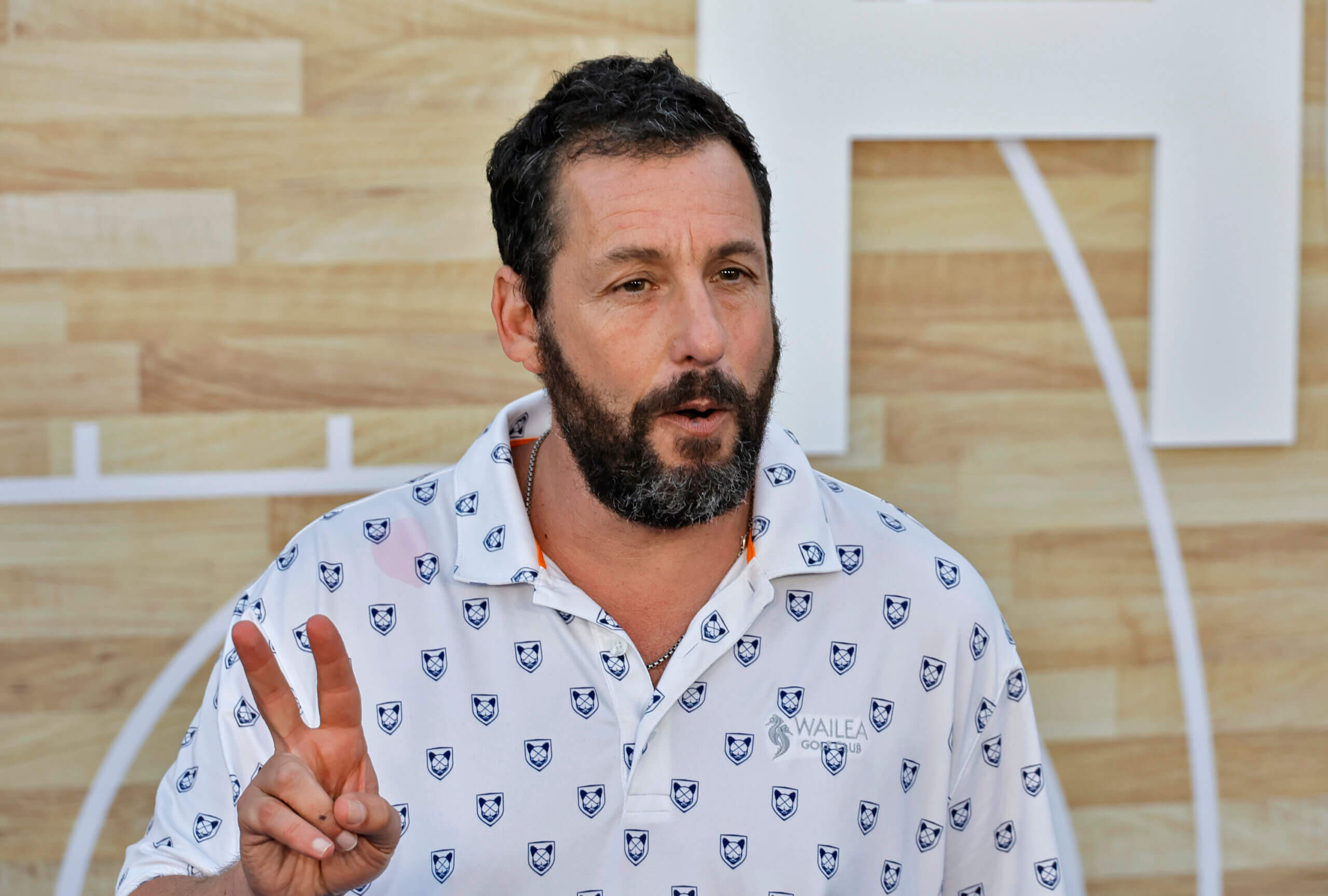 When Adam Sandler won his 2022 Gotham Award, Josh and Benny Safdie abandoned the usual fawning comparisons to household names.
Instead, they likened him to Mike Rosenthal, their little league coach Rick Shapiro (who did stand-up on the side) and Jonathan Blauman, who stole their baseball cards. "They all kinda looked like you, Sandler," Josh Safdie said, "and they made jokes like you."
Sandler, the maven of Hanukkah songs, the platinum-selling stand-up, SNL alum and insanely overpaid movie star, has been an undeniably Jewish presence. But considering his contribution to American humor, as the Mark Twain Prize is now insisting we do March 19, he may be the least Jewish comedian to ever win (apart from maybe his old boss who fired him, Lorne Michaels).
Since the awards began, in 1998, five other landsmen have won (Julia Louis-Dreyfus does not consider herself Jewish). Carl Reiner, a TV pioneer deemed too Jewish to star in what would become The Dick Van Dyke Show, was the first. Lorne Michaels, the Jewish-Canadian creator of SNL, was second. Neil Simon, a chronicler of his American Jewish childhood, was third. Billy Crystal, so Jewish he can make a green, one-eyed meatball seem like he has a tree planted in Israel, was fourth. Last year, Jon Stewart, Sandler's Big Daddy co-star and self-proclaimed spokes-Jew, won the award for laughs and speaking truth to power. 
And then there's Sandler, who played a character named Sonny Koufax and had an abysmal Hanukkah cartoon, but who in most Happy Madison productions has embodied a panoply of gentiles with inscrutable accents and anger issues. There's no doubting his proud Jew status, or even how well he recalls his Hebrew school chets — but we're considering his comedy.
Certainly there is a style of comedy that is Sandlerian. In broad strokes, it is sophomoric. It speaks out of the side of its mouth like James Cagney headed for detention. There are stupid voices, stupider jokes. It's catchphrases and high concepts thrown into a paint mixer with the Three Stooges. While it has a soft spot for underdogs, it's also deeply misanthropic. It punches down and, seething with a Masshole (OK, New Hampshirite) anger, it punches hard. 
Is it Jewish? When it mentions Hanukkah, I guess. And there's hope yet for the forthcoming You Are SO Not Invited To My Bat Mitzvah (he produces and stars — but didn't write it).
Maybe it's because I'm a child of the '90s, but Sandler's oeuvre always felt more like a general miasma of playground sensibilities — those joke-telling, incidentally Jewish kids the Safdies knew — than Borscht Belt (though apparently Sandler first saw live comedy in the Catskills). It has underdog pluck, but also a sadistic streak. It's hardly equipped to dissect societal issues on Talmudic terms — it's too busy calling David Spade short, Kevin James fat and Rob Schneider freakish. In other words, and I really do mean this lovingly, it's too dumb to be Jewish.
When Larry David, Elaine May and Jerry Seinfeld have never won, only presented, it's hard to notch this as a huge win for Jewish comedy. And if Sandler is really winning for advancing American humor, we may be in big trouble. Thankfully, I don't think he is.
There's a hint in Kennedy Center President Deborah F. Rutter's statement: "Adam has created characters that have made us laugh, cry, and cry from laughing."
No one is sobbing over Mr. Deeds. People may get teary during The Wedding Singer or Sandler's tribute in song to Chris Farley. But I suspect that when Sandler's name was pulled, his bravura, moving performances in Hustle and Punch-Drunk Love were top of mind, adding some compelling texture to a man otherwise known for refining an array of speech impediments and nut-shot gags.
Sandler is a gifted performer. I count myself a fan of his manchild collection. But the last time he made me laugh was at another awards event. Accepting his Performer Tribute at the Gotham Awards, Sandler read from a speech he said was penned by his daughters.
"Daddy's silly film career began in 1988, formed by two guiding principles: people in prison need movies too and TBS needs content," Sandler read, in a voice that sounded a bit like cajun-seasoned Colonel Sanders. 
The speech recalled his Independent Spirit Awards win for playing diamond-dealer Howard Ratner in Uncut Gems, delivered in the same Bobby Boucher-meets-Hubie Halloween-meets-plantation surveyor voice. It was an equal mix of self-deprecation and critical ax-grinding, in which he called the plaudit the "best personality awards of Hollywood."
The Twain Prize is named for America's foremost humorist and critic, and, while Sandler joked that Billy Madison was a "fearless look into the American education system through the eyes of a privileged sociopath," he wasn't being serious. 
But it's in the serious turns that Sandler has won the awards that aren't shaped like orange blimps. As Punch-Drunk's Barry Egan, he realized the profound, bitter loneliness of an alienated American gen X-er. As a terminally ill comedian in Funny People, he cornered the pessimism of funny business. As Ratner, he gave us an ode to Jewish strivers in all their unseemly, garish glory.
There's no denying the record sales, the messianically-received return to stand-up and the indelibility of "Lunch Lady Land," even if the net impression of some of his more egregious work is, to paraphrase, Billy Madison, making us all dumber for having seen it.  
Like the mobs that gather at the rising action of his most hair-brained opuses, chanting "You can do it!" Sandler has legions of fans. But his most remarkable feat is how he was able to gain a following among people who'd sooner marathon Jeanne Dielman than watch two minutes of Grown Ups 2.
In this way, he's achieved the adaptability of many Jewish comedians, from Jerry Lewis to Woody Allen and — in the odd Brooksfilms production — Mel Brooks, arriving at a larger, not necessarily riotous view of the human comedy. 
Is that view Jewish? Well, I don't think Lenny Bruce would call it goyische.
The post What does Adam Sandler's Mark Twain Prize say about (Jewish) American humor? appeared first on The Forward.