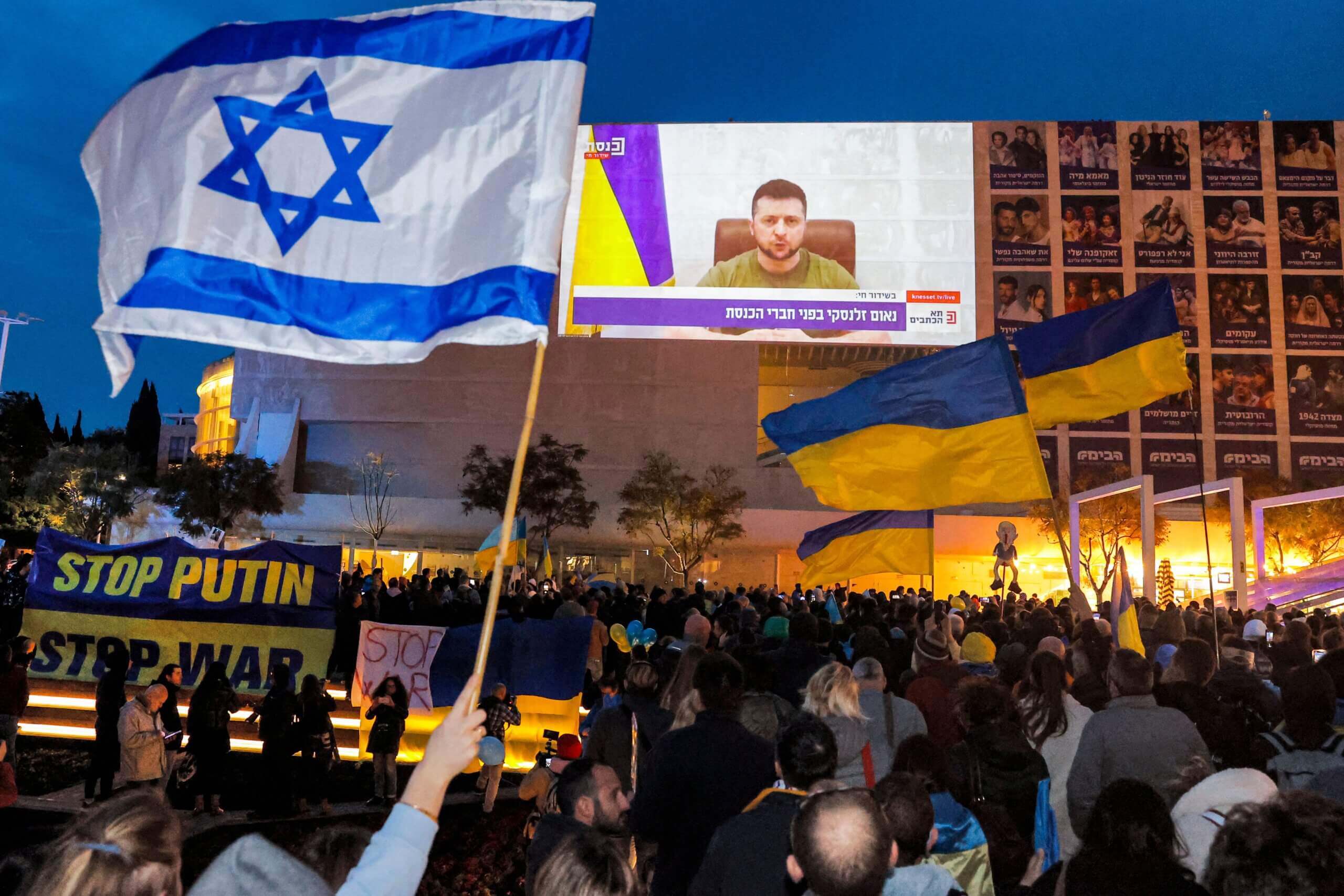 Does Israel hold the same view as Europeans, Americans and others on Russia's invasion of Ukraine? As the Israeli government continues to push its controversial judicial "reform," which could significantly weaken Israeli democracy, this is a key question.
Today, more than ever before, it seems the Israeli attitude toward war in Ukraine is just one part of a worldview that differs significantly from its democratic Western allies. 
Shortly before the first anniversary of Putin's invasion, Israel's then-minister of foreign affairs, Eli Cohen, arrived in Ukraine. Prior to his visit, it was rumored that the president of Ukraine, Volodymyr Zelenskyy, would deny Cohen an audience due to the ongoing controversy regarding the volume and substance of Israeli aid to Ukraine.
The meeting eventually took place. But the two statements that came out of it fully exemplified the complicated nature of Israel's position on the war.
While Zelenskyy's statement expressed hope that Israel will start providing Ukraine with weapons, specifically the "David's Sling" systems "against the Russian Goliath," Cohen stressed their bilateral relations and the common need to fight against Iran.
Iran? It's true that Iranian-made weapons, in particular its Shahed-136 kamikaze-drones, have been used to inflict enormous pain on Ukraine. But was it Iran that invaded Ukraine, bombed its cities to ashes, killed its citizens and captured its children?
Despite the sympathetic tone, all statements that were made by the head of the Israeli Ministry of Foreign Affairs during this visit had carefully omitted one crucial word: Russia.
If one were to read these statements without prior knowledge, he or she would be forgiven for thinking that the Ukrainian victims in Bucha had died due to some unknown natural disaster, such as the earthquake or a tsunami, and that Iranian terrorist activity in Ukraine was the main threat to its security.
It is certainly important that Israel and Ukraine continue to share intelligence and cooperate against Iran. Yet the omission of Russia's role in Ukraine's tragedy seems more than just odd.
Israel has mastered the art of tiptoeing around Russia's involvement in this war — Cohen's visit to Kyiv, shortly before the first anniversary of the war, was a perfect example. Jerusalem provides humanitarian aid to Ukraine but refrains from calling the Russian crimes by name. It votes with the U.S. and the EU in the United Nations Security Council, yet firmly resists any pressure to supply weaponry to Kyiv. The terminology its diplomats use is most often neutral: Russia is not blamed for the suffering of Ukrainians, yet solidarity with Ukraine is expressed sincerely and plentifully.



Yair Lapid is still the only high-ranking Israeli government official to have referred to war crimes committed by the Russian army in Ukraine. This hasn't changed in the course of a year, and neither has Israel's firm position against supplying Ukraine with any defensive weapons.
By the end of his term, then-minister of defense Benny Gantz suggested supplying the Ukrainians with early warning systems. During his visits, Cohen effectively recycled this offer.
Yet all the hints that came from Netanyahu during his most recent election campaign "to look into supplying weapons to Ukraine" (in which one of the Ukrainian chief rabbis, Moshe Azman, played a role — assuring Israeli supporters of Ukraine that Netanyahu might change Israel's policy on this issue) have so far proven fruitless.
Despite many failures and setbacks in the battlefield, Moscow is still perceived by Israeli politicians as a mighty superpower that might inflict damage on Israel by curtailing its activities in Syria, or shutting down the Jewish Agency and other Jewish institutions in Russia.
Understanding these fears is key to understanding Israeli policy vis-a-vis Russia and Ukraine. In October 2022, when the war was already burning Ukrainian cities to the ground, Netanyahu published his autobiography Bibi, in which described his talks with Putin at length and referred to him as a "wise leader." 
By the end of January 2023, Netanyahu was back in office and openly expressing his desire to be a mediator between the sides "if asked" (something that his predecessor Naftali Bennett also unsuccessfully tried).



While the "red lines" in Europe and the U.S. with regard to military support of Ukraine have changed dramatically (the U.S. supplied Kyiv with "Patriot" systems and the Europeans — after long deliberations — agreed to send to Ukraine its "Leopards"), the "red lines" that were initially drawn by the Bennett-Lapid government in February 2022 didn't change significantly. 
It was rumored that Israel is supplying the Ukrainians with intelligence, and a few months ago, it was also implied that following heavy U.S. pressure some Israeli tech equipment worth a few million dollars was also delivered to Ukraine. But the key Ukrainian demand for air-defense systems hasn't been satisfied.
There are still no Israeli sanctions against Russia. The official explanation is that the Israeli parliament lacked a mechanism for introducing sanctions. Yet undoubtedly, during 12 months of Russian aggression, it was possible to produce suitable legislation.
At the same time, the Israeli financial system carefully followed all U.S. regulations in order to avoid any situation in which Israel would be blamed for money laundering or violating the Western sanctions — another example of careful balancing act between Russia and the West.
Russian oligarchs who hold Israeli passports, like Roman Abramovich, are still frequently seen in Israel. Yet many Russian performers sanctioned by the EU and U.S., including Turetsky Choir and Boris Eifman Ballet, often perform in Israel. Russian-state channels keep broadcasting in Israel and vines produced by the wineries that allegedly belong to Putin and his oligarchs — such as Alma Valley, Massandra and Inkerman — star in local contests.



One year into the war in Ukraine, Israel's walking the tightrope between Russia and Ukraine mostly symbolizes a certain attitude: it is a war for others that is taking place somewhere far away from Israel's borders.
After two months of significant coverage of the war in Israeli media, the focus moved away from Ukraine to domestic affairs, economics, politics and security. While Zelenskyy was cherished at the start of the war as a new David of the Jewish nation fighting tyranny, this attitude went sour the minute he demanded from Israel weapons it was not ready to provide.



The new government that formed following the November 2022 elections said from the beginning that it intends to "talk less" about what happens in Ukraine. The second conversation that  incoming minister of foreign affairs Eli Cohen had was with Sergey Lavrov, Russia's Foreign Affairs minister, on Jan. 3, 2023.
While the West perceives the victory of Ukraine and weakening of Russia essential to its security and future, Israel is being very deliberate in not making similar statements.  
It has carefully crafted a position that has made many of Israel's friends and partners in the West uneasy. 
During the first year of war in Ukraine, many Western leaders and diplomats were first surprised and then frustrated with the Israeli position.
Today, as the ruling coalition firmly stands behind legislation designed to weaken Israel's judiciary; defund human rights NGOs in a way that resembles legislation in Hungary, Turkey and Russia; and label the millions of Israelis who protest against these laws as "traitors" and "anarchists," Israel's reluctance to firmly support Ukraine along with the Western world seems more in tune with its domestic policy.
To contact the author, email opinion@forward.com
The post A war for others: As Israeli democracy falters, the country walks a fine line in Ukraine appeared first on The Forward.